Days are becoming shorter and the nights are getting very chilly. I broke down and took my winter coat out from storage with a heavy heart. While putting it on, all I could think about was "Winter is coming…" The Starks are right even though there are no White Walkers in Toronto (I may have been watching too much Game of Thrones). I was bundled up walking down College Street and I passed Caplansky's Delicatessen. This was my most favourite restaurant unfortunately for me, it is not a vegan friendly place. I peered in the window of the crowded restaurant and saw people spreading the chopped beef liver on ends of rye with a variety of mustards to choose from. Though I have no desire to eat beef liver anymore (one time in my life I craved it) but I did miss the flavours of a deep rich spread with thinly sliced onions and mustard. I hopped onto a streetcar to head home and brainstormed about a vegan pate of my own. Mushrooms were an obvious choice because of their meaty texture but what else would I use? I researched other bloggers versions as well as meat versions to see what seasonings to add. I experimented with the recipe without the nuts but it fell short on texture. At first I did it with cooked garlic but the raw garlic really hit the money on taste. Mark told me whenever his family made chicken liver pate they always added lemon juice and this really brightened the flavour of an otherwise rich dish. I tried this recipe with raw nuts and it wasn't as deep of a flavour so I highly recommend toasting the nuts. I used almonds because I find they are the cheapest nut (besides peanuts but way too strong this this recipe) at my local bulk store. I am sure other neutral nuts (cashews, walnuts etc) can be substituted but I have not experimented with this. I made sandwiches with mine but it is also good spread on rye crackers or toasts of pumpernickel bread. Serve with very thinly sliced shallots, lemon wedges, a variety of mustards (I like cracked mustard or whole grain mustard for a great texture contrast) and kosher salt. If you are serving it as an hors d'oeuvre at a party, be sure to give the pate a stir every so often (if it lasts) because it can dry out creating an unappetizing crustiness to it.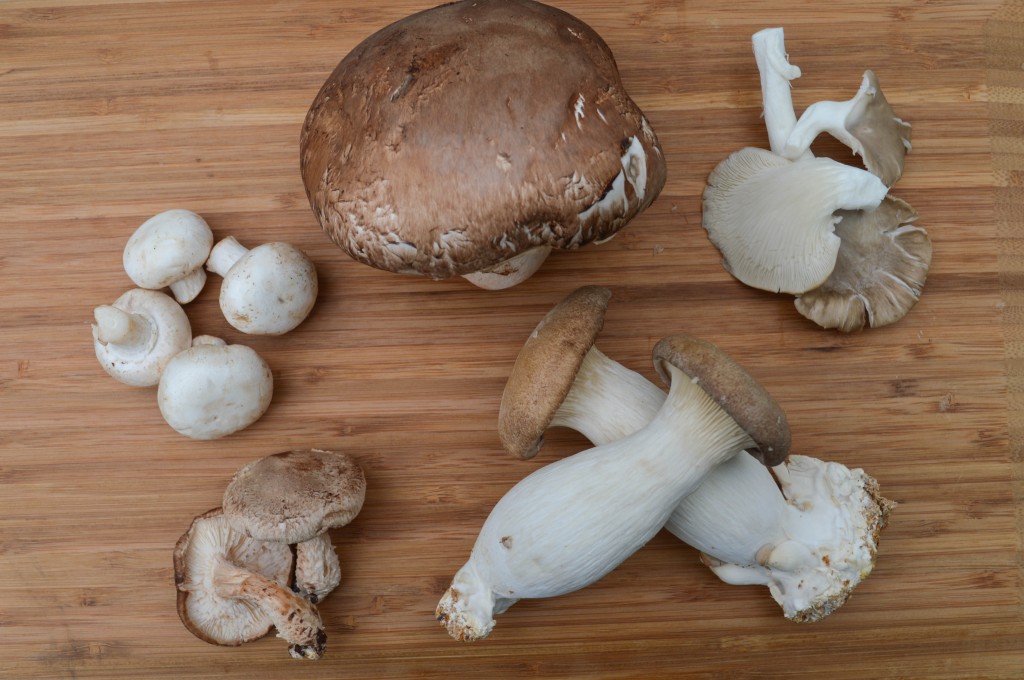 At the 12 o clock is Portobellos and clockwise: Oyster Mushrooms, King Oysters, Shiitakes and White Button Mushrooms.
Makes about 2 cups
4 tablespoons Earth Balance Traditional
1 yellow onion, very thinly sliced, a little over 2 cups
1 pound white button mushrooms, about 4 ½ cups thinly sliced
½ pound shiitake or king oyster mushroom caps, trimmed and sliced, about 2 cups
1-teaspoon fresh minced thyme
1 1/4 teaspoons kosher salt
1 teaspoon cracked black pepper
1-cup raw almonds
1-teaspoon minced garlic, about 1 small clove
1-teaspoon fresh lemon juice
In a large non-stick skillet over medium heat, melt the butter until bubbly and add the sliced onions and cook, stirring occasionally for 15 minutes. You want them to be browned but not blackened, turn down the heat if they are burning.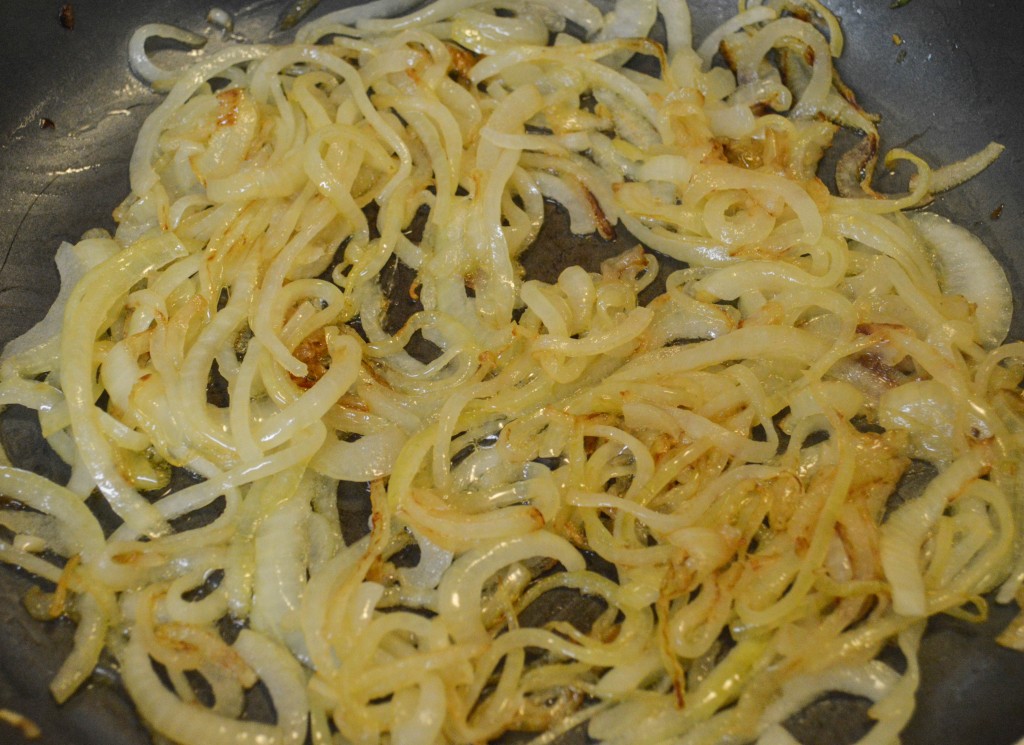 Add the mushrooms, thyme, salt and pepper to the skillet and cook for 11 minutes. It looks like a lot of mushrooms raw but they will reduce dramatically. Take off the heat and allow the mixture to cool to room temperature.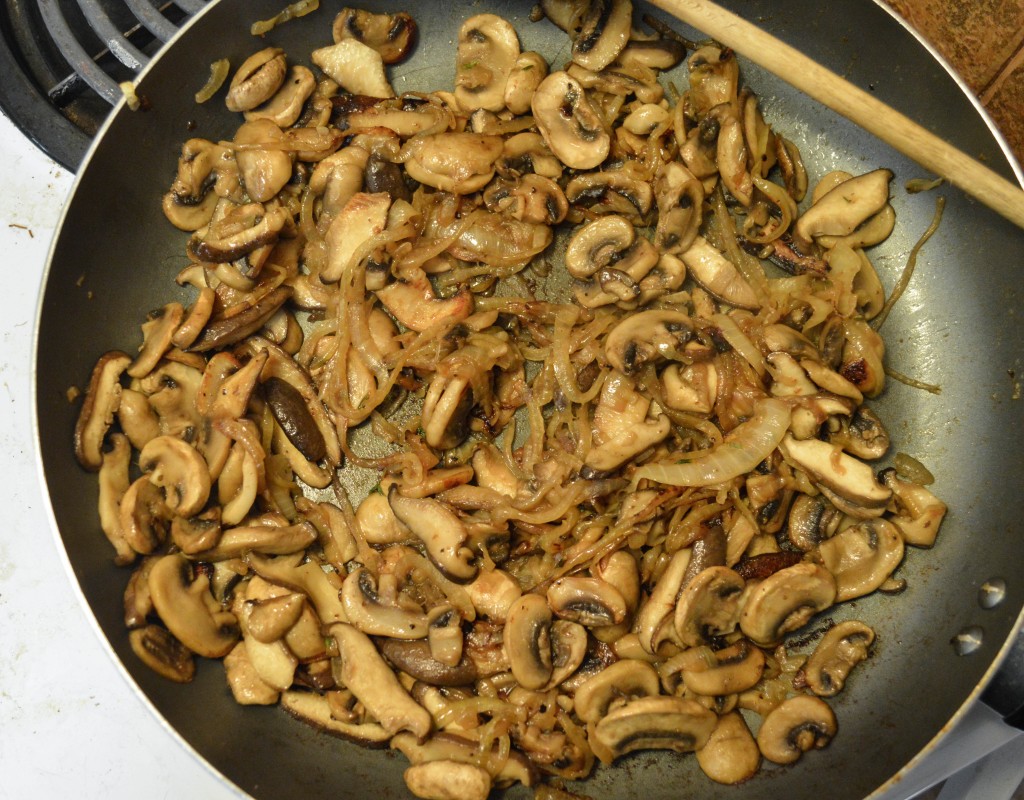 While the mushrooms are cooling, in another skillet toast the almonds over medium heat flipping the nuts frequently for about 5 minutes. Be very careful while toasting nuts, they can go from delicious to inedible in a flash. When the mushroom mixture has cooled and the nuts toasted, add the mixture with the lemon juice and garlic to a high-powered blender or food processor. If you have a smaller appliance, you will have to do it in batches. I wanted my pate to be very smooth so I used a Vitamix, however I did experiment in my food processor and though it wasn't as smooth, it was still very tasty. Serve however you like!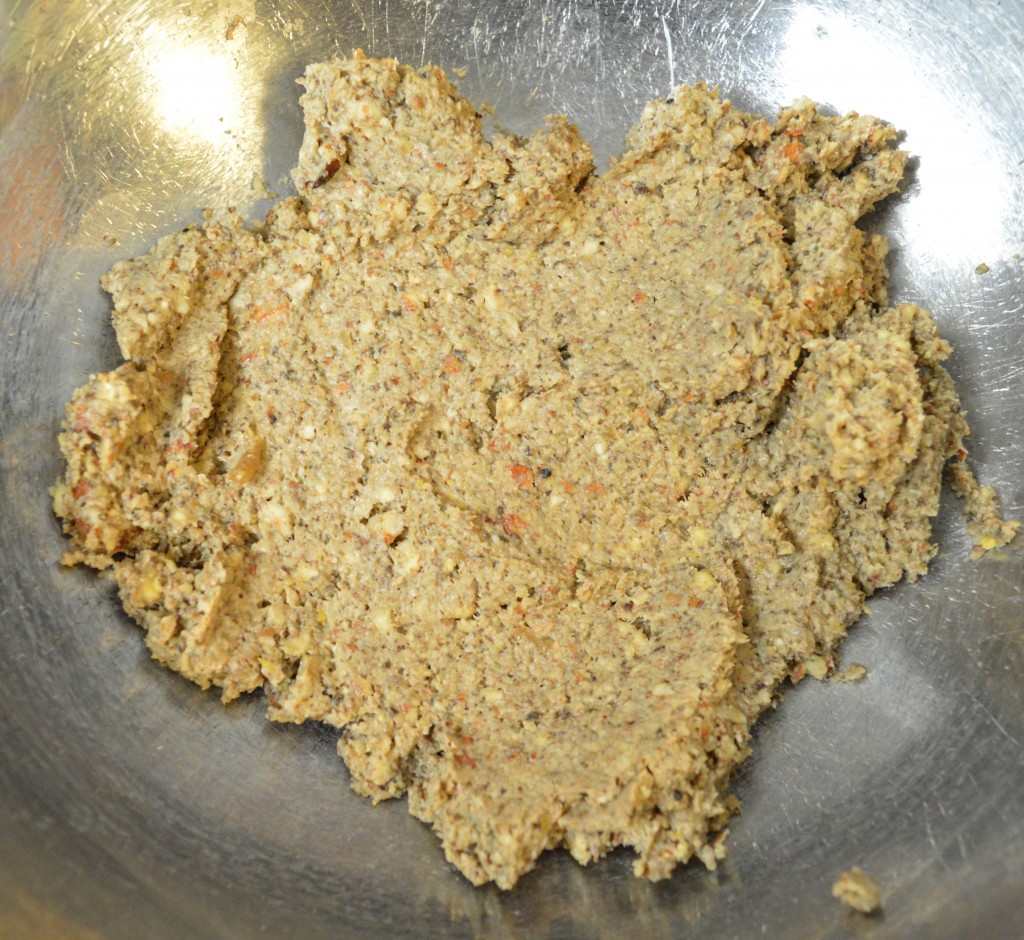 Now I know this doesn't look like anything special but it is full of flavour and carnivores will exclaim: This is vegan?!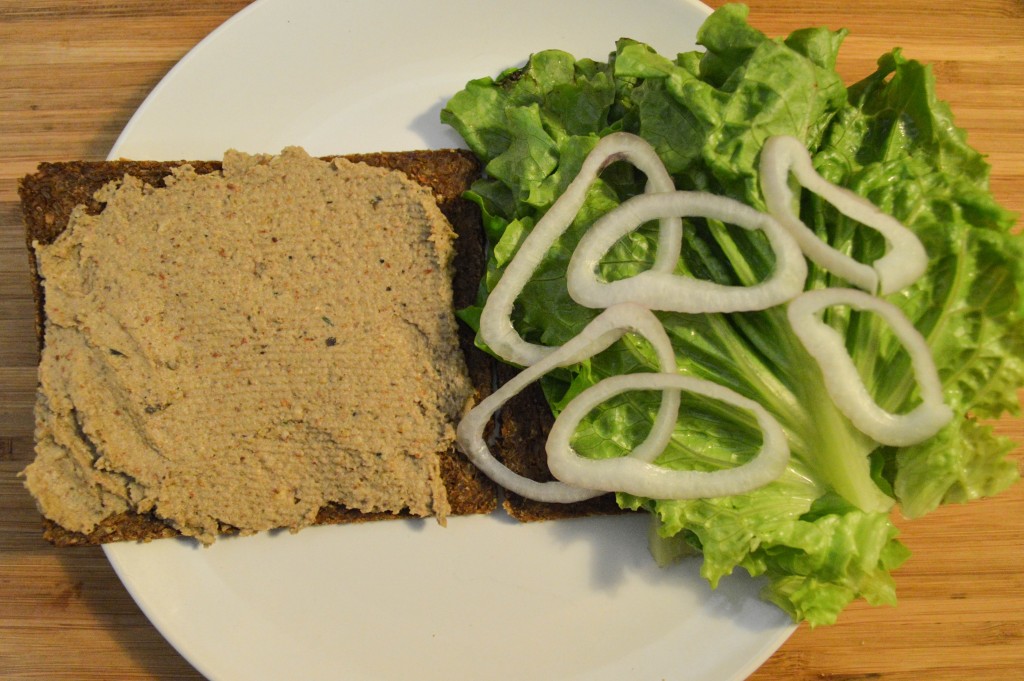 Sandwiches are weirdly difficult to photograph. I wanted the pate to be in full view but then you don't see the extra cracked mustard under the lettuce and if I just put the two together, it just looks like a piece of bread with lettuce sticking out of it. Plain as it may look I ate one of these a day for as long as the pate would last.