I am so please to say that this soup is for Virtual Vegan Potluck! What a great idea to bring bloggers together for a special event like this! Special thanks to Annie who answers a zillion of my emails about what to do, what goes where etc. Every blogger is so inspirational and I feel so lucky to be a part of this community.
I use to hate, nah loathe cream of mushroom soup; the heavy cream, rubbery thin strips of mushrooms and very fairly bland taste. I always over peppered mine and choked it down very quickly, as it always got worse as it cooled. My mom occasionally busted out that red can because it was my sister's favourite and she was the picky eater in the family.
I had made a homemade version of cream of mushroom soup but I had always used cream and I knew making a vegan version would be tricky. Every batch I made I practically shoved a spoonful of it into Mark's mouth and asked how it was. He said each batch was good (I think it was trying to spare my feelings) but I wanted it to be great. At first the texture was too watery or the taste just wasn't on the money. Cauliflower on its own wasn't making my soup as creamy as I wanted so I needed to thicken it somehow. I was thinking about adding a roux or soaked cashews but wanted everyone to be able to enjoy it without the worry of an allergic reaction. Potatoes came around and saved the day. This soup took me 4 times to get it right but Mark told me that I nailed it on my last batch. Music to this gal's ears! I looked into the pot and just saw a grey liquid. I mean it tasted great but visually not so appealing. I fried up some extra mushrooms hanging out in the fridge that I had from my failed experiments. I topped the soup with these meaty crispy mushrooms and dove right into my very full bowl. This was the exact opposite of the cream of mushroom soup I had grown up with much to my delight. Take that picky sister!!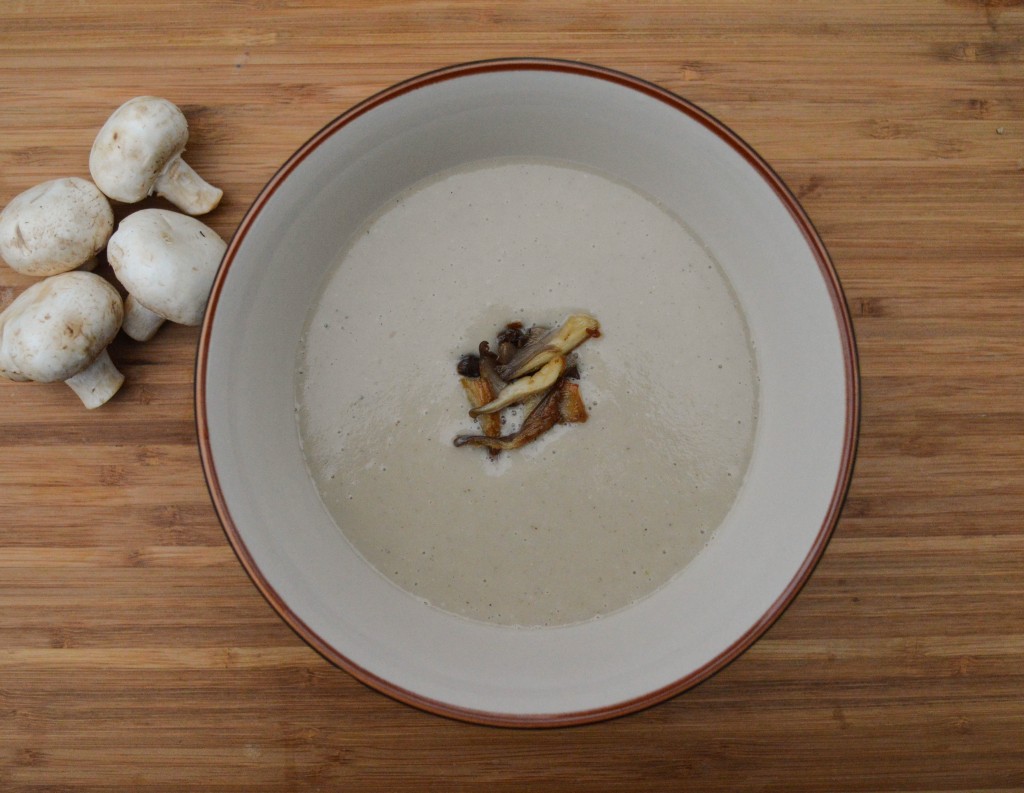 You can use cremini mushrooms instead of white button ones if you like. Did you know that creminis are just baby portobellos? Just make sure you are using the same weight. You must degill the portobello mushrooms or it will turn your soup a muddy colour. Gently scrap the gills out with a spoon.
Makes 3 quarts
For the soup:
4 tablespoons Earth Balance Traditional butter
1 cup diced shallots
2 garlic cloves, minced
1 ½ pounds white button mushrooms, trimmed and sliced
1 pound Portobello mushrooms, destemmed, degilled and sliced
1 ½ teaspoon kosher salt
1 teaspoon cracked black pepper
4 cups water
3 cups low sodium vegetable stock
2 cups unsweetened almond milk
¼ cup dried porcini mushrooms, rinsed
1/3 cup dry sherry or white wine (optional but does add a lot of flavour)
½ teaspoon ground nutmeg
5 ½ cups bite sized pieces chopped cauliflower, about ½ of a large head
2 medium Yukon gold potatoes, peeled and diced about 2 cups
For the garnish:
2 tablespoons Earth Balance Traditional butter
8 ounces oyster, shiitake or white button mushrooms, trimmed and sliced thin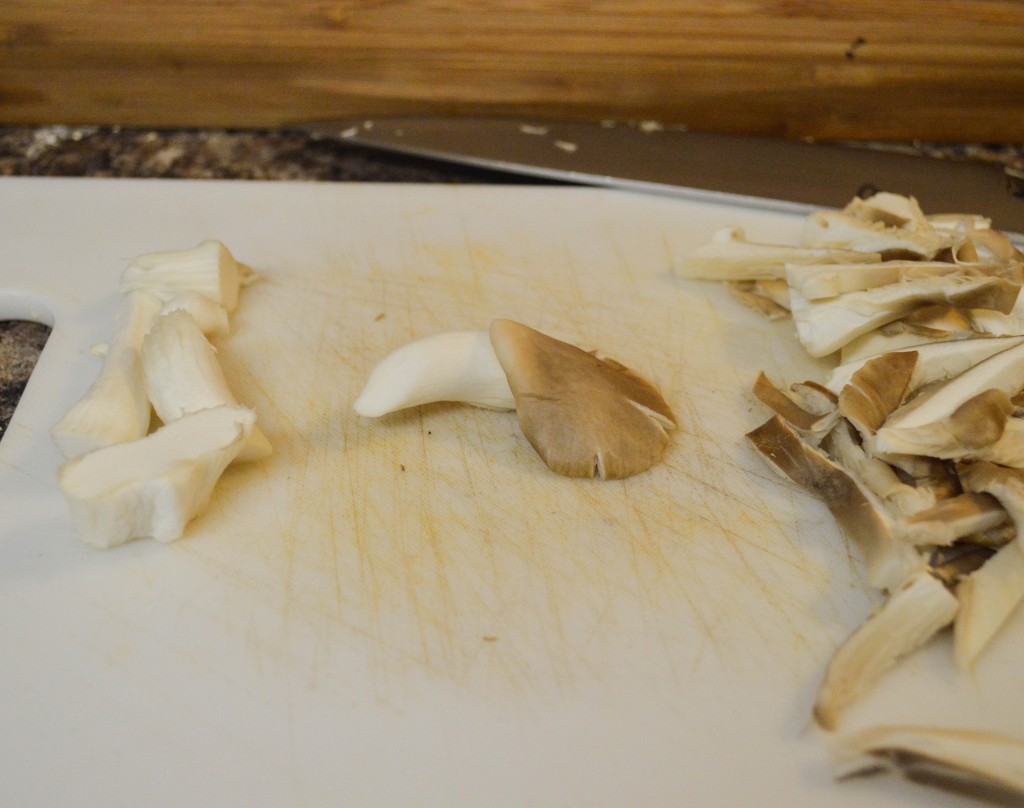 Trim off the stems and thinly slice the "oyster" part of the mushroom. This can be done with any small mushroom you like.
For the soup:
In a large stockpot, melt the Earth Balance over medium heat and add the shallots when butter is bubbling, sauté shallots for about 5 minutes. Add the garlic and sauté for about 1 minute. Add the mushrooms, salt and pepper and coat the mushrooms with the butter and cook, stirring occasionally for 5 minutes. Reduce heat to medium low and cover with the pot's lid, cook, stirring occasionally for 15 minutes. This will release a lot of the mushroom's liquid, creating a more flavourful broth. In a separate large pot, add the water, milk and broth and bring to simmer over medium heat, whisking occasionally.
After the mushrooms have released their liquids add the rinsed porcinis, sherry and nutmeg to the mushroom pot and cook for 2 minutes. Carefully add the liquids pot to the mushroom pot. Add the cauliflower and potato, cover and bring to simmer. Turn heat down to low and cook for another 20 minutes until cauliflower and potatoes are very tender.
Take the soup off heat and in batches, puree in a high power blender or food processor until completely smooth. Transfer smooth soup to another pot or large bowl and continue with the remaining soup. If you transferred the pureed soup to a bowl, return to the now empty stockpot and turn heat back low on to keep the soup warm while you make the garnish.
For the garnish:
In a 10" non-stick skillet melt the butter on medium heat. Add the mushrooms stirring occasionally until mushrooms are golden brown about 5 minutes for oyster mushrooms (those are the ones I used) but it may take a little longer for other kinds. Top soup with two tablespoons of fried mushrooms.
Check out all the other Virtual Vegan Potluck bloggers as well! I can't wait to try out their recipes!