I am so sorry for the delayed post. I have been dealing with some medical issues that are making me extremely tired, dizzy, headache, vertigo and nausea. Every time I went to test a recipe, I had to take a nap and looking at my computer screen made my head spin. Thankfully it has been confirmed that my diet is perfectly fine and not necessarily the cause of my current woes. Even on a plant based diet, my iron and B12 levels are within a normal range, which means I am not iron deficient as previous thought. Hooray! But now I am left in the dark as to what is causing these symptoms. The lining of my stomach is inflamed which I find a little strange so my next stop is to naturopath doctor to do a full allergy test. I may have developed an allergy and my symptoms could be caused by an ongoing allergic reaction. But enough about that! Feeling a little better so back to the kitchen I go.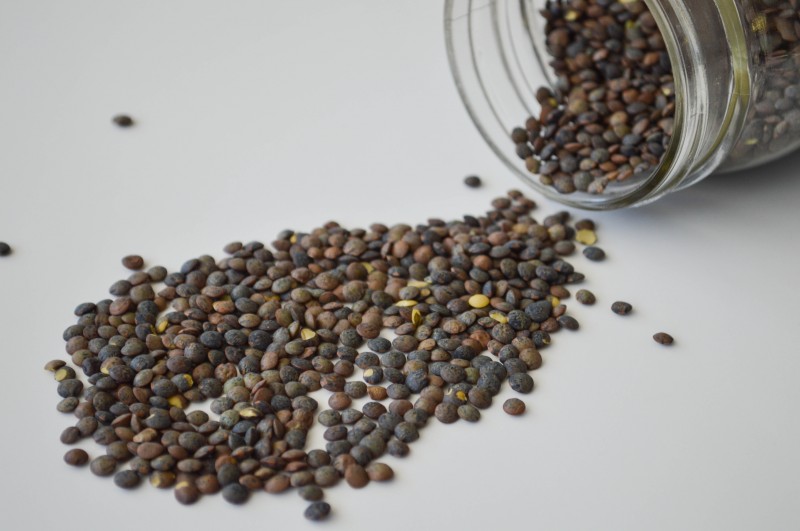 I may be jumping the gun here with a typical mid-summer recipe but there is reason to celebrate: Mark is going to France next month! Mark is a bass player for the blues/jazz band Andria Simone and Those Guys and they have recently won the Hennessy Artistry Talent Quest. I could not be more proud of them and all of their hard work and believe me when I say it is hard work and (almost) completely unglamorous. Mark, who attends school full time, has a full time job and yet continues to go diligently to all rehearsals and gigs while he carrying his bass, amp and gear all on the subway. It is admirable to see their dedication to their passion for music by paying free gigs and rehearsing all hours to get ready for television gigs and music video recordings.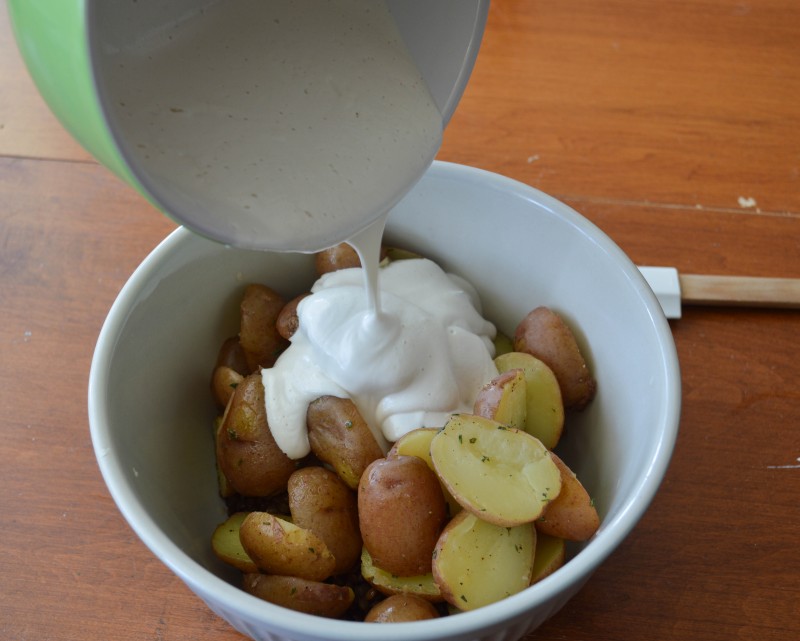 I am so happy for him and I hope he enjoys his time in France while feasting on baguettes, drinking gallons of wine and sipping cognac which he had told me will be a daily occurrence if he has the time between performing at the music festival. Sadly I will not be joining him, as I will be stuck in my adult high school updating my math credits for 6 hours a day in a non-air conditioned room. This sacrifice is all for the greater good in hopes of applying to get my BSc. Siggghhh but I do dream of France so I thought I would make my favourite summer time dish with a French inspiration.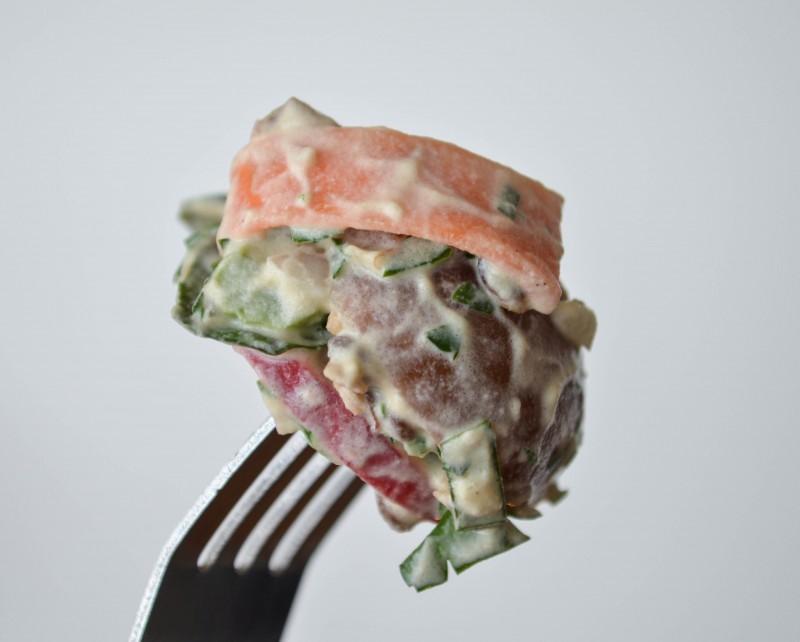 When I think of France, I generally don't think vegan food but this potato salad doesn't have a lick of cream, eggs, bacon or anything in a liver pate form. It does contain some delicious vegan friendly French elements such as: spicy Dijon mustard, pebbly Puy lentils, crisp radishes, shallots, blanched asparagus and fleur de sel. Not exactly a French classic but it is fresh, summery and absolutely delicious. If you are going to France this summer, I am completely jealous but for those who aren't this potato salad helps comfort your wanderlust soul.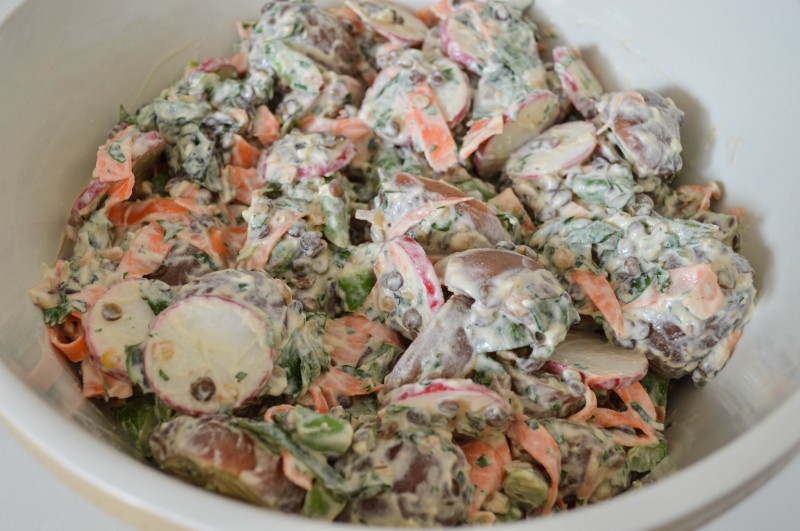 French Inspired Creamy Lentil Potato Salad
2014-06-14 08:11:41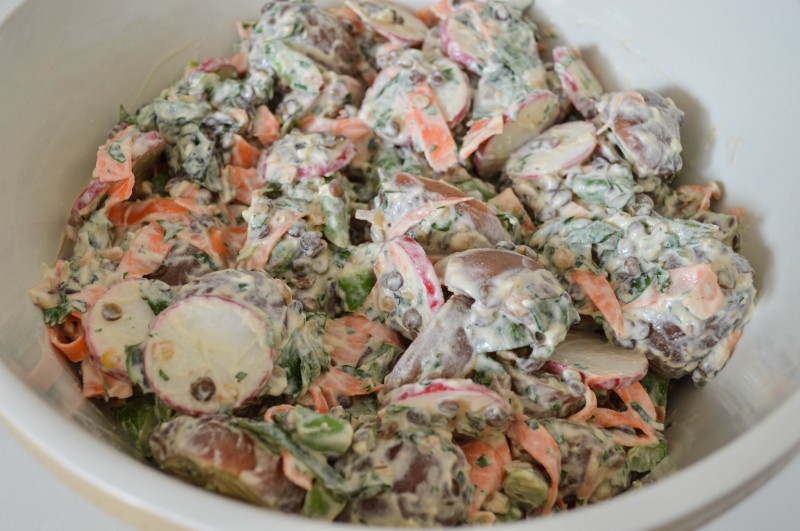 Serves 4
A fresh French twist on an all American classic summer time recipe.
Cashew Dijon Mayo
1 cup raw cashews, soaked for 2-8 hours, drained
3 tablespoons fresh lemon juice
2 tablespoons apple cider vinegar
½ teaspoon fleur de sel
6 tablespoons water
2-3 teaspoons Dijon mustard (I used 3 but I LOVE mustard)
Lentils+ Potatoes
½ cup Puy lentils, picked through and rinsed
1 ½ pounds mini red skinned potatoes, washed and steamed
2 tablespoons apple cider vinegar
¼ teaspoon fleur de sel
Vegetables
2 carrots, peeled and shaved with a vegetable peeler- cut the shaves into thin strips
½ pound asparagus, trimmed and cut on the bias into medium pieces
6-7 medium radishes, washed well, trimmed and sliced thin
1/3 cup packed fresh basil leaves, cut into thin ribbons
1/3 cup packed fresh parsley leaves, chopped roughly
1½ tablespoons minced fresh shallot
¼ teaspoon fleur de sel
¼ teaspoon cracked black pepper + more to season after the salad has rested for 1 hour
For the Cashew Dijon Mayo
Place all ingredients in a high-powered blender and process until completely smooth.
For the Lentils + Potatoes
Place the lentils into a small pot of cold water so that they are covered by about 3 inches of water. I used ½ cup of dried lentils and 2 cups of water. Bring the water up to the boil. As soon as it starts boiling, reduce the heat to medium/medium low and simmer for 15-20 minutes. Test a few lentils at a time to check for doneness- they should have some bite to them and should not be bursting. Drain and rinse with cold running water, shaking out the water before adding the lentils to the potato bowl.
In a large pot, add water until about 2 inches deep and place the steamer basket inside the pot. Heat water over medium high until bubbly and add the potatoes. Keep a close eye on the water- if it gets too low you run the risk of burning out your pot. Cook potatoes until they are tender but the skins aren't bursting. While the potatoes cook, add vinegar and salt to a large non-reactive bowl and set aside. Once potatoes are fully cooked, take off heat and cut the potatoes in half while they are still warm. Add all the potatoes to the bowl and toss with vinegar. Let stand in vinegar while you prepare your other ingredients.
For the Vegetables
To blanch the asparagus: add chopped asparagus to boiling water and cook for 30 seconds. Drain and immediately plunge into ice water to stop the cooking process. Dry gently with a clean dishtowel and add to the potato/lentil bowl. Add the rest of the ingredients to the bowl. Pour the cashew Dijon mayo over the salad and with a rubber spatula gently coat the salad with the dressing.
Cover with foil or plastic wrap and let the salad rest in the refrigerator for 1 hour to let the flavours meld. The salad can be covered and refrigerated for up to 1 day.
Notes
I steamed the potatoes in a pot with a steamer basket, cut them in half and then tossed them with apple cider vinegar and salt. Potatoes are most absorbent when hot so it soaks up all the tangy vinegar.
You don't have to use all the vegetables I did for this recipe, use ones you prefer. I just don't recommend beets since they will turn your salad a very vivid pink.
Green lentils are larger than the Puy lentils, which are darker (greeny blueish gray colour) and look like little pebbles. These lentils are grown in the French region of Le Puy.
After mixing everything together, refrigerate for at least 1 hour so the flavours have time to meld together.
I used Bragg's Raw Apple Cider. Feel free to experiment with other vinegars like white wine, red wine or champagne vinegar.
No fleur de sel? Completely fine. Sub in your preferred non-ionized salt like kosher or fine grain sea salt and TASTE as you go before adding more salt. Fleur de sel has a very mild flavour.
Make the dressing first, put on the lentils, cook the potatoes and while the lentils and potatoes are cooking, prep your vegetables for the rest of the salad.
Sprouts & Chocolate http://www.sproutsandchocolate.com/