With Mark playing at a music festival in England this week I decided to do all the ridiculous things I use to do when I lived on my own. Those shameful guilty pleasures that you only indulge in when you are the only one around:
Destiny's Child on FULL blast!
Watch ALL the new Once Upon A Time episodes Netflix just released! Marathon it! (ALSO NEW THE WALKING DEAD!!!)
Practice the Single Ladies dance routine along side Beyonce on YouTube….pretend that I AM Beyonce.
Eat as MANY olives as I can!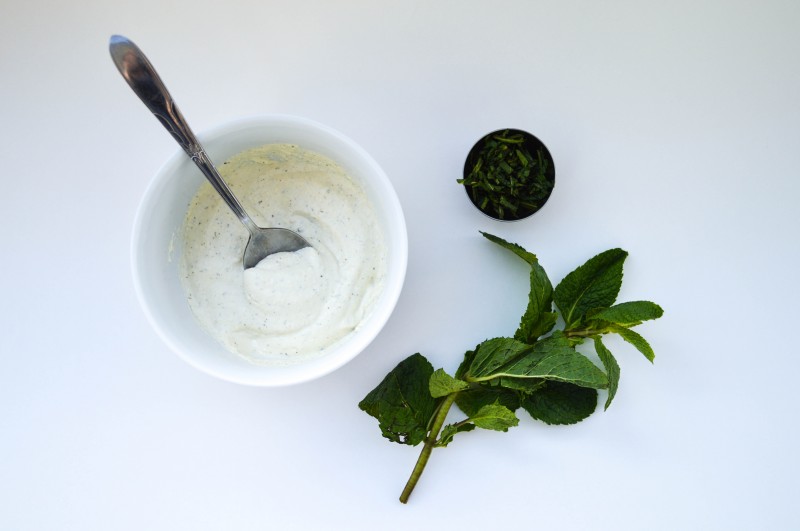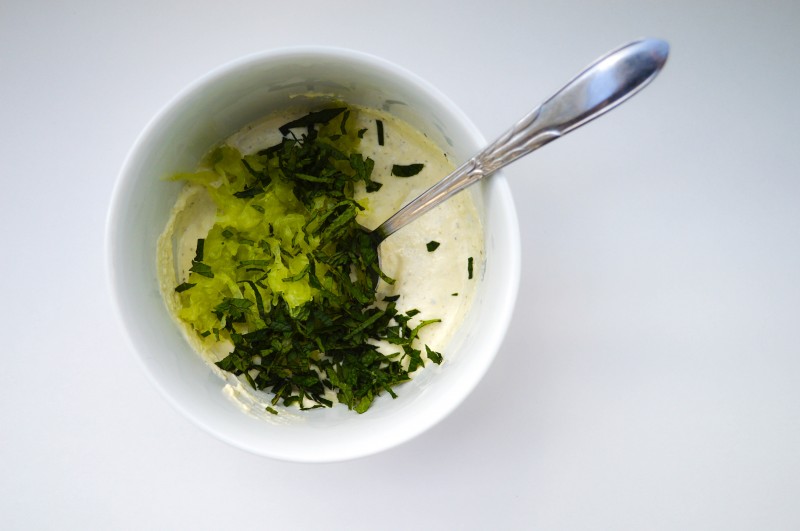 Mark does not like olives which is a real problem for me because I LOVE olives. I am a huge fan of the briny, leathery fruits. Sometimes when Mark is working late I will prepare a little plate of olives, sauteed mushrooms, roasted red peppers, capers, balsamic vinegar, fresh cherry tomatoes and mustard to serve on crusty bread slices for dinner with a glass a red wine and feeling oh-so French! Unfortunately for me, cooking with olives is a no-go since I dread the idea of someone picking out an ingredient out of a dish. Maybe I am just too un-picky? I knew I needed to make a dish with some of my favourite ingredients that Mark is not a fan of while he is off being a rockstar.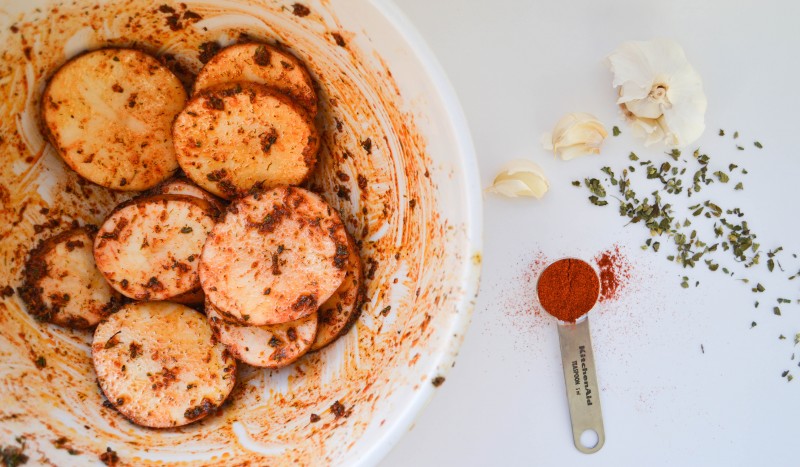 These potato rounds are banging good! Salty salsa, spiced potatoes and cool cashew tzatziki sauce come together to create this recipe. It is a bit fussy since you have to make a salsa, a sauce and the potatoes but if you follow my game plan, it will seem effortless. First, preheat the oven, salt the cucumbers, make the sauce and refrigerate. Secondly, chop and toss the potatoes in the spice oil and roast. While the potatoes are roasting make the salsa and prep the parsley garnish. When you break it down, it doesn't seem so daunting.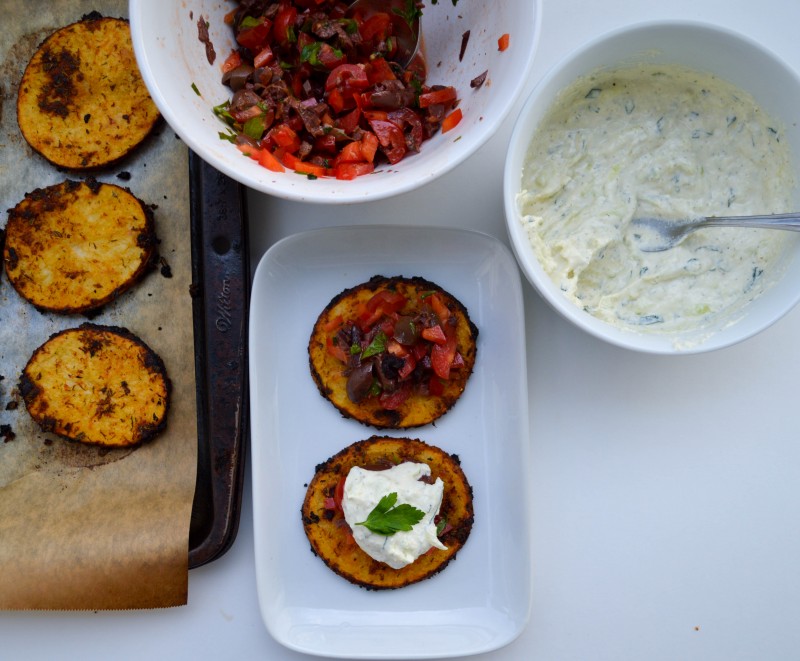 Since olives are the star of this dish I encourage you to buy the best olives you can afford: from an olive bar, cheese shop or high-end grocery store. Jarred olives are far too salty and lack the richness and depth of a good quality olive. I tried this recipe with nicoise olives but this olive is more expensive than the recipe recommended Katamala and impossible to find pitted (believe me when I say they are a b*tch to pit these tiny French olives).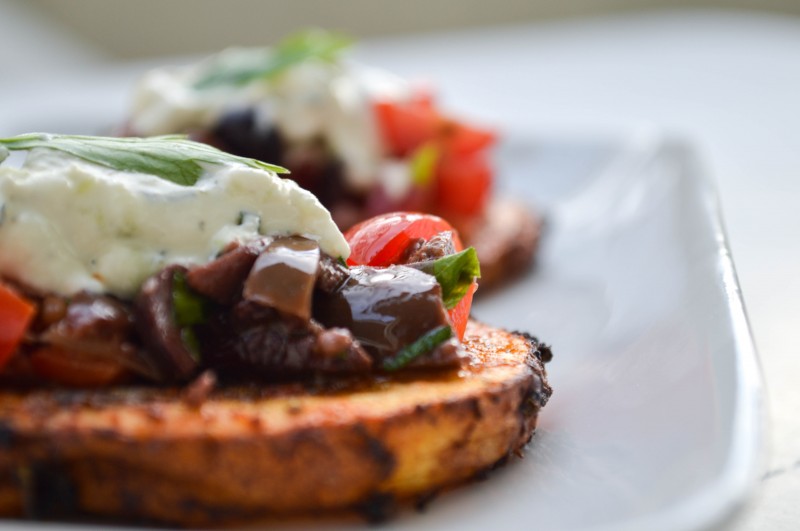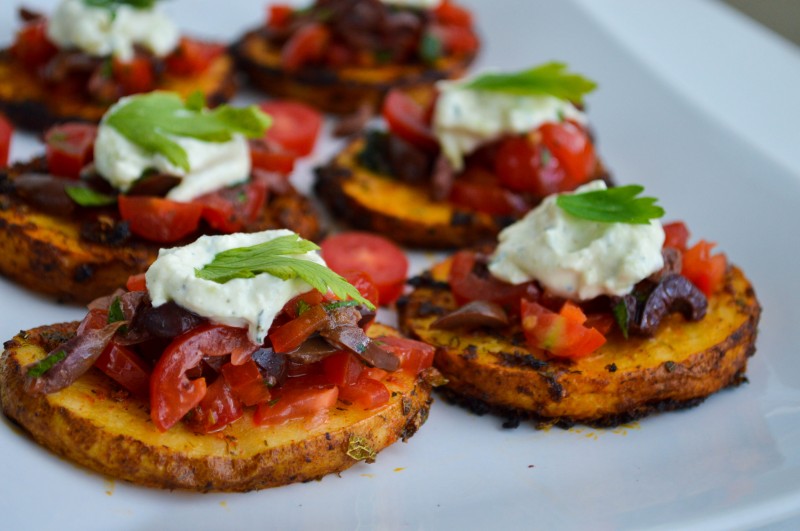 The best part of being in a relationship is that you like when your person is there and when they are not there. A little time alone is needed sometimes: just me, some olives and my cat Barb. And Beyonce on full blast.
What dish do you make when your partner is away? Anything you love and they hate?
Roasted Greek Potato Rounds with Olive-Tomato Salsa and Cashew Tzatziki Sauce
2014-10-16 16:53:48
Can be served as an appetizer or as a main dish with a green salad on the side. I ate them all myself. Not in one sitting but close....This recipe is vegan and gluten-free.
For the Tzatziki Sauce
½ cucumber
½ teaspoon fine grain sea salt
½ cup raw cashews, soaked 2-8 hours
1 teaspoon nutritional yeast
1 small garlic clove, minced
2 tablespoons fresh lemon juice
Pinch of dill
5 mint leaves
3 tablespoons water
For the Greek Roasted Potatoes
1 large white potato, washed
1 teaspoon fine grain sea salt
½ teaspoon dried dill
1 teaspoon Hungrian paprika
½ teaspoon onion powder
1 teaspoon oregano
2 tablespoons extra virgin olive oil
Pinch of black pepper
For the Olive- Tomato Salsa
½ cup Kalamata olives, roughly chopped
¼ cup chopped cherry tomatoes, about 6 cherry tomatoes (halved lengthwise and chopped)
¼ cup finely diced red pepper
1 tablespoons fresh chopped parsley + more for garnish
1 teaspoon fresh lemon juice
For the Tzatziki Sauce
Peel the cucumber and with a large-hole grater, grate the cucumber. Transfer the cucumber to a small bowl and stir in the salt. Let sit and for 10 minutes while you make the sauce.
Add the rest of the ingredients (except the cucumber and mint) to the food processor and process until completely smooth, about 5 minutes.
Transfer the salted grated cucumbers to a cheesecloth, nut milk bag or a clean dishtowel and gently squeeze out the water. The cucumber should feel a dry.
Scrap out the cashew sauce to a small bowl and add the grated cucumber and mint; stir until fully combined.
Cover and refrigerate until ready to serve.
For the Olive-Tomato Salsa
Toss all the ingredients together in a small bowl and set it aside until ready to serve.
For the potatoes
Preheat oven to 475 degrees and line a large baking sheet with parchment paper. In a large bowl whisk the spices, salt and oil together. Cut the washed potato into ¼ inch rounds (10 rounds, minus the 2 end pieces) and toss in the spiced oil.
In a single layer roast the potatoes for 20 minutes, flipping the potatoes halfway through.
Transfer to the potatoes to a serving plate (aka my dinner plate) and top with Olive Salsa and Tzatziki Sauce, garnishing with a parsley leaf. Serve with extra Tzatziki sauce if you like.
Notes
Not crazy about olives? Skip the salsa and serve the potatoes with the Tzatziki sauce. It is still really good!
Sprouts & Chocolate http://www.sproutsandchocolate.com/