Once upon a time…..
in a city not so far away there lives a girl who loves green. Green is her favourite colour since it matches her eyes and her favourite sweater. She tries having green in all aspects of her life since she now realizes how important it is to love green food. She uses green vegetables in her cooking and smoothies but that wasn't enough for this girl: she wanted green milk. Rich, cool, creamy and lightly sweetened green milk. Sounds crazy right? But this girl believed in the green!
She summoned the assistance of her Vitamix cauldron to concoct the perfect green milk. Double double turbo trouble! ITS ALIVE!!
The Green Monster Milk was ready to go out into the world, spreading the goodness of green for everyone to love and enjoy.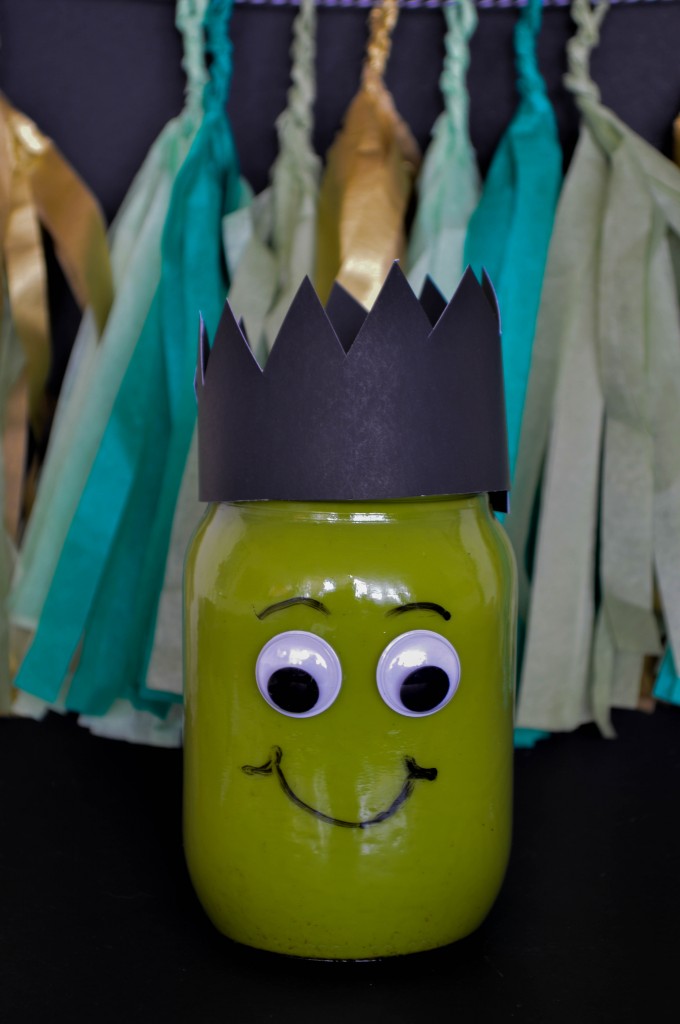 The only problem was this milk didn't look like the rest of the milks in the world. On the surface he looked a little different but inside he had so many good things to offer: vitamins and minerals, those important micronutrients but all anyone saw was his green colour.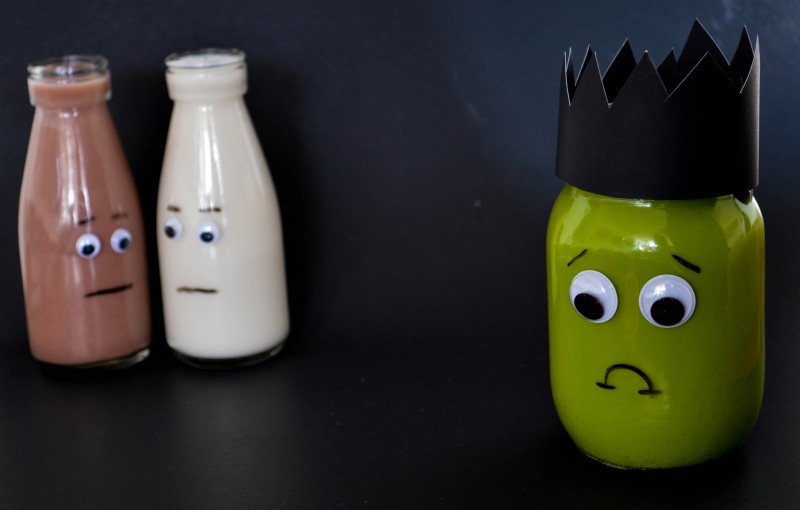 He was sad and lonely so he went on a journey through the spooky Collard Green Forest in hopes of meeting others that would understand him and his greenness.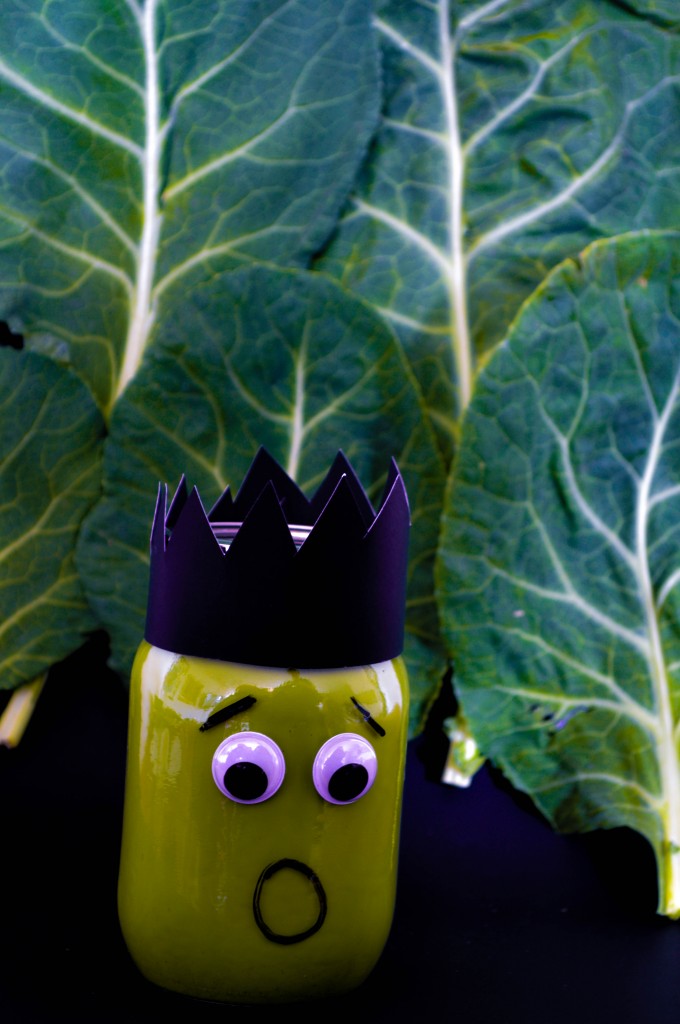 Just when he thought he wouldn't find any green monsters like him, he finally met some! And people who loved all his green goodness that he wanted to share!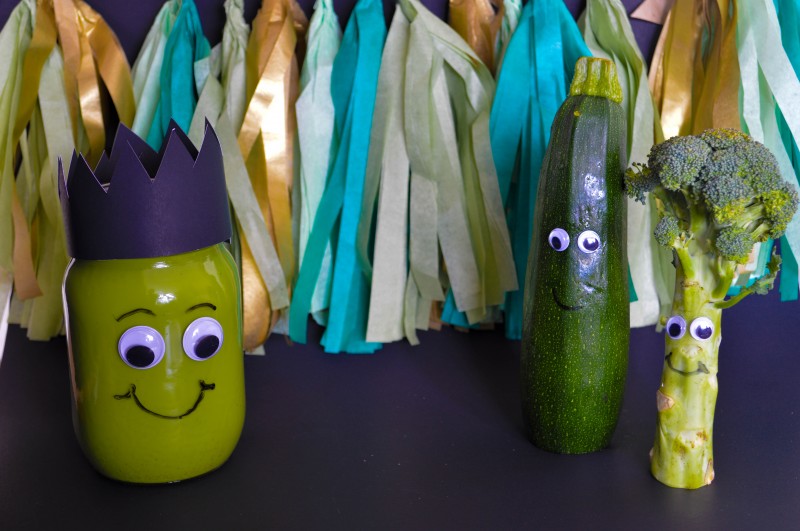 He finally found his calling and that is bringing people only the best source of green power: plant power! He lived happily ever after. Definitely not THE END of this recipe.
Happy Halloween from our new friend Green Monster Milk!
I made this milk for those who do not like green juice (I have yet to be sold on it!) but I do love green milk! It tastes just like my Homemade Vanilla Almond Milk but with all the green juice goodness. The milk is completely raw, vegan, gluten-free and refined sugar free since it is sweetened with dates! So if you are not a fan of straight green juice this milk is a great alternative.
For complete step-by-step instructions with photos visit my Homemade Vanilla Almond Milk post, just add the chopped greens and dates with the almonds instead of just the almonds. Warning: if your nut milk bag is made of a natural fibre like hemp, it will slightly discolour the bag. Wash right away for minimal staining. Trust me….
This is a great recipe to use if you need a little detox after a Halloween fete. If you are anything like me and stuffed your face with sweet bubbly punch and tons of candy, you will need this green milk in the morning.
Green Monster Milk
2014-10-21 20:32:17
This creamy green concoction has all the goodness of green juice but tastes like lightly sweetened vanilla almond milk. This recipe is raw, sweetened with dates! Raw, gluten-free, vegan, oil-free and refined sugar free. This recipe makes about 5.5 cups of milk.
Ingredients
1 cup raw almonds
5 cups water (not the soaking water)
3 large collard green leaves, destemmed and chopped
4 green kale leaves, destemmed and chopped
6 pitted Medjool dates, pitted and chopped
1 teaspoon vanilla
Pinch of salt
Instructions
Place almonds in a large bowl and fill with water, enough to completely submerge the nuts. Soak for 2-8 hours.
Drain and rinse the soaked almonds.
Add the almonds, fresh water, greens and dates to a high-speed blender.
Blend on high until all the nuts are blended. Turn up to turbo and blend for 1 minute.
Set the nut milk bag in a deep large bowl. Pour the blender contents into the bag. A lot of the milk will pour through the bag without effort.
Slowly lift the bag from the top of the bag and with the other hand gently squeeze the bottom of the bag. Be sure not to squeeze too hard or the pulp can shoot out at you! It took about 5-6 squeezes to get all the milk out.
Set the bag with the pulp aside.
Rinse out the blender and add the milk back in.
Add the rest of the ingredients and blend for 30 seconds to combine.
Best served chilled. The milk will separate but just give it a good shake or stir before drinking.
Notes
Save the pulp for smoothies! Adding more greens and lots of fibre!
This green milk doesn't last long in the fridge. Advice: I filled my mason jar right up to the very top and sealed. Oxidization will turns your lovely green milk an ugly colour.
Best consumed within 2 days and serve very cold.
Sprouts & Chocolate http://www.sproutsandchocolate.com/