Good morning 2015. Happy New Year! I am sure you are reading this with a slightly fuzzy brain this morning (as I am posting this with one) but I hope you enjoyed your holidays and rang in the new year wearing something sparkling and kissing someone special.
I am so sorry for the delayed post and I hope you can forgive me. My memory card broke inside my camera and my recipe pictures I wanted to post before the holiday were ruined. I was less than impressed with myself for being so technologically un-savvy. Between school and getting ready to go home for the holidays I had no time to reshoot the recipe. My apologies.
As much as I enjoyed Christmas with my family and Mark's, I am glad to be back home sleeping in my own bed and being in my kitchen again. I find getting out of the holiday meal groove and back into a whole food balanced diet. The holiday eating seems to drag on the extra week and ninety percent of people pledge to start eating right the morning of New Year's Day. I am not a big believer in New Years resolutions and I have been known to roll my eyes at the phrase "New Year, New You!" on the cover of women's magazines. Alas, here we are on January 1st and you know you need some good cleansing food. At least I do anyways…
I made a simple banana, spinach, flax and almond milk smoothie coming home from Christmas and as I was drinking it my brain was screaming HOOORAY FOR VEGETABLES! After the unpacking (still from Christmas…yikes!) I got to work on chopping and freezing bananas, soaking chickpeas, brown rice and raw nuts to make some seriously nutritious meals for the week of work ahead of me. For the next few days it is all about getting those micronutrients into my body that have been completely absent from any meal that I have had in the past week. I always think I will eat like I normally do but as soon as the treats, cookies and mashed potatoes come out I turn into an unsupervised child in a candy store. Worst part was that it never is just one day, my holiday feasting lasted four days. My tummy is quite rumbly and my skin broke out in deep pimples over the holiday. These were all signs that I needed some good healthful food to get this bod back in order.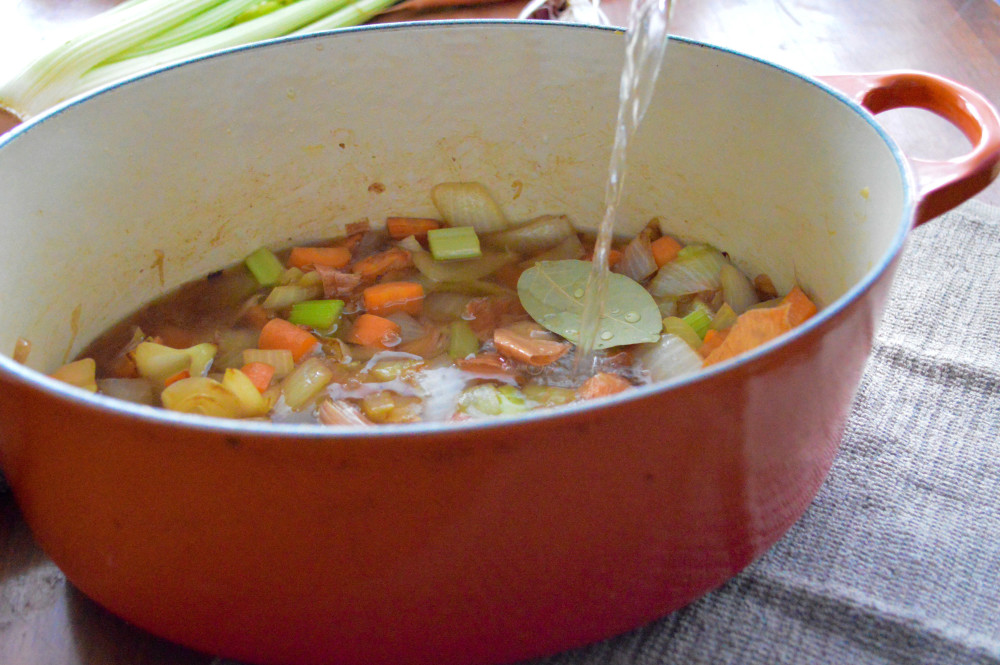 At the end of the grazing period, I felt like if you poked me with a pin I would deflate like a balloon. I needed to reconnect with my daily routine and get back into the swing of things before heading back to school. Soup therapy is the answer. I love the smell of mirepoix sautéing on the stovetop. Mirepoix is just a fancy name for the mixture of carrots, celery and onions sautéed in oil as an aromatic base stops, sauces and stews. I love when simple things have beautiful elaborate names like mirepoix.
Soup is my go-to when I am feeling less than awesome. Tired? Soup. Burnt out? Soup and tea. Something about the steamy scents of everything coming together and warming your body down to its core that is so therapeutic. When the stock is cooking I like to take a deep breath of the steam from the pot, I find this to be cleansing in its own simple way. It also helps if you have something excellent to read as well. What is it about the combination of a hot mug of tea and reading that is so blissful?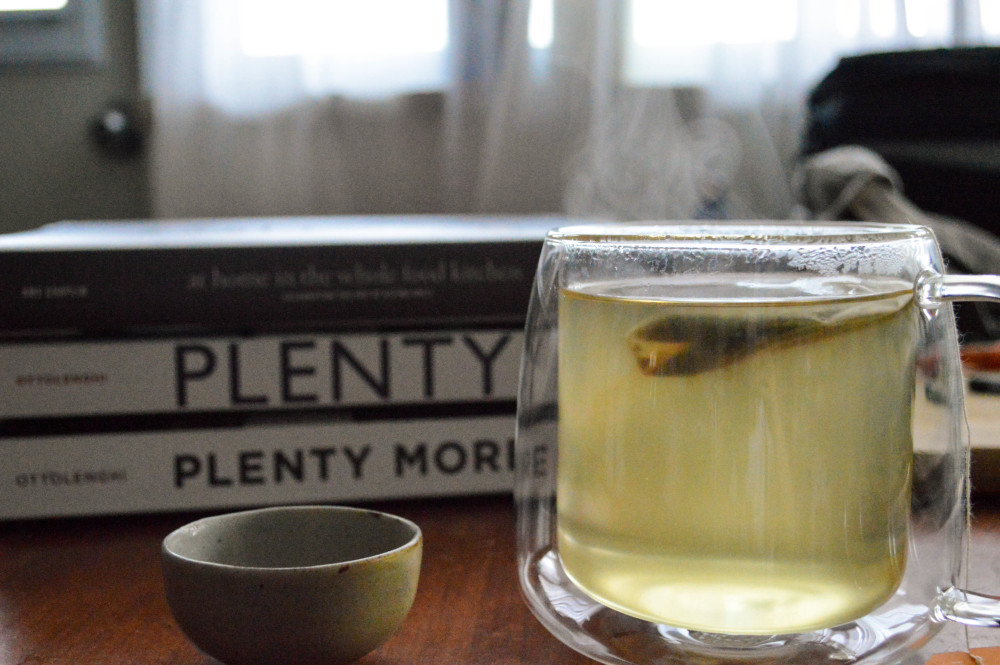 I poured this miso-seasoned broth over some ribbons of greens (or thinly sliced raw vegetables) to lightly steam them and add more minerals to the soup. I chose this as my breakfast option instead of cooked grains and bananas since it was what my body was craving. This soup does have a teeny hint of ginger to it so if you aren't feeling those ingredients for this cleansing soup feel free to omit.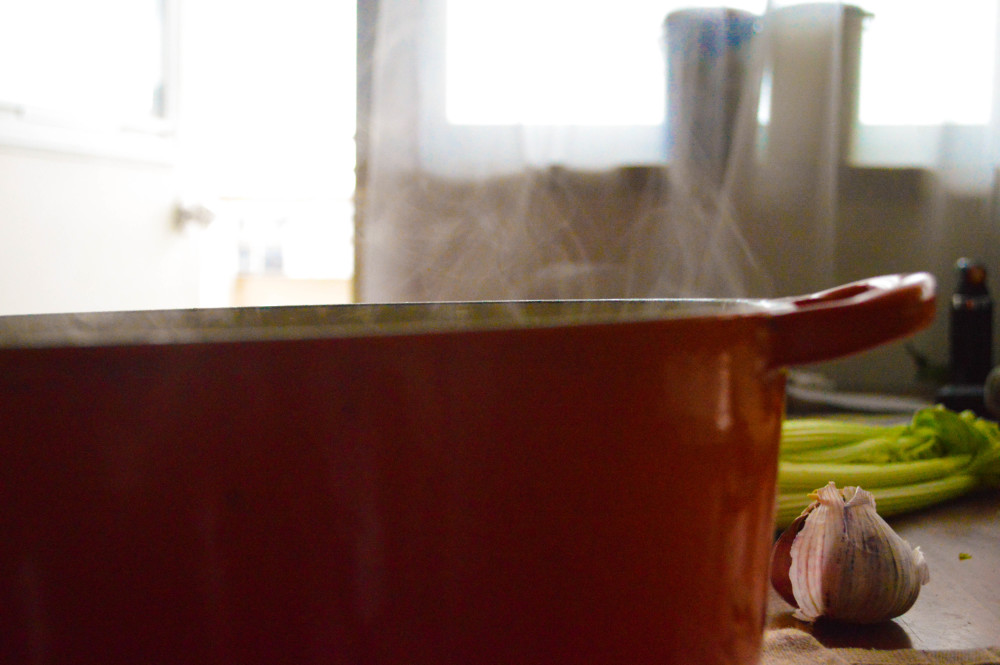 I am not a fan of the "freezer bag compost" broth since they only provide a weak ho-hum broth and the frozen scraps of vegetables do not brown as nicely as fresh vegetables. I have tried to make that version of broth a hundred times and it is never as flavourful.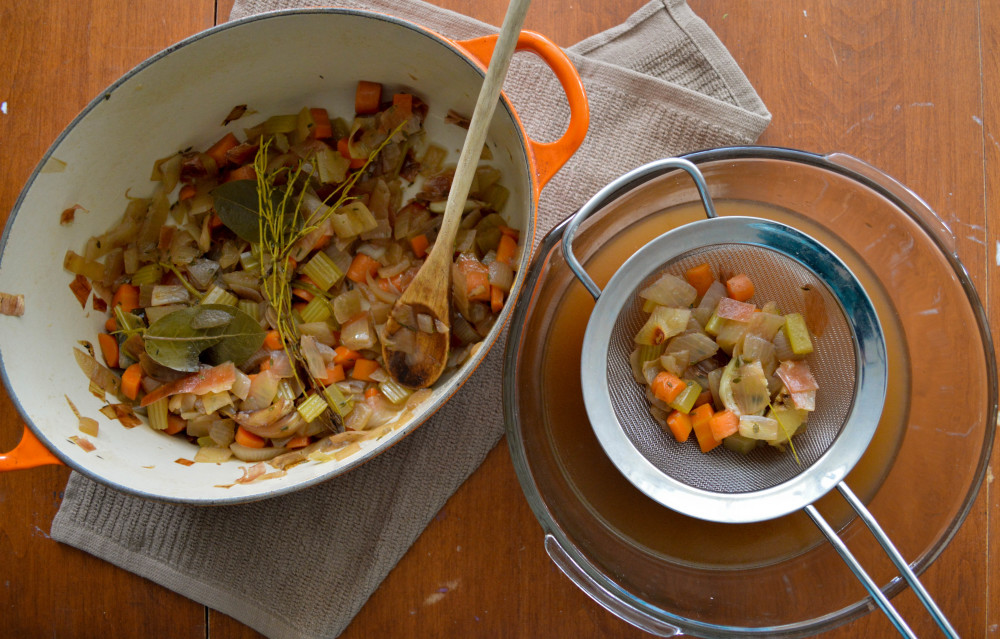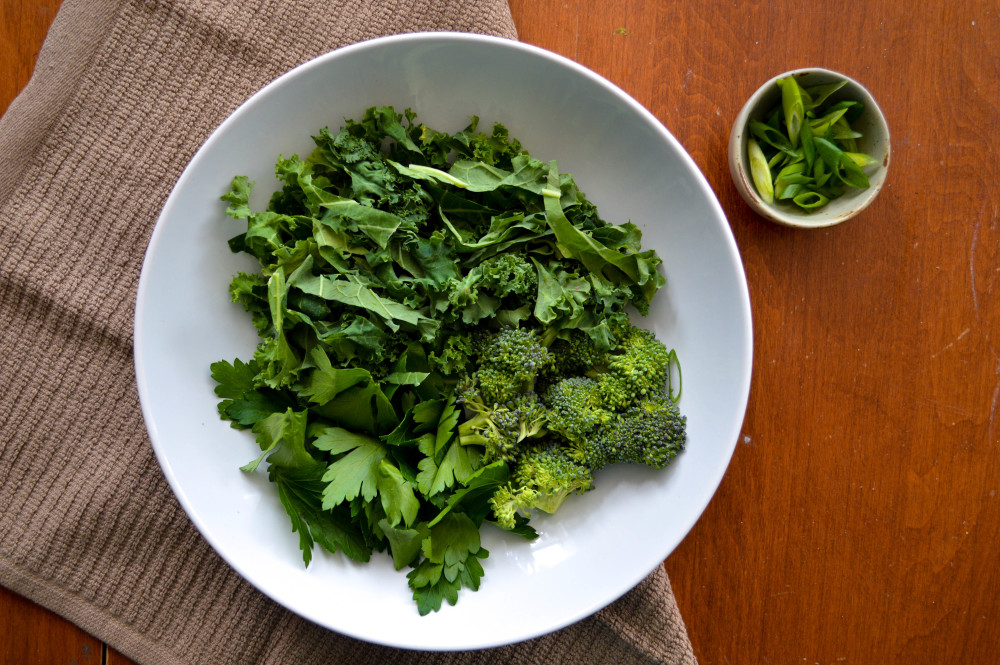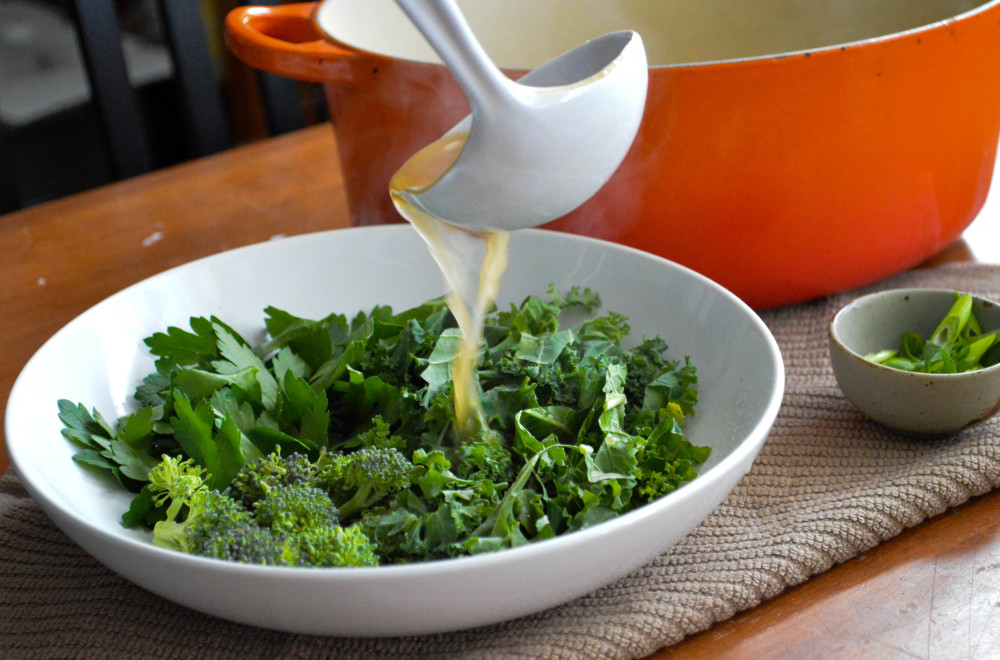 I tested two ways to enjoy this stock but they do have two different yields: the hour-long cooking process gives you a great flavorful stock that can be used for soups, risotto, cooking grains or wherever you like to use stock and yields about 6 cups of stock. The other cooking time (1:15 hours- yields 4 cups of stock) is the stock I like to have poured into a mug to drink on its own. This one provides a little more concentration so it can stand up on its own without any more flavours added to it.
All the best in the New Year from Sprouts & Chocolate! Cheers!
Other cleansing recipes from S&C (all gluten-free):
Sesame-Citrus Zoodle Bowl with Chili-Lime Tofu (#1 recipe on my site currently!)
Hearty Vegetable Winter Salad with Spicy Maple Pecans
Vegan Bloody Caesar (without the hooch! Has lots of vitamins and minerals from the citrus, tomatoes and seaweed)
Cucumber Chia Mojito (this is my hangover cure…best served well chilled so can be made the night ahead.)
Cleansing Vegetable Miso Broth with Greens
2014-12-29 17:35:47
A light-miso seasoned cleansing broth to get your back into your healthful routine for the new year. This recipe is vegan and gluten free. The stock version serves about 6 cups and the concentrated version (cook time 1:15 hours) serves 4 cups. This recipe is freezer friendly for up to one month.
For the stock
1 tablespoon extra virgin olive oil
1 large Spanish onion, skins on and diced*
2 medium carrots, scrubbed and diced
2 celery stalk, stemmed and diced
3 cloves garlic, skin on and smashed
8 cups filtered water
4 dried mushrooms caps
2-inch piece peeled ginger
2-inch piece kombu** (optional)
3 bay leaves
5 parsley stems (no leaves!)
5-7 whole black peppercorns
1-2 tablespoons white miso
Optional greens
Handful of chopped parsley leaves
3 large destemmed kale leaves, thinly sliced
1 green onion, thinly sliced
Instructions
Over medium heat add the oil to a large stockpot (3 quarts) and heat until shimmering. Add the diced onions and sauté for 8 minutes, stirring occasionally until softened and slightly browned.
Add the carrots and sauté for 3 minutes, stirring occasionally.
Add the celery and garlic and cook for 2 minutes.
Add 2 cups of water to the vegetables, scraping the brown bits off the bottom. Add the rest of the water and the other ingredients.
Turn up heat to medium high and cover, bring the stock to a boil. Turn down heat to low and simmer for 1 hour (or longer if you want a more concentrated flavour).
Strain the vegetables from the stock and discard the vegetables. Wipe out the empty pot and add the stock to reheat.
Whisk in the miso until combined, ladle into mugs or bowls and serve over greens or on its own.
Notes
*I find it easier to dice the carrots and celery first and then the onion so the onion can be diced to the same size as the other vegetables. You want to ensure that they are roughly the same size. Keeping the skins on helps to color the stock.
**This ingredient adds more minerals and natural sea salt to the stock but it is optional. It may seem small but it will expand.
***This broth is lightly seasoned with miso as the "salt" component. If you care for more salt, add more to taste.
Sprouts & Chocolate http://www.sproutsandchocolate.com/