I should have been feeling great post exams but I was kind of blahhhhh. I had been waking up in a cranky mood and dreading the things I had to do that day. Some trivial things bothered me: the woman who hogged 6 washing machines on a busy Saturday morning, some more serious: some creepy guy I was serving who felt it was ok to grab my arm and ask me to "show him my beautiful smile for him" and then complained to my manager that I was giving him attitude when I chose to ignore his harassment. Thankfully my boss was on my side.
Maybe the grey days were wearing me down? Maybe people are just irritating me that badly. Grumble grumble….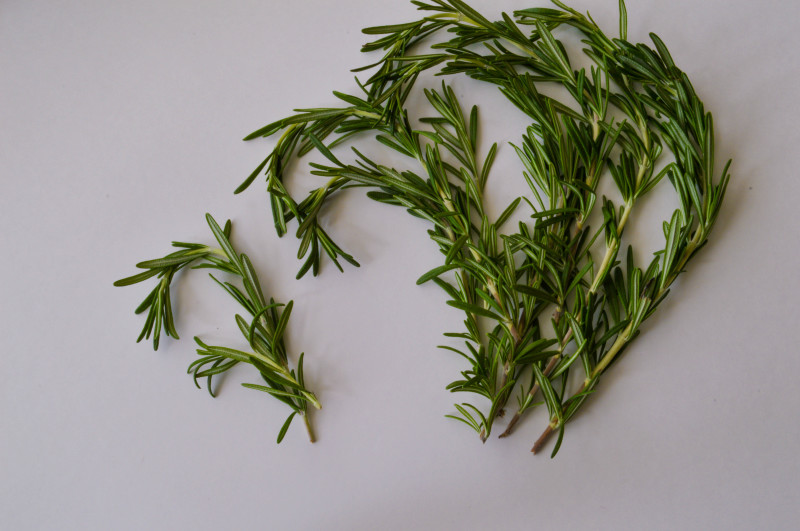 Staying positive is much more difficult than it is seems. I was at a point where I couldn't decide between "I should be grateful for what I have" and "I am at my rope's end" with the things I struggled with. I particularly dislike those people that tell other who are feeling a little glum to "buck up" or "look on the bright side!" Clichés are the worst. The cynic in me became awfully loud recently.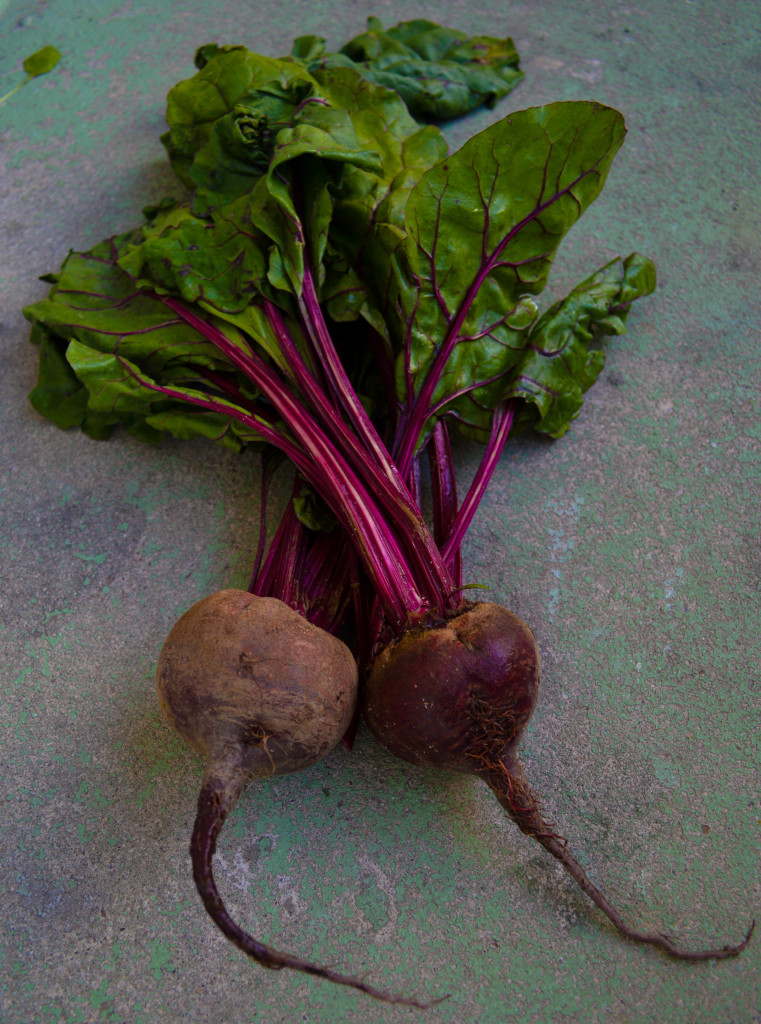 The only place I wanted to be in was my kitchen. Nothing beats when I have the kitchen all to myself with potential recipes to try out and my laptop strategically placed in the cupboard so I can watch Netflix (catching up on New Girl) while I do the inevitably large amount of dishes I seem to use.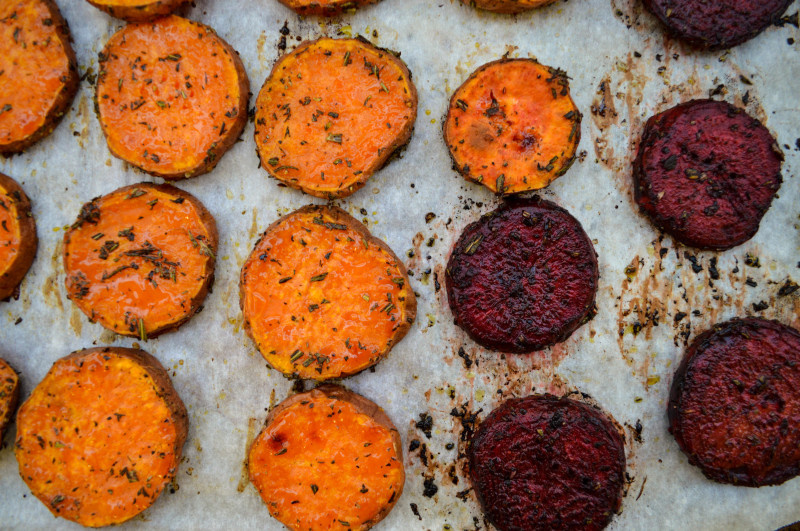 Being in my kitchen to do anything (besides reheating some soup) made me realize I hadn't done anything except work and school while I prepared for exams. I was just burnt out and in denial about it. I wanted to be stronger than that and push on through the exhaustion. I couldn't admit to myself that my body was overworked and what I needed was just R&R. During my (very) short break I decided to wear exclusively panama pants in my apartment, made absolutely zero plans and worked on things that make me happy (this recipe included!). After my break, things have been starting to look up.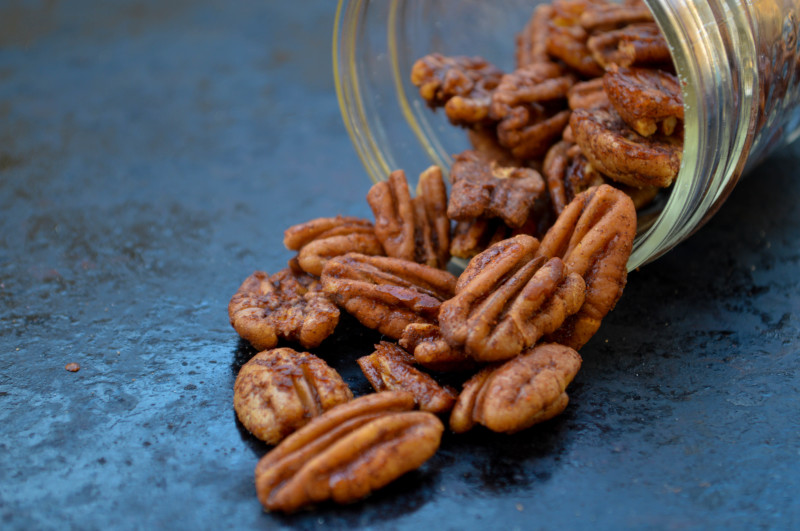 Since it SNOWED already, I wanted a really satisfying and hearty meal. Roasted vegetables are now here for the season. Hooray! Literally the only good thing about winter is roasting raw root vegetables and turning even the most gnarly vegetable into caramelized and concentrated flavour heaven. I am tired of these restaurant ho-hum iceberg lettuce salads. Give me some flavour and substance! I decided on sweet potatoes and beets since they are beautiful colours together and the sweetness of the potatoes and the earthiness of the beets compliment each other so well.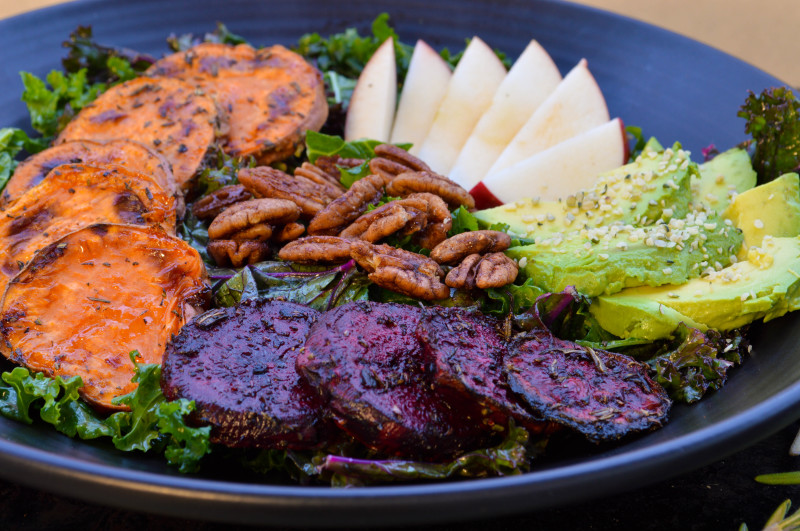 It is ok to admit that you aren't feeling 100% and to finally get some rest. You aren't "weak" because you have just had enough and you just need a little break from your routine. Realizing this is a big game changer in my attitude. I don't have to "do it all" and I will never ever in a million years be perfect and that is just fine by me.
Hearty Vegetable Winter Salad with Spicy-Maple Pecans
2014-11-13 20:49:26
Serves 2
This is no plain Jane salad; it will you actually fill you up and satisfy your taste buds with roasted root vegetables, spiced maple pecans and fresh Fall apples. This serves two large salads. Vegan and gluten-free.
For the Spiced Maple Pecans
1 tablespoon pure maple syrup
½ tablespoon extra virgin olive oil
¼ teaspoon ground cinnamon
¼ teaspoon cayenne pepper
¼ teaspoons fine grain sea salt
½ cup raw whole pecans (walnuts would be a good choice too)
For the Roasted Root Vegetables
1 medium sweet potato, scrubbed and dried, unpeeled
2 medium sized beets, scrubbed, dried and peeled
2 teaspoons fresh minced rosemary
1-tablespoon extra virgin olive oil
½ teaspoon fine grain sea salt
1/8 teaspoon cracked black pepper
For the Salad
6 large green or purple kale, destemmed and shredded
1 tablespoon extra virgin olive oil + 1 tablespoon red wine vinegar, whisked
1 ripe avocado, thinly sliced
1 tablespoon hulled hemp hearts
1 red apple, cored and sliced
For the Spiced Maple Pecans
Preheat oven to 400 degrees and line a baking sheet with parchment paper. Mix all the ingredients together except the pecans in a small bowl.
Toss the pecans in the syrup mixtures, transfer the pecans to the sheet and spread in a single layer.
Bake for 6-7 minutes, flipping halfway through the baking time. Watch them carefully! Transfer the nuts to a plate and allow them to cool.
Crank up heat to 425 degrees.
For the Roasted Root Vegetables
Line the baking sheet with parchment paper. Slice the sweet potato into ½ inch thick coins.
In a medium bowl toss the sweet potatoes with half of the oil, rosemary, salt and pepper.
Transfer to the lined sheet in a single layer. Do the same with the beets and roast for 25-30 minutes, turning halfway through cooking time.
While the vegetables are roasting, prep the salad.
For the Salad
In a large bowl massage the shredded kale in half of the amount of oil/vinegar mixture. Let the kale sit while the vegetables are roasting.
When the vegetables are done roasting, divide the kale between the serving dishes and top with veggies, nuts, avocado and apples.
Drizzle with the leftover oil/vinegar and serve.
Notes
You can add more dressing if you would like. I don't like too much dressing on the roasted vegetables since they are already seasoned with herbs and oil.
Sprouts & Chocolate http://www.sproutsandchocolate.com/