Day 10 of Vegan MoFo's prompt to create a dish with something blue. Only two things come to mind when it comes to blue food: blueberry and blue corn. Since summer is soon ending, I wanted to create a dish that highlighted some of the best things that this season has to offer. Blueberries, peaches, corn, and fresh greens are only here for a short time so we best eat while we can!
I have never been a fan of fruit dressings; cheap oils and full of sugar, I always chose another option until I made a homemade version. This dressing flavourful, more on the savoury side but bursting with fresh blueberry taste, easy, and delicious. 
I should have called this salad, "Clinging onto Summer for Dear Life Salad," but that is a bit too long yet it is accurate. I find myself going outside in the brutal summer heat just to get some sunshine before the days turn grey. This summer has been hot and more blissful than other summers before it and I am sad to see it go.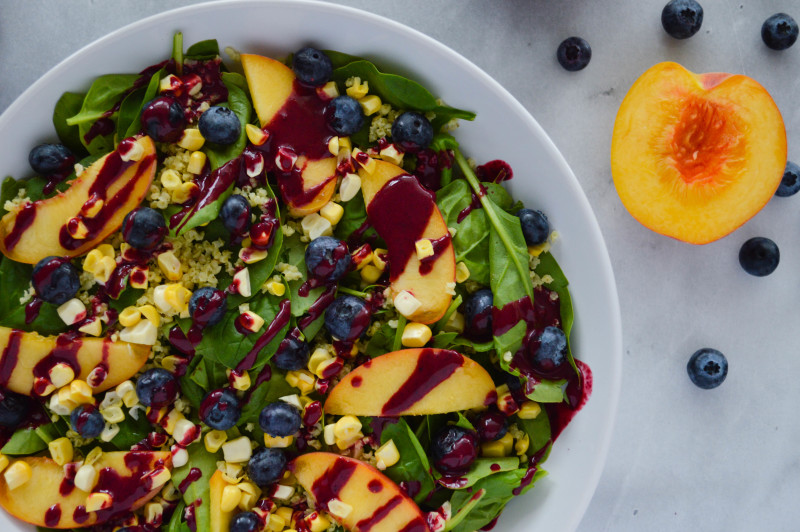 Fall brings out delicious things and cooler weather, I can't say I am craving the famous PSL quite yet. Nothing beats berry season, especially when paired with other seasonal produce. 
I haven't been eating enough corn or peaches this summer so I wanted to get my fill with this salad and lots of blueberry vinaigrette. The vibrant colours, fresh taste, and antioxidant-packed dressing will have me missing the summer season. Cheers to summer, you have been good to me. 
10 recipes down, 20 more to go! See you tomorrow for Day 11: Nutrient Focused Recipe. Missed Day 9? Check it out here.
Stay connected on the daily by following me on Instagram, Twitter, Facebook and Pinterest.  Made this recipe? I would love to see it! Use the hashtag #screcipe on your social media. 

Peach Millet Salad with Blueberry Vinaigrette
This salad is burst with summer flavour! Ripe peaches, fresh corn, and blueberries on greens with lots of flavourful blueberry vinaigrette. The millet is optional but pairs well with this salad and makes it a little bit more of a meal than just a plain salad. You can use any grain you like! 1 cup of uncooked millet makes about 3½ cup of cooked millet. Use the leftovers in big vegan bowls, salad, or morning grain bowls. The dressing will keep for about a week in the fridge.
Recipe type:
Salad, Dressing
Ingredients
For The Blueberry Vinaigrette:
½ cup fresh blueberries, rinsed
¼ cup fresh lemon juice
1-2 tablespoons red wine vinegar
1 tablespoon pure maple syrup
2 teaspoons cracked mustard
¼ teaspoon fine grain sea salt
5 tablespoons extra virgin olive oil


For the Salad:
1 cup cooked millet (or grain of choice)
4 cups of greens, I used baby spinach
1 cup fresh corn, raw or lightly cooked
2 ripe peaches, cut into slices
¼ cup fresh blueberries
Instructions
To cook the millet:Rinse 1 cup uncooked millet in a fine mesh strainer. Add millet to 2½ cups of water (or stock) in a medium pot. Bring to boil over high heat, turn down heat, and simmer for 10-15 minutes or until tender. Drain, fluff, and let cool. It will make more than 1 cup of cooked grains so you will have leftovers.
For the Dressing:
Add all the ingredients for the dressing except the olive oil. While the blender is running, steam the oil slowly into the top. Blend until very smooth. Set aside until you are ready to dress the salad.
For the salad: Add greens to a large serving bowl or two smaller bowls. Add all the ingredients to the dish or divided amongst the dishes, dress to your liking, and serve.