Day 13 of Vegan MoFo: Kitchen Tour.
It is nice to unveil the curtain, so to speak, to a blogger's kitchen. When I post photos, you are seeing the best of what I captured but after the camera is put away, what is left behind? I wanted to give you readers a sneak peek into my kitchen. Please note: my kitchen is never this clean and I am almost always in sweat pants whenever I am cooking.
I was always so curious about how bloggers had a gorgeous marble counter top and a rustic dining table. Turns out, they usually don't and neither do I. For my "marble countertop," it is actually a marble slab I bought here for $60 and that rustic tabletop are actually unstained deck lumber I had cut at Home Depot and in this photo, it is craft board I glued together and stained a dark wood colour. Once I saw a tutorial on another blog for these tabletops, it all made sense to me that bloggers do not always have their dream kitchens.
Mark and I rent in a high rise apartment so our kitchen is pretty small and both of us can't use the counter at the same time. Pretty frustrating when one of us wants some help making dinner. Mark can't open the fridge without slamming its door into my side if I am standing at the counter. Despite the tight space, crooked ceiling, and ugly countertops, I like my kitchen; in particular, my pantry. My parents bought us the shelves as a housewarming gift since the first time they came over, I had all my Mason jars in a box on the floor. Over time I have filled my pantry with things I had never tried before going plant based. My idea of grains were limited to oats and rice, but a new culinary world has opened up to me.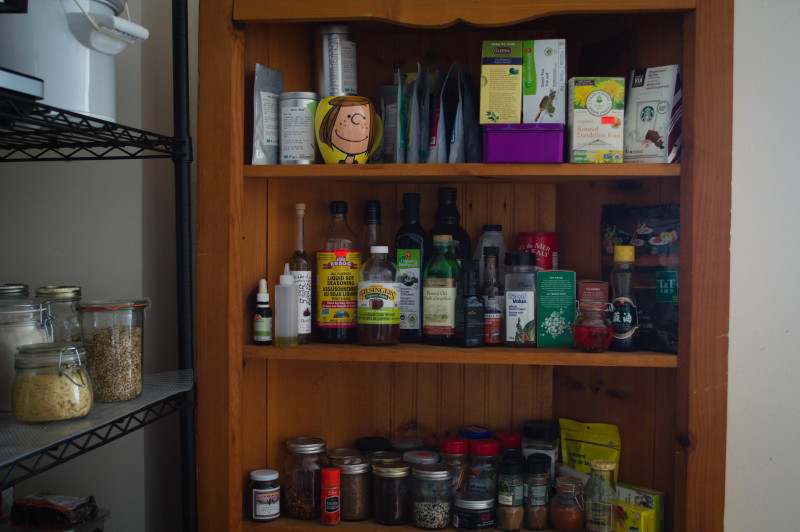 When I first started cooking for myself, I felt overwhelmed with extensive pantry lists of bloggers so I wanted to write a post on how to stock your pantry. Emphasizes on YOUR pantry. This is not your typical "Here is what is in my pantry list…" since my tastes aren't your tastes. I wanted to create a comprehensive chart for you to create your own pantry staples. My pantry has been a work in progress since I have started Sprouts & Chocolate. I questioned why some people's pantry seemed so extensive. Did I really need five kinds of oils? Or four types of vinegars? Did I need it all right this minute? The answer to all these questions is no. I may have these ingredients now but I didn't when I started to explore vegan cooking and food blogging. You need what you cook in your pantry; things that you are willing to cook for scratch, things that make you and your family feel good and enjoy eating.
If you have no need for yellow mustard power or cream of tartar or three types of rice just do not buy it. Feeling less overwhelmed? Good.
So how does one make their own pantry stock list? This part takes a little bit of time and coordinating with your partner or family but it is well worth it and will save you some moola in the end. I divide a page into three categories:
1. Love It: ingredients that make you feel good, you cook on the regular and just cannot live without.
2. Like It: don't cook on the regular but good to have on hand or maybe your family or partner isn't a fan.
3. Don't Buy: things that you just flat out do not like nor would you ever cook
Mine looks a little something like this
| | | |
| --- | --- | --- |
| Love It | Like It | Don't Buy |
| Chickpeas (canned or dried) | Red Lentils | Kidney Beans (For Chilli) |
| Black Beans (canned or dried) | Coconut Flour/Nut Flour | Navy Beans |
| French Lentils (dried) | Chili Powder | Barley |
| Oats | Shredded/ Flake Coconut | Red Miso |
| Quinoa/Brown Rice | Gogi berries (I only buy them when they are on sale) | Pepita Seeds (For Pumpkin Recipes) |
| Raw Almonds | Rice noodles (I usually have these about 2-3 times a month) | Mung Beans |
| Raw Cashews | | Fig Balsamic Vinegar |
| Chia/Hemp Seeds | | |
| Sesame Oil | | |
I put this list on the fridge so Mark and I know what is on each other's lists. I also use this method for grocery shopping.
Mark is indifferent to avocados but I LOVE them so I buy them just enough of them for myself, he prefers Red Delicious apples while I prefer tart green apples so we know how many to buy, both he and I don't like gluten free wraps (since they break) so we put them on the Don't Buy list. We both have pictures of this list on our phones just in case we forget which beans to buy while we are out running errands separately.
From the Love It list for each ingredient write down at least three basic recipes ideas that you make with these ingredients. For some nuts, I just soak them and eat them, which I think can go onto the list.
Example: Chickpeas
1. Hummus
2. Roasted chickpeas for bowls and salads
3. Burgers
Lentils
1. Soup
2. Burgers
3. Tacos
Raw Almonds:
1. Nut butter
2. Soaked for snacks
3. Homemade Vanilla Almond Milk
Chia/Hemp Seeds:
1. Smoothies
2. Chai Pudding / Sweets Treats
3. Chia egg for baking
After you and your family have written you lists, commit to purchasing only the things you wrote on the Love It list. From there, you can plan your work week ahead of time. This is how a pantry should be built and not just purchasing a bunch of ingredients at once in hopes that you will use them. I know it may seem like a lot of work but consider it effort worth investing your time and energy into. Having ingredients you love and love to cook on hand will also help you to get in your kitchen more.
I am not suggesting that you don't try new things but don't fill your pantry with items that you may like. Buy these new items in small quantities from a bulk store and see how you like them. I had made the mistake of buying a 5-pound bag of dried mung beans only to discover that I just don't like them. Please learn from my mistakes and continue to build your own pantry just the way you like it.
Weekly Makes
On a good week, I will make a handful of quick recipes for snacks, something sweet, and in the cooler months, something warm and quick. On my first day off of the week, I usually make a variation of these recipes.
Hummus (usually my Lemony Za'atar Hummus or Oh She Glows Buffalo Hummus with about three times the sauce). I served it with veggie sticks that I cut up ahead of time or baked pita chips.
Something sweet like my Coconut Chai Chocolate Pudding (made with chia seeds!) or my No Bake Oatmeal Raisin Cookie Dough. I keep the pudding in the fridge but freeze the cookie dough balls.
Some grains to add to salads, soups, or base for a bowl. Millet has made an appearance in my pantry recently but I usually make brown rice or quinoa.
Freezing a bunch of very ripe bananas for smoothies like these Antioxidant Power Smoothies, Pink or Purple
A large batch of soup or chilli, especially now that it is getting colder. I am really excited to remake my Pureed Broccoli & Cheezy Soup. I share that recipe on last year's Vegan MoFo. I store the soup in 2-cup glass jars and keep them in the fridge.
A really good sauce for bowls of vegetables and grains. I like my Spicy Peanut Sauce, Za'atar Tahini Sauce, or Citrus Miso Sauce. I make extra, store it in a glass jar, and use it to jazz up some vegan bowls.
I hope this post acts as a guide for you to get into your kitchen and make something special. Stocking your pantry is not too hard when you have a plan and a chart. Don't be intimidated by someone else's pantry, it is your kitchen and you are the boss!
13 posts down, 17 more to go! See you tomorrow for Day 14: Sharing Something Vegan with a Non-Vegan Friend. Missed Day 12? Check it out here.
Stay connected on the daily by following me on Instagram, Twitter, Facebook and Pinterest. Made a recipe from this post? I would love to see it! Use the hashtag #screcipe on your social media.