I always imagine springtime with sunshine, flowers, rainbows and greenery however the reality is that I still need to wear my winter coat and everything is just muddy and grey. Sigh….
When the weather is a damper and you feel chilly down to your bones, it is always best to eat a bowl full of soup to warm up. A simple soup somehow brightens an otherwise miserable grey day.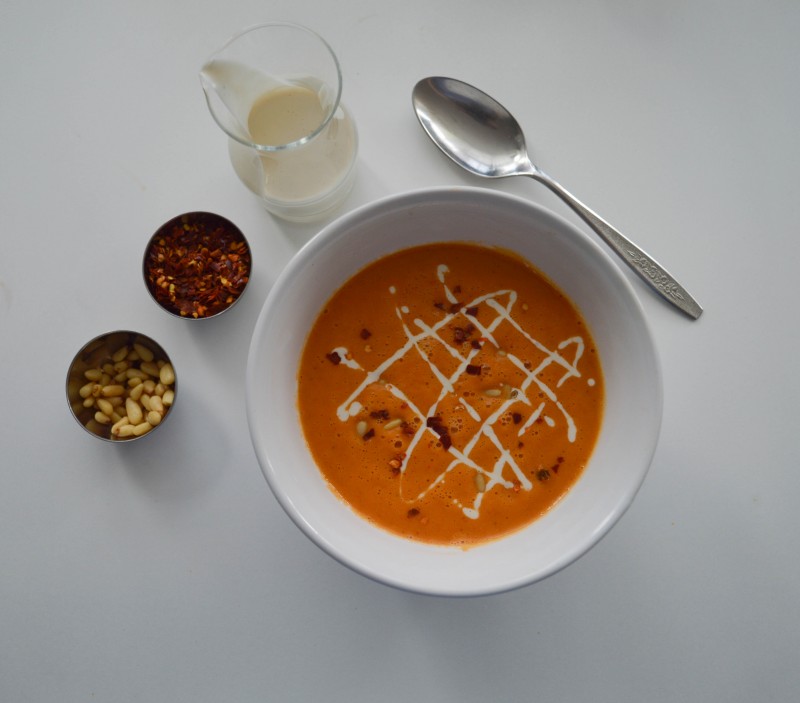 I have tweaked an older recipe that I use to make with heavy cream and veganized it to make it better. It tastes fresher and more satisfying than my previous recipe.
Cauliflower is my new go-to for making soups creamy and dairy free since this white vegetable blends so well and adds a lot of body to the dish. Other than adding an extra dose of vitamins, it is a great substitution for those with gluten or nut allergies since there is no need to make a roux or add nuts to thicken things up.
I don't make soup as often as I would like because Mark is a weirdo and only likes soup when he is in a "soup" mood. I on the other hand like soup almost always, hot rich soup in the wintertime and fresh ice-cold soup in the summer (remember summer? It feels like a distant memory).
Though nothing is easier than opening and heating a can of soup, very few canned versions are as good as homemade. This recipe is simple to make and though it does require the extra step of roasting the peppers. Fear not it is super easy to do, check out my How To Roast Peppers recipe. I have tried this recipe with sautéed red peppers but it was lacking the flavour I wanted so don't skip the roasting.
The cashew cream is not absolutely required for this recipe but it does add a delicious flourish to the dish making a humble bowl of soup look gourmet.
Notes:
You can use frozen cauliflower instead of fresh. No need to thaw, just add the frozen cauliflower to the stock and add a few minutes to the cooking time.
I like to also add some crushed red pepper flakes and pine nuts or pumpkins seeds but these toppings are optional. Need some protein? Stir in some cooked quinoa.
Like most soups, this recipe tastes better the next day.
 Creamy Roasted Red Pepper Soup with Lemon Cashew Cream
Makes approx. 7 cups
 Soup
 2 roasted red peppers (see How to Roast Peppers)
½ tablespoon extra virgin olive oil
2 cups diced Spanish onions, about 1 large onion
1 teaspoon kosher salt
½ teaspoon cracked black pepper
2 teaspoons fresh chopped thyme
1 teaspoon Hungarian paprika
4 cups low sodium vegetable stock
4 cups chopped cauliflower
2 tablespoons fresh lemon juice
Over medium heat in a large pot, heat the olive oil until shimmering and add the onions, salt and pepper; cook until onions are softened, about 6 minutes. Add the thyme and paprika and coat the onions with the seasoning; cook for 1 minute. Turn up the heat to medium high and slowly add the stock. Once the stock is simmering add the cauliflower and roasted peppers; cook for 12-15 minutes until the cauliflower is very tender.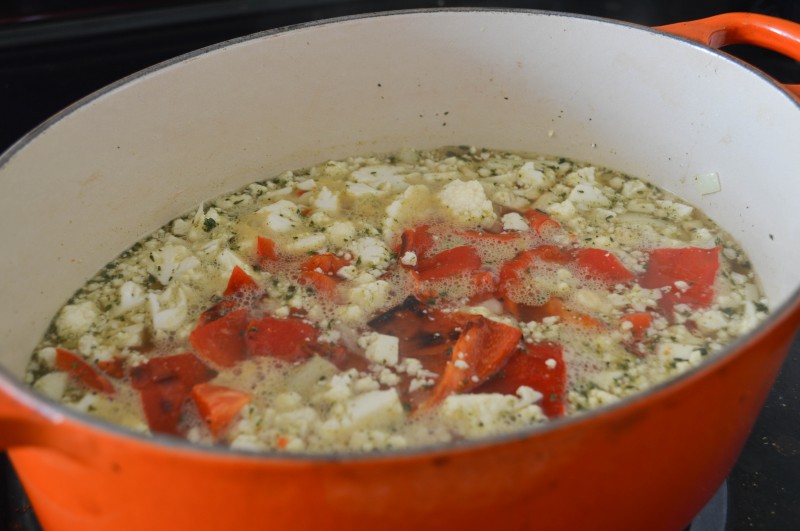 Carefully transfer the soup to a blender and blend until very smooth. If you have a smaller blender you may have to do it in batches and always make sure you leave some room at the top for steam build up to escape.
Transfer soup to a serving dish and top with some lemon cashew cream.
Lemon Cashew Cream
Makes approx. 150mL
 ½ cup raw cashews, soaked for 2-8 hours or quick soaked (bring some water to a boil in a pot, add cashews, cover with a lid and take pot off heat. Let cashews soak for 1 hour. I usually do this when I'm prepping my ingredients for the soup)
2 tablespoons fresh lemon juice
¼ teaspoon kosher salt
 ½ cup water
Add the cashews, juice and salt to a high power blender. Turn the blender on high and through the top slowly add the water until very smooth. Leave at room temperature if you are using it right away or store in the refrigerator if making it ahead of time. It will thicken as it cools.
Dig in and dream of springtime…