Oh Spring is in the air and finally some great local produce is available: asparagus, Meyer lemons, peas and mint are now up and coming! It is nice to see some greenery around this otherwise grey city and nothing makes your day better than the sun shining on your face. People are just in a good mood when they can take off their jacket and air out. I feel like Olaf from Frozen who is so impressed by the blooming flowers and I want to stop to smell them all! Or perhaps I have watched Frozen too many times? Nahhhh……
The weather has been kind of a jerk to me since it always seems to be a glorious beautiful sunny day boasting 20 degrees temperature while I am in school and working all day and yet on my day off it rains and freezing. Mother Nature be kind to me please! Thankfully, this soup tastes great hot or cold. If it is beautiful out, take it bowlful outside and enjoy the bright day or if it is miserable, curl up with a mugful of this soup and a good book. There are a lot of recipes for minty pea soups and for good reasons: it is refreshing and melts all those winter stresses away with a single spoonful. Unlike most of the other pea-mint soup combinations the mint is in the magical creamy cashew sauce. Who knew soaking raw cashews could be so wonderful? When I was transitioning into veganism cashew creams saved me from craving dairy and now I am just so in love with them I find any excuse to use them. The cream isn't overly minty since I really wanted the peas to shine through so add more mint to the cream if you like.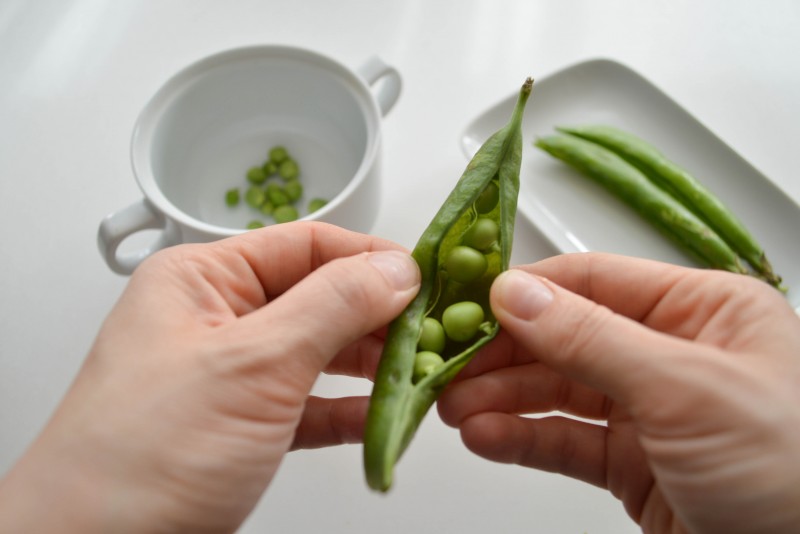 Mark and I are on Day 16 of the Forks Over Knives Challenge and it does get easier. Your body balances itself out and you really start to experience the true taste of your food and what better to recharge those taste buds with some fresh Spring green peas.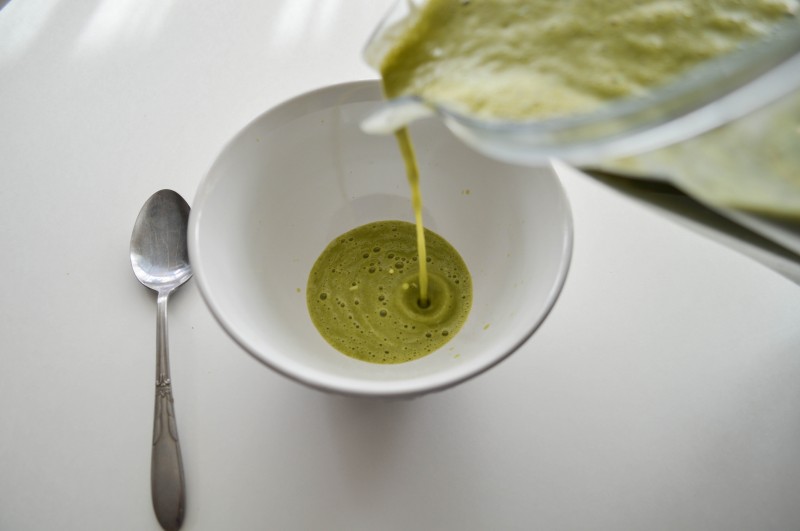 Congratulations to the Forks Over Knives Prize Pack Giveaway Winner: Wendi J from Minnesota. You will be receiving your prizes in the mail in the near future! Congratulations again! The giveaway may be over but the challenge continues here at S&C.
Thank you for all who entered! I hope this is the first of many Sprouts and Chocolate Giveaways and I love being able to spread some plant-based love and support to my readers. Thank you so much again for your support!
Notes:
Make the cashew cream first and then the soup so you don't have to wash out your blender twice and it makes the soup that much creamier (plus I just hate doing dishes)
Can't find fresh peas in the pod? Frozen peas are an excellent substitute since they cook so quickly and you don't have to shuck them, which is a time consuming effort.
This soup is super quick and easy to make. To prep for the cream, add some cashews to water before heading out to work and by the time you get home they will be all soaked and creamy for you to make dinner.
Minty Cashew Cream
Makes ½ cup
½ raw cashews, soaked for at least 2 hours (if you have a high power blender there is no need to soak them)
10 tablespoons water
¼ teaspoon kosher salt
10-12 fresh mint leaves
2 tablespoons fresh lemon juice
Add all the ingredients to a blender and blend until completely smooth. Transfer to another container until ready to use.
Sweet Pea Soup
Makes 7 cups
 2 large leeks, white and light green parts only, quartered and sliced
1 teaspoon kosher salt
4 cups low sodium vegetable stock
5 springs fresh parsley
2 tablespoons fresh lemon juice
2 cups fresh or frozen petite peas
4 cups packed baby spinach
¼ teaspoon cracked black pepper
Soak the leeks in a bowl of cold water to remove any grit. In a large pot over medium high heat add the rinsed leeks and salt and sauté for 8 minutes, adding vegetable stock 1-2 tablespoons at a time so the leeks don't stick to the pot. The leeks will be softened but not as browned as when you use oil but surprisingly sweet and delicious.
Add the stock, parsley and lemon juice and bring to a simmer. When the stock mixture is simmering add the peas and spinach and cook for 5 minutes until peas are fully cooked and spinach is wilted. Add the pepper and transfer soup to a blender, leaving room at the top of the blender for steam to escape. Blend until completely smooth.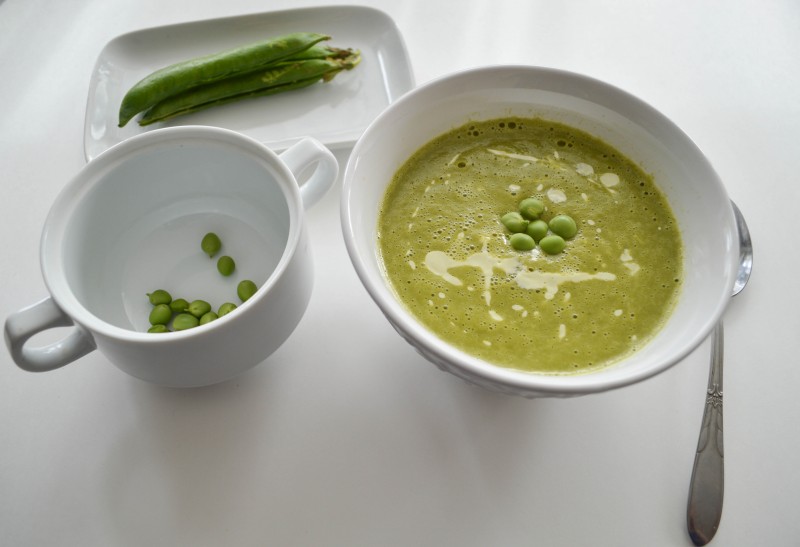 Drizzle the Minty Cashew Cream on top and serve (hot or cold).
P.S. If you get bored of the leftovers since this recipe makes 7 cups, add a pinch or more of hot curry powder when you reheat it on the stovetop. Serve with chopped cilantro or parsley.