I am currently on my tenth day of the Forks Over Knives Challenge and I want to say it has been easy, I want to say it has been fun, I want to say I felt immediately great but that would make me a liar. I am not saying this to discourage you from trying it but I wanted to explain that it is ok to feel this way about it. For the first 5 days, I was Miss Cranky Pants and Mark was no better. Our bodies went through some unpleasant withdrawal symptoms as our bodies adjusted to living without refined foods, just proving how incredibly addictive processed foods are.
A lot of it was breaking habits: Mark no longer got a beer after work, skipped his morning, afternoon and mid afternoon coffee and I no longer reached for fries at work as a snack. We both are in a weird sort of daily schedule since we both attend school in the day and go straight to work at the same restaurant at night so we are gone from 7:30am and don't return home until well after midnight. Did I mention we don't get a break at work? This is true from all restaurants I have ever worked in so whatever we want to snack on has to be super quick.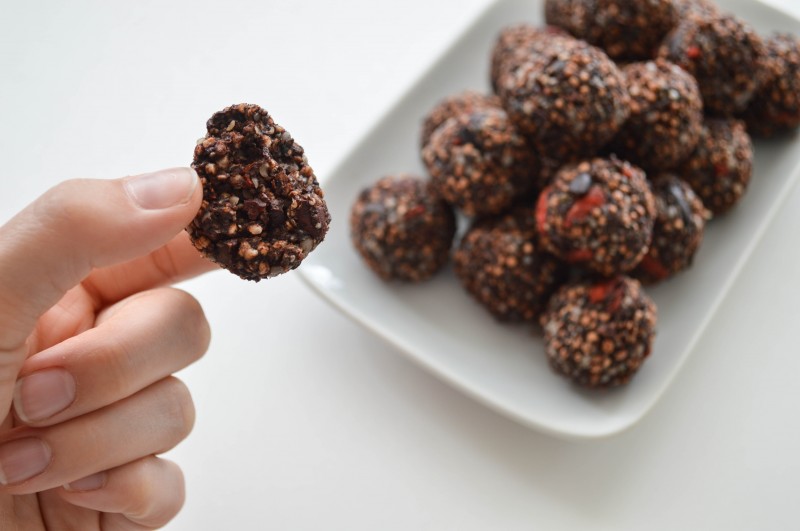 How many super foods can you fit into an energy ball? I counted 5! 5 super foods ah ah ah! (Oh how I miss the Count from Sesame Street)  I Googled "super foods" and while it varied from resource to resource these five foods stayed fairly consistent: quinoa, chia seeds, hemp hearts, cacao (including cocoa powder) and goji berries.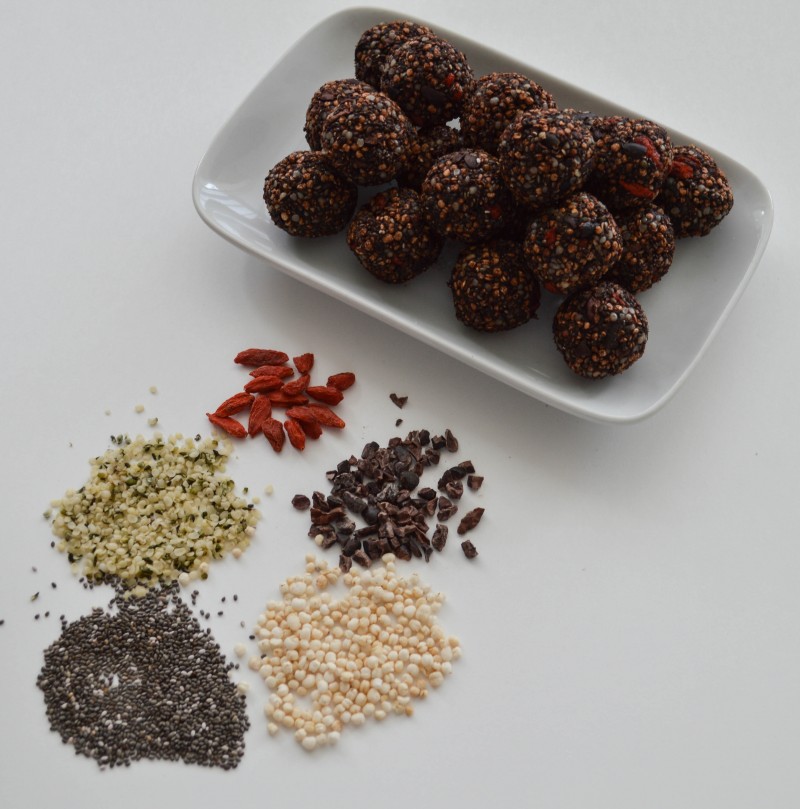 I went to Pinterest (I am on there too!) and the site boasts a toooon of recipes for energy balls but a lot of them contained a serious dose of sweetener and nut butter. While I am not against these things I wanted to make a recipe that everyone could enjoy and that would give you tons of energy in a hurry. These Super Energy Balls (I thought about naming them Super Balls but Mark giggled so that was a no-go) are lightly sweetened, super chocolately and contain awesome nut-free, gluten free, oil free and refined sugar free ingredients for a little boost mid-day or at 7pm when the dinner rush is hitting you hard and you need to make a million hot waters with lemon.
Makes 20 1-tablespoon sized balls
 1 banana
6 pitted Medjool dates
¼ cup chia seeds
¼ cup hulled hemp hearts
2 tablespoons raw cacao nibs
2 tablespoons goji berries
2 tablespoons cocoa powder
¼ teaspoon ground cinnamon
¼ – ½ teaspoon kosher salt (start with ¼ and add more to suit your taste. The salt helps bring out the flavour of the cocoa)
1 cup puffed quinoa
In the bowl of a food processor or blender, add the banana and pitted dates and blend until well incorporated and makes a paste. Add the banana-date paste to a large bowl, add all the ingredients and stir with a wooden spoon until combined. With a 1-Tablespoon measuring spoon, measure out the mix and roll in your hands to create a ball. They may seem a little soft at first but the chia seeds will firm them up. Continue with the rest of the mixture. Makes 20 balls.