Day 4 of Vegan MoFo is all about Weird Food Combos. While I have never had pickles and peanut butter or a banana-mayo sandwich, I did have a love affair with my fries dipped in a milkshake. The hot salted fried pairs well with the cold sweet milkshake. Seriously!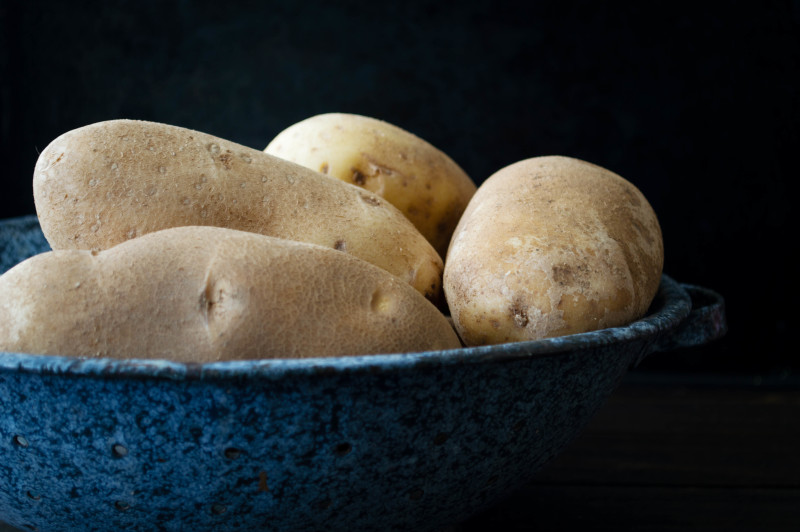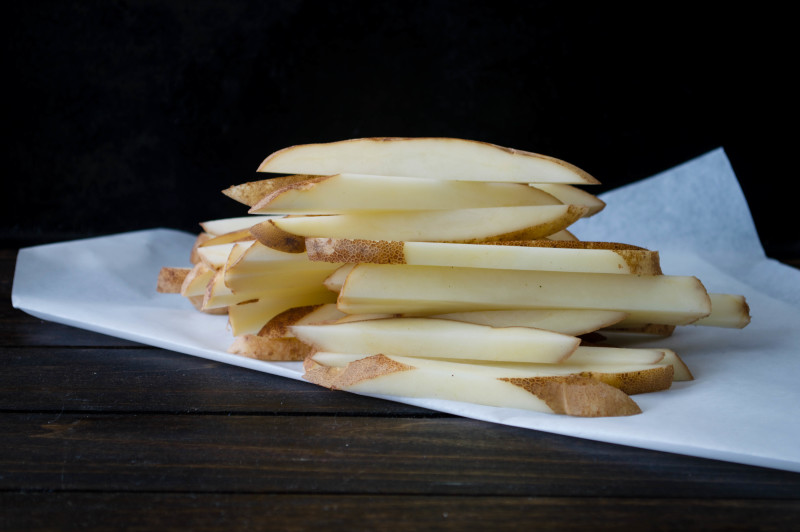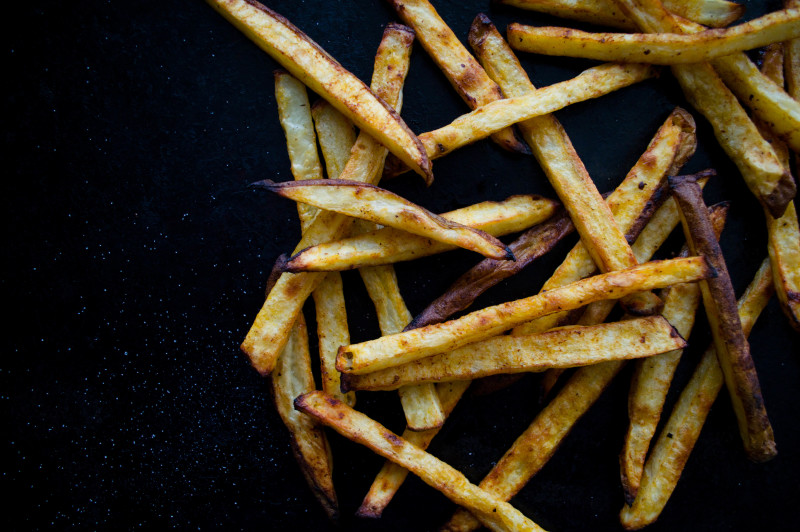 In high school, my friends and I would head down to the Wendy's to get an order of fries with a Frosty. We didn't eat the Frosty until our fries were gone and all individually dipped in the cool chocolatey mixture. While I wouldn't eat at a fast food place now, the love of fries has not diminished.
I wanted to make oven fries since deep frying at home is pretty unsafe and I am sure I would set a small fire in my kitchen. At first, I was setting my oven a little too low for those really crispy fries that I wanted so be not afraid of cranking your oven up! Also it is important to make sure that you preheat your oven so the potatoes go into a hot oven to achieve maximum crispiness. You can omit the spice mixture and just use salt if you don't like spicy foods.
The milkshake is simple and unlike diner-style milkshakes, this one does not have any dairy or refined sugars. The salted peanut butter and chocolate combination is the best as any Reese's cup lover would understand. The bananas make the milkshake thick and creamy. What would we vegans do without bananas??
What weird food combos do you love? 
4 recipes down, 26 more to go! See you tomorrow for Day 5: Best Sandwich Ever! Missed Day 3? Check it out here.
Stay connected on the daily by following me on Instagram, Twitter, Facebook and Pinterest.  Made this recipe? I would love to see it! Use the hashtag #screcipe on your social media. 

Day 4 Vegan MoFo: Salted PB Chocolate Shake
This sweet and salty milkshake is naturally sweetened with bananas and dates, has a touch of cacao, and big peanut butter taste. This recipe takes almost no time to make and satisfies a sweet tooth. This recipe is vegan, gluten free, soy free, and refined sugar free. This recipes makes about 3 cups of milkshake.
Cuisine:
vegan, gluten free
Ingredients
Salted PB Chocolate Shake
1.5 cups unsweetened almond milk
2 frozen bananas
2 tablespoons roasted peanut butter (I buy unsalted)
1 tablespoon cacao powder
2 pitted Medjool dates
8-9 ice cubes (more if your bananas aren't frozen)
Instructions
Add all the ingredients to a high powered blender. Blend until smooth. Serve and enjoy!
Day 4 Vegan MoFo: Spicy Oven Fries
Crispy fries in the oven are possible! Deep frying at home can be dangerous so opt for oven fries instead. These fries are made with russet potatoes since they have a high starch level which results in a crispier fry. They are seasoned with a spicy mixture of paprika, garlic powder, and ancho chili powder. If you don't like spice, feel free to omit the ancho. Served with the milkshake above or ketchup.
Cuisine:
vegan, gluten free
Ingredients
2 large russet potatoes, washed and cut into fries (peels on)
1.5 tablespoons extra virgin olive oil
1 teaspoon paprika
½ teaspoon garlic powder
½ teaspoon fine grain sea salt
¼ teaspoon ancho chili powder
Instructions
Preheat oven to 450 degrees and line a large baking sheet with parchment paper.
In a bowl, coat the cut potatoes with the oil, salt, and spices.
Transfer the potatoes to the baking sheet and spread them out into a single layer.
Bake for 30 minutes, flipping halfway through.
Remove from oven once they are golden and crispy. Depending on how thick you cut your fries, the cooking time will vary. After you flip them, keep an eye on them. No one likes burnt fries!!
Serve with the milkshake above or ketchup.