Welcome to the last Staple Sunday of VeganMoFo 2014. Can you believe it is ending in just a few more days?!? I am sure all the bloggers and Instagram contributors are counting down that days that they can take a break from their kitchens.

Though it has been challenging thinking of new recipes to post 4 times a week there are so many bloggers who made this experience look easy. I am sure they are hustling and sweating behind the camera like the rest of us. Well at least I hope I am not the only one with shaky caffeine hands and a kitchen that looks like a bomb went off.
These are just a few of my favourite VeganMoFo bloggers:
She has turned the ghoulish into adorable (I mean terrifying…) vegan AND gluten-free Halloween treats for everyone to enjoy. Bravo!)
LOVE the Lazy Sunday recipe idea! Especially the Tempeh Bacon Quiche, the Pumpkin Spice Cinnamon Rolls, all of them really!
I have drooled over these recipes and amazing photography.
I am glad someone loves movies and television as much as I do and then recreates it into amazing meals.
Burgers for an entire month? Sign me up! Thanksgiving, Irish, Eggplant Sriracha, Gyro….the list goes on!
To the fine creators of VeganMoFo, I applauded your hard work to build an annual vegan food-sharing community. Because of this event, I discovered sites and accounts that I fell in love with and have bookmarked to check on the regular. My hat goes off to you!
Now why would I include a borderline dessert as a staple? This is not just your average dessert since it has protein (from the hemp hearts) and omegas (from the chia seeds). I feel it is important that every kitchen have a little something-something kept the freezer for your work/school week because it always kept me from buying (although vegan) the not-so-good for you "snack foods" out there. I would be in a store after school or work and could tell I was getting a little hangry, I just needed something to get me home but thankfully with these guys in the freezer waiting for me I could talk myself out of grabbing a chocolate bar or a bag of chips. I would think to myself "Why waste the calories/money in a treat that I don't really want?" and put that snack down and wait until I got home. Now I pack one or two in my dinner that I take to work since I don't get a break (ever!) but need a little boost when it is blindingly busy or when a table is particularly rude to me.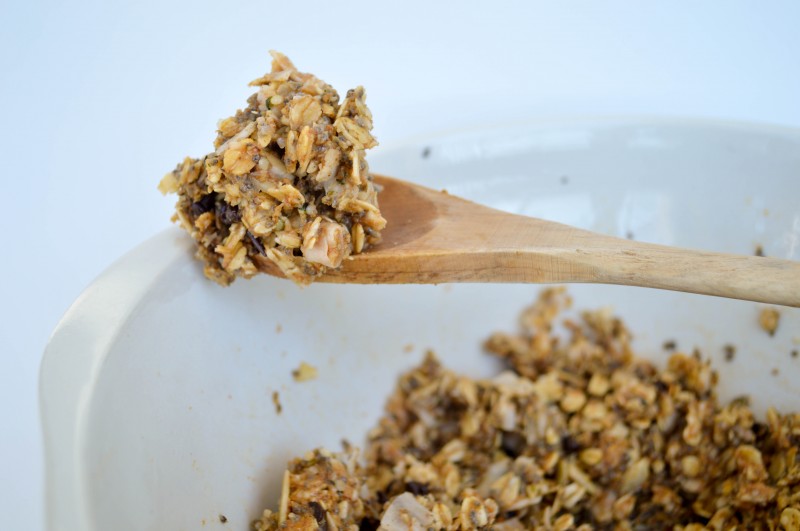 They are quick, easy and can be made in one bowl. Hooray! Oh did I mention that they are vegan, gluten free and insanely delicious, especially right out of the freezer. The roasted almond butter melts as you chew it, revealing new flavours like coconut, nutty oats, caramel-y dates and chocolate. Swoon! For this recipe I used my One-Ingredient Roasted Almond Butter (another staple!) to make these balls however I am sure any almond butter of your choice will do.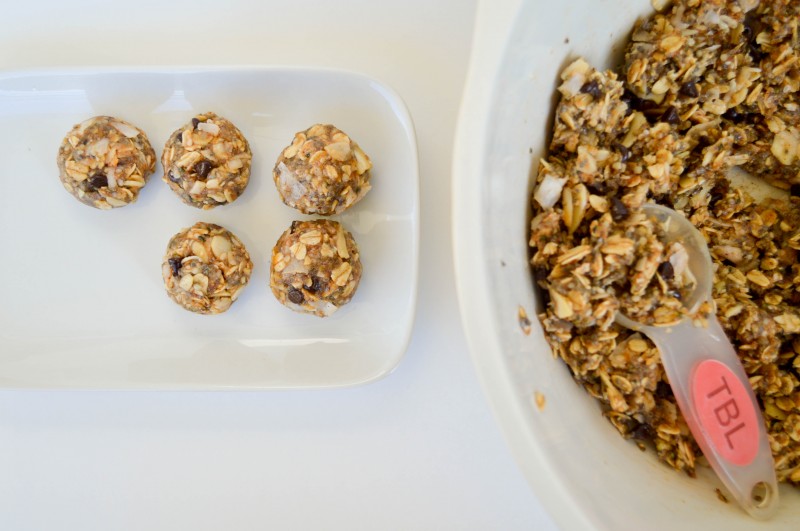 So if someone asks why a little protein-filled dessert is considered a staple, tell them to try it first and if they still don't get it, just stop talking to them. You don't need that kind of negativity in your life. Haha! Saw that one on Pinterest and I felt it applied.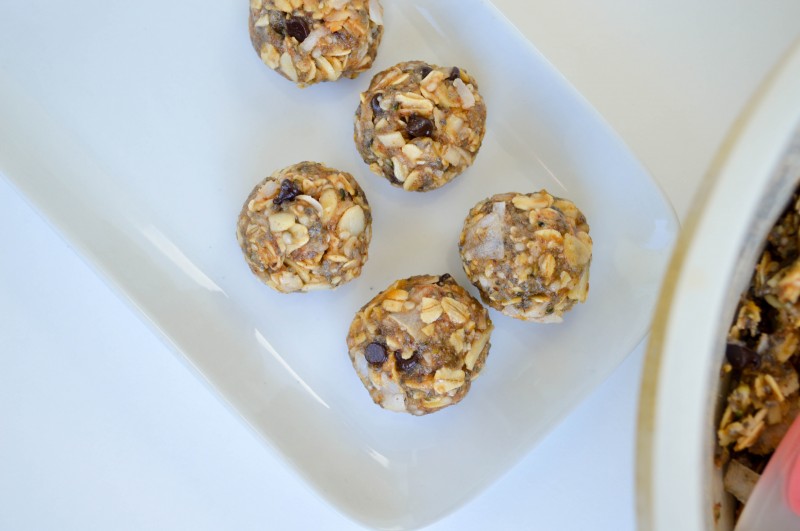 It has been such a pleasure for me to share with you some of my favourite recipes that I make every week. Thank you all so much for the lovely comments and blog love! I am so grateful for all the readers of my site and there is plenty more coming from my kitchen after VeganMoFo has ended. Check out Tuesday's post for the final recipe of this month long vegan food fest. I have been saving the best for last.
Happy Sunday!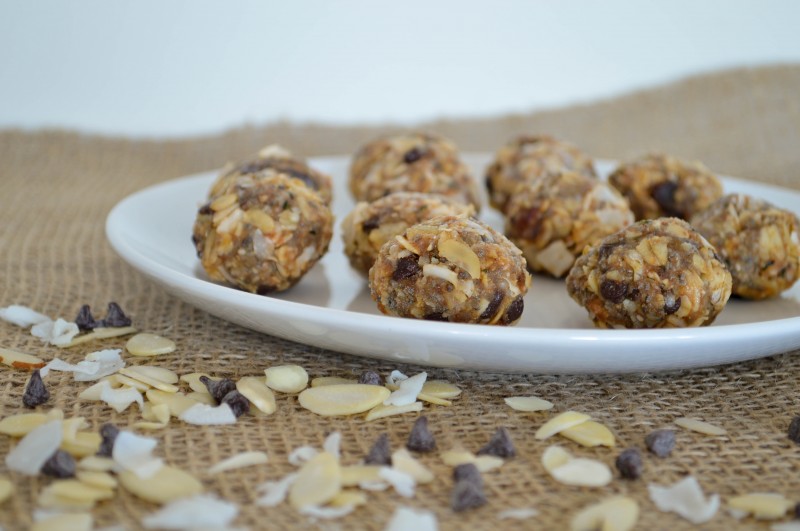 One Bowl Chocolate-Caramel Almond Balls
2014-09-28 09:28:12
Serves 32
These balls are packed with flavour, protein and omegas and all in a teeny dessert that is made in just one bowl. This recipe is vegan and gluten-free. Makes 32 1-tablespoon sized balls.
Ingredients
¼ cup black or white chia seeds + 3 tablespoons water
½ cup unsweetened coconut flakes
1 cup rolled oats
¼ cup hulled hemp seeds
¼ cup blanched slivered almonds
3 tablespoons mini vegan chocolate chips (Whole Foods 365 and Enjoy Life brands have vegan options)
3 Medjool dates, pitted and chopped fine
2 tablespoons pure maple syrup
2 tablespoons virgin coconut oil
½ cup almond butter (I used my One-Ingredient Roasted Almond Butter)
½ teaspoon pure vanilla extract
¼ teaspoon fine grain sea salt
Instructions
In a large bowl mix the chai seeds and the water together and let thicken for about 6 minutes.
Meanwhile measure out the rest of the ingredients and line a baking sheet with parchment paper. When the chai mixture is gluey, add the rest of the ingredients together in the bowl and mix well, either with your hands or a wooden spoon. Using my hands was much easier so go on and get those hands dirty!
When fully incorporated use a 1-tablespoon measuring spoon to measure out the mix and form them into balls. Transfer the ball to the lined baking sheet and continue with the rest of the mix. When completed, transfer the baking sheet to the freezer and freeze for at least 30 minutes.
At this point they are semi-frozen and so delicious. Enjoy!
Notes
I keep mine in an airtight container in the freezer for about 2 weeks.....if they last that long between Mark and I.
Sprouts & Chocolate http://www.sproutsandchocolate.com/