In lieu of a Love It! List this month I have decided to share some exciting news! And it is big! But first a little backstory of how I was an addict dieter and the switched to a plant based diet.
Though at one point of my life I was considered fairly active, I certainly have let that exercise habit die out. I went from working out at a gym with a trainer at least once a week and on my own 3 times a week to nothing. How easy it was for me to give it up even though I had been so intensely devoted to it for almost a year. The thing about my old fitness regime was that I was committed to a low carb; high protein and no dairy diet so I was constantly exhausted. I just didn't feel well.
I was drinking about a half of a pot of coffee a day plus a 50mg pill of caffeine and then a handful of Tylenol since I was having a lot of migraines from all the artificial energy. For lunch (my largest meal) was a half of a chicken and a large salad with no dressing and for dinner a sugar-free (insert chemical filled) whey protein shake. The crazy part was that this was all recommended to me and I was paying a large sum of money a month for this advice. I admit it did work for a little while since I did lose weight but at what cost? I was so worried about how my body appeared to others I was willing to be uncomfortable all the time and in the end really damaging myself internally.
Thankfully, I became a little more educated about health and nutrition and my diet did a complete 180. By diet I mean the kinds of food that a person, animal, or community habitually eats and not what "diet" means today which is cutting calories or limiting meal size. Once I change my own definition of the word "diet", it got a whole lot simpler.
In the movie, Hungry For Change (watch trailer here) Daniel Vitalis really lays out an excellent example of what the word "diet" should mean. He asks the viewer if humans were put in a zoo, what would they be fed? This got to me since I am sure it wouldn't be burgers and Buffalo wings, which I was habitually eating before making the switch to a plant-based diet.
Watching one particular movie (did I mention I love watching movies?) was the defining moment of me telling myself "Yes I need to change my lifestyle." That movie was of course the very popular Forks Over Knives documentary, which promotes eating a whole foods plant based diet to prevent the chronic and degenerative diseases that plague North America. The evidence in this movie changed the way I saw food, my eating habits and the possible outcome of my health and body if I continued to eat the way I previously did.
What is a whole foods plant based diet?
From the FOK website:
The experts in Forks Over Knives advocate a whole-food, plant-based diet. The program is based on whole or minimally processed plants, primarily fruits, vegetables, whole grains, tubers, and legumes. It excludes or minimizes animal-based foods such as meat (including poultry and fish), dairy, and eggs, as well as refined foods like bleached flour, refined sugar, and oil.
Now you are probably thinking, "But Jess you are already a vegan!" Yes I am but I do dip into some seriously unwholesome vegan foods: frozen soy protein burgers, vegan mayo, fries, vegan baked good made with refined sugar, convenience foods, caffeine etc. This is a challenge for Mark and myself to really own up to what we are putting in our bodies and feeling (and seeing) the results of switching to a whole foods diet. We want to feel better and truly improve our health verses just feeling "good" from caffeine and sugar.
For the next 6 weeks Mark and I are taking the Forks Over Knives Challenge! I will be posting our transition into a more whole plant based diet on the blog so you will be able to follow our progress, successes and I'm sure some failures. Over the next few weeks Sprouts and Chocolate will be featuring awesome whole food plant based recipes, how-to, meal plans and of course chocolate desserts. I hope you readers take the plunge with me and try out a more whole foods approach to your plant based diet. Maybe you are veg-curious and want to try it out? Now is the time!
Now for the big surprise!
Sprouts and Chocolate is doing its first giveaway!!! Hooray! I have been sitting on this for a while and it wasn't easy to keep a secret but I am so glad I did.
What will the winner be given? Three amazing prizes: Forks Over Knives documentary DVD, Forks Over Knives Cookbook AND Forks Over Knives: The Plant-Based Way to Health. Enter and share with friends and family who also seek to gain health and feel better!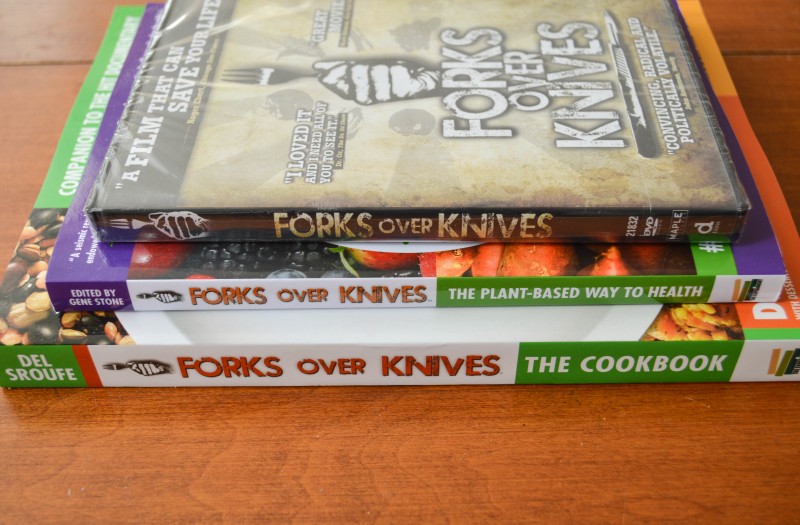 Q&A
Do I have to do the Forks Over Knives 6 week challenge to quality to participate?
No but I strongly encourage you to try it out and not because of the giveaway but I promise you will feel awesome! And who doesn't want to feel awesome?
How do I enter this amazing giveaway?
Check out contest details below!
Contest Details:
This contest is open to US and Canadian residents and it will run from today (May 3) and closes on May 12 (8am). Please see below for the multiple ways you can enter!
The winner will be chosen at random after the contest closes on May 12. The winner will be notified and announced on the site! Good luck to all who enter!