Today is my 28th birthday on January 28th. Bust out the champagne! Finishing writing my academic upgrading exams for this quad and will be quickly starting the all time dreaded Calculus AND Advanced Functions in a few days. Before I start drinking the bubbly in celebration, I always take a little time to reflect over the past year and plan on what and where I want to be this time next year.
In my previous post, I have decided to write out some birthday goals that I want to accomplish before my 29th birthday. My friend Kristen who is big on journals keeps a small notebook and a fancy pen that is only used for the purpose of writing down goals, accomplishments or story ideas when they come to her instead of sitting down and trying to think of everything all at once. I used her method and it has been successful. Instead of the mental note of "Oh I will remember that" it turns more proactive and in ink! When I am at work I keep it in my server apron and write down any ideas that come to mind. It is encouraging to see these goals written down and an even better feeling checking them off the list. I also keep little journal entries every week titled "Progress so far…" just to keep on track. Every check by a goal is a small victory to me and keeps me focused on the bigger picture.
Some major goals I have for this year are:
-Write and develop an e-book
-A full layout redesign including my recipe index
-Posting more frequently (this will much easier when I am not in school full time)
-Taking more photographs besides food
-Find a form of exercise I enjoy (just signed up for a ballet class! Yes I am going to be terrible but that's ok!)
-Take an overseas trip
-No more buying coffee (especially since I buy excellent coffee beans for home)
-Get my drivers' license (yeah I know…)
I am most excited for the e-book but more on that in the next few months….
There is a time to plan and a time for cake and champagne, its time to bust out the desserts and bubbly!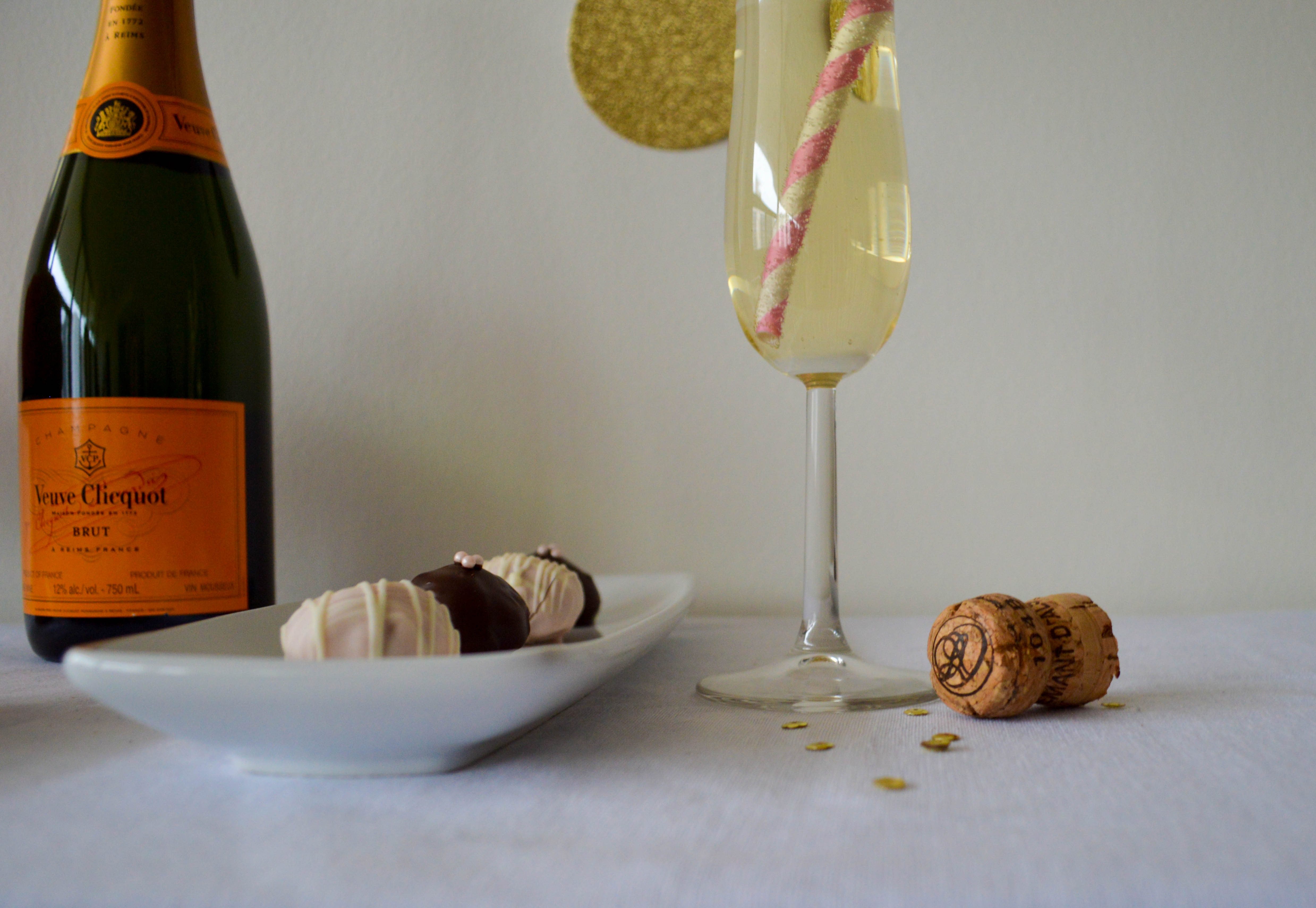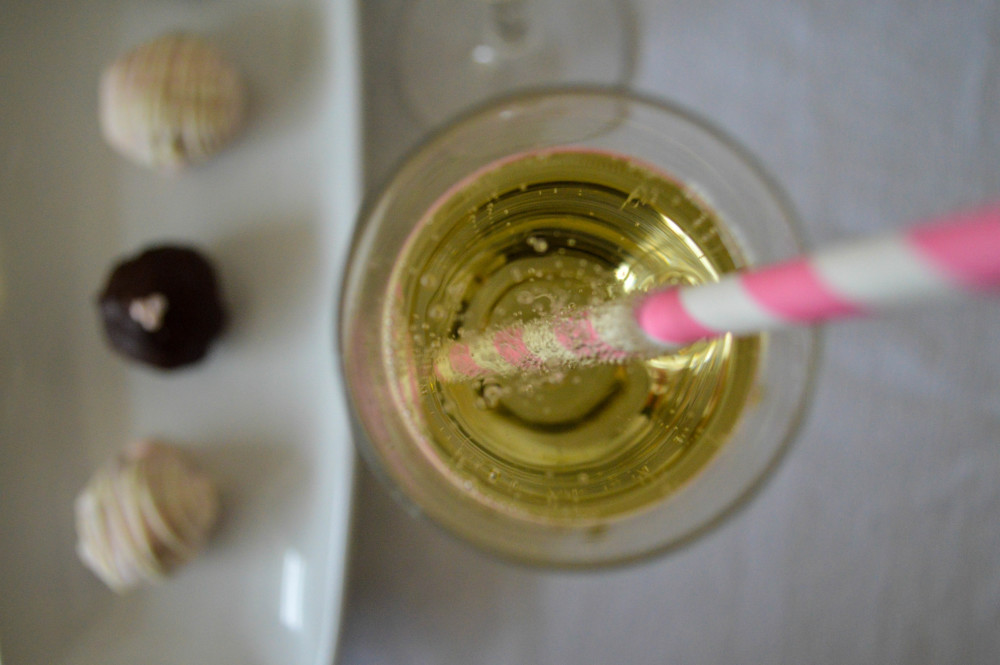 I asked my beautiful talented friend Holly from hollybowmanxo.com to help me out for this special occasion, it being my champagne birthday and all. Despite being 15 weeks pregnant, she was all for it and especially excited when I texted her "Think pink and sparkly" when she asked about a theme. I wouldn't normally be pegged as someone who likes all things glittery since I have been known to wear all black mid-July but I like to bring out my girly side for such festivities.
I went over to Holly's apartment, conveniently located across the street and was blown away by her creative eye and gorgeous styling for the dessert/champagne table with my Dark Chocolate Cake as the centrepiece. My favourite part was all the sparkly champagne bubble background.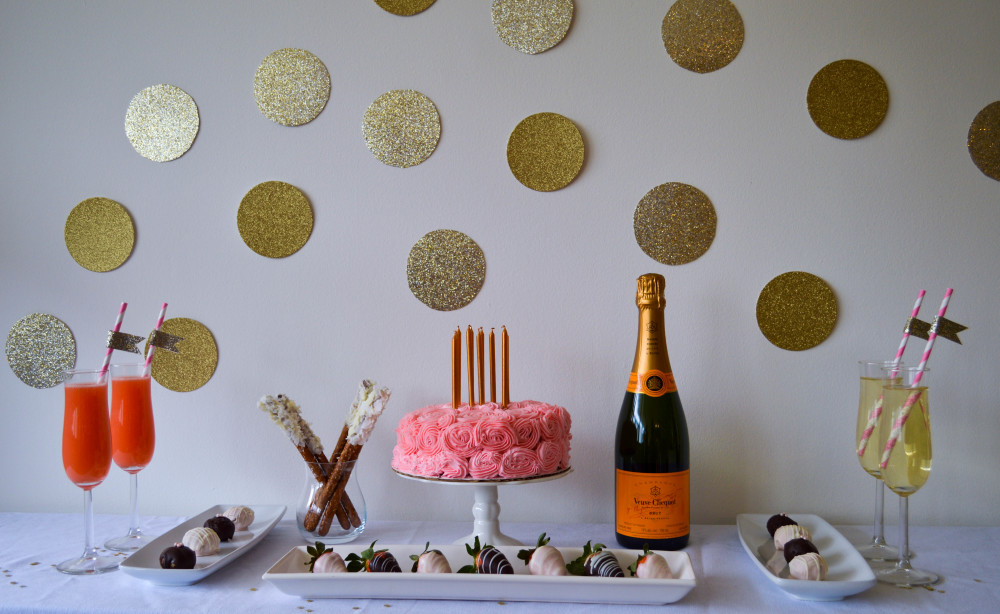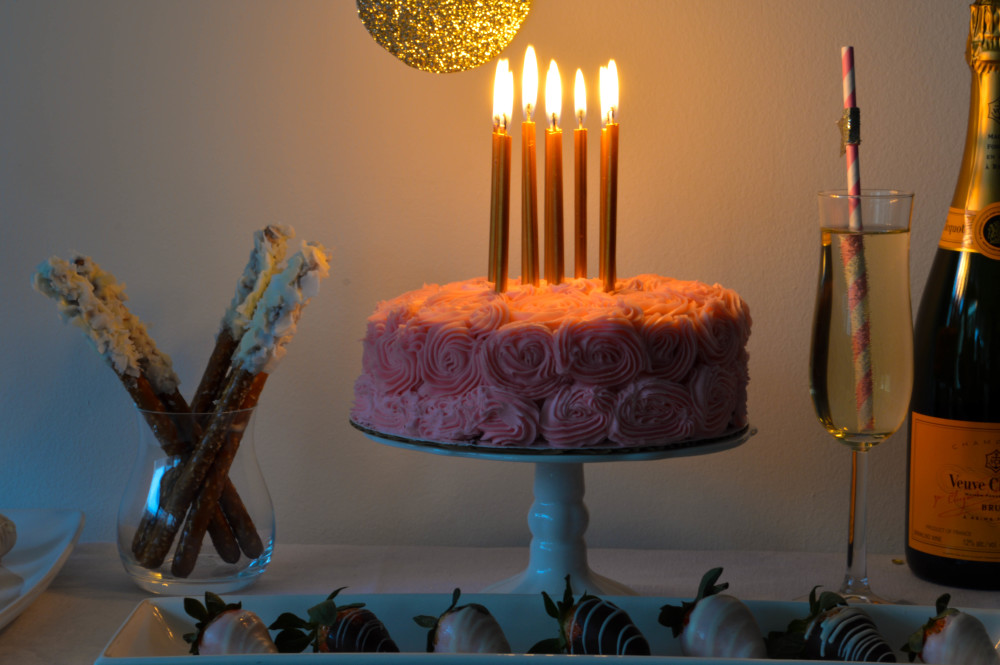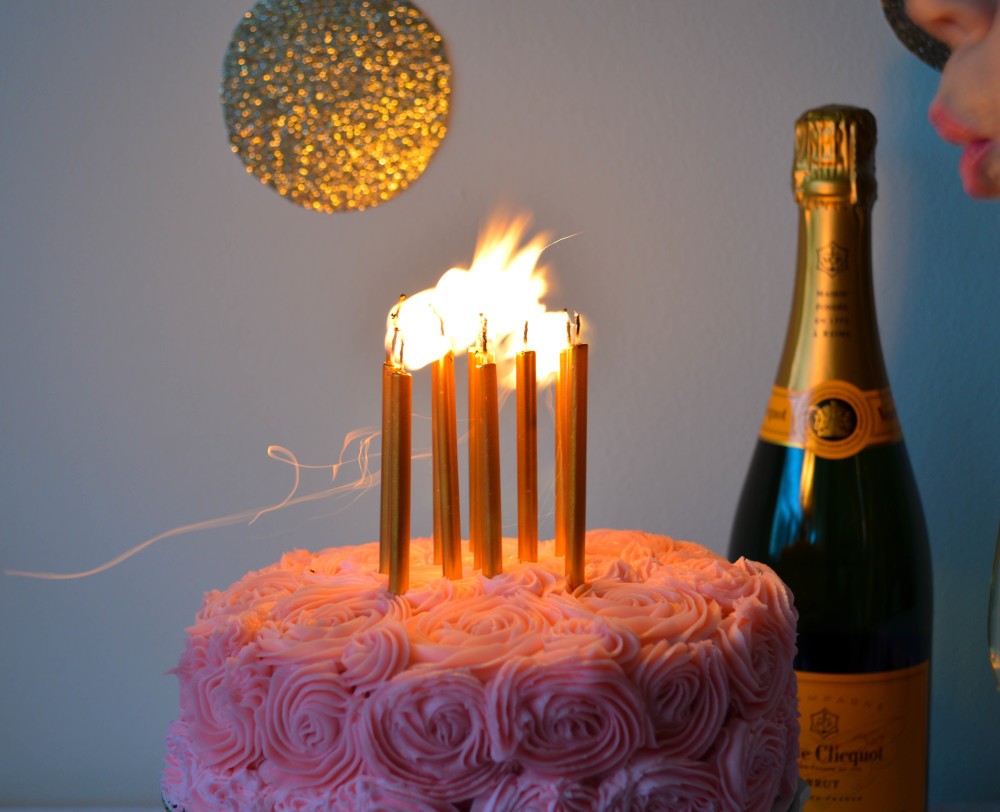 Champagne for me, sparkly pink lemonade for the expecting mama! I also dipped Oh She Glows: Cookie Dough Bites from her amazing cookbook in dark chocolate and pink-tinted vegan white chocolate, dipped some pretzel rods in the vegan white chocolate to roll in coconut flakes and chocolate dipped strawberries.
Holly had made a pearly champagne and pink balloon backdrop for some solo birthday pictures. Getting in front of the camera was the most nerve wracking part since I very seldom take photos of myself (I am not exactly a selfie girl). Thankfully Holly is also a professional actress and had full charge of putting my arm here or my head tilted there to make sure I looked my best. With a little "friendly" encouragement every now and then that only a close friend would give you: "Jess what are you doing with your face? Why are you standing like you are in the military? What is going on with that arm?" All in good faith with plenty of giggles. I complained about looking like a goblin in photos but Holly was also very encouraging, "You don't look like a goblin, this is your face and you aren't going to have a new or different one so make it work girl!" Champagne helps with the confidence factor when it comes to having one's photo taken.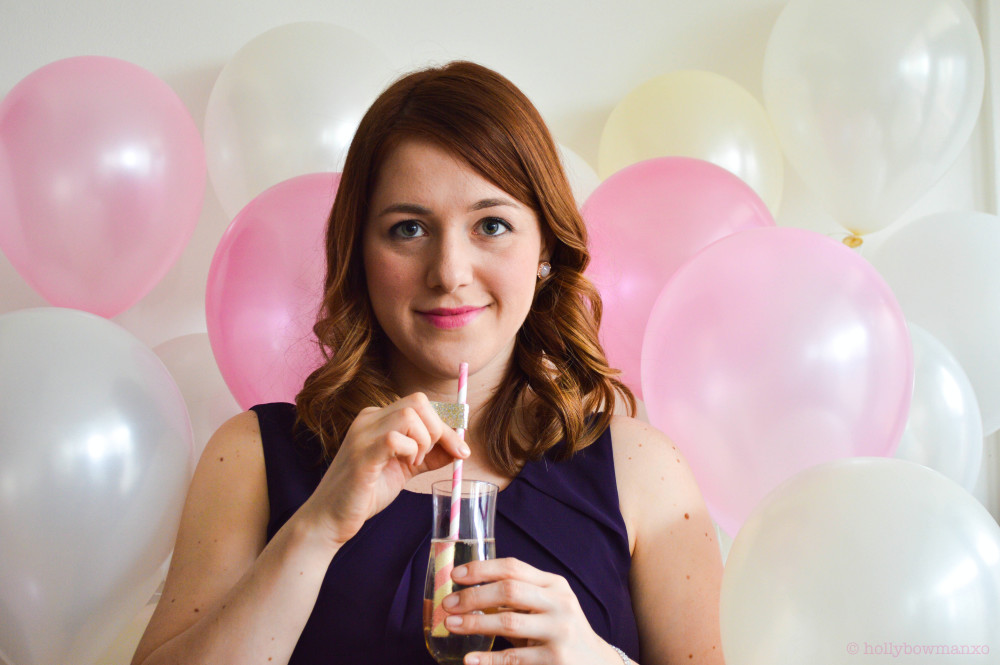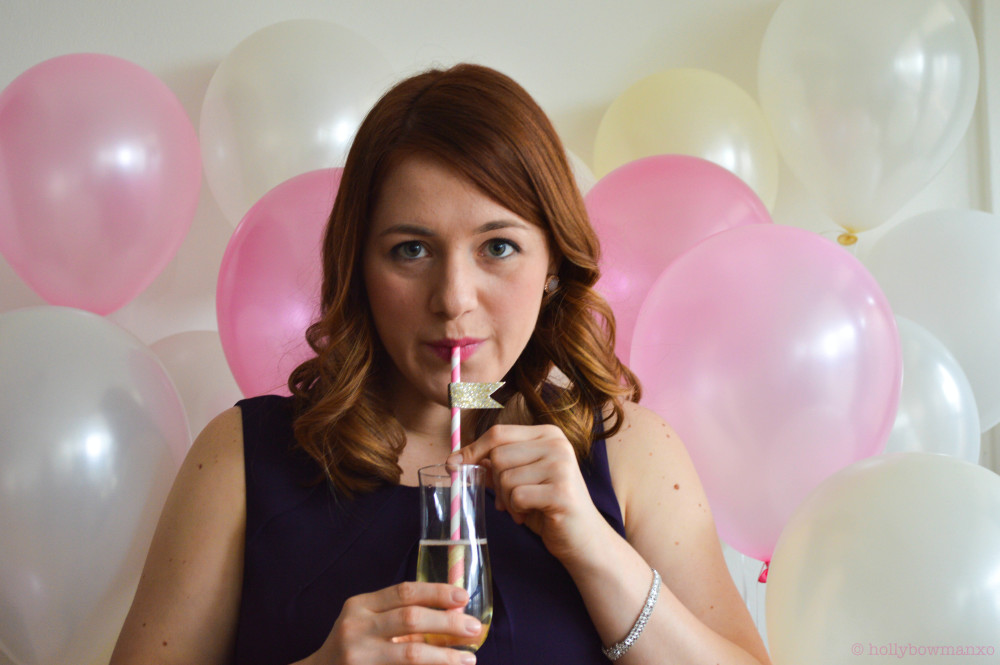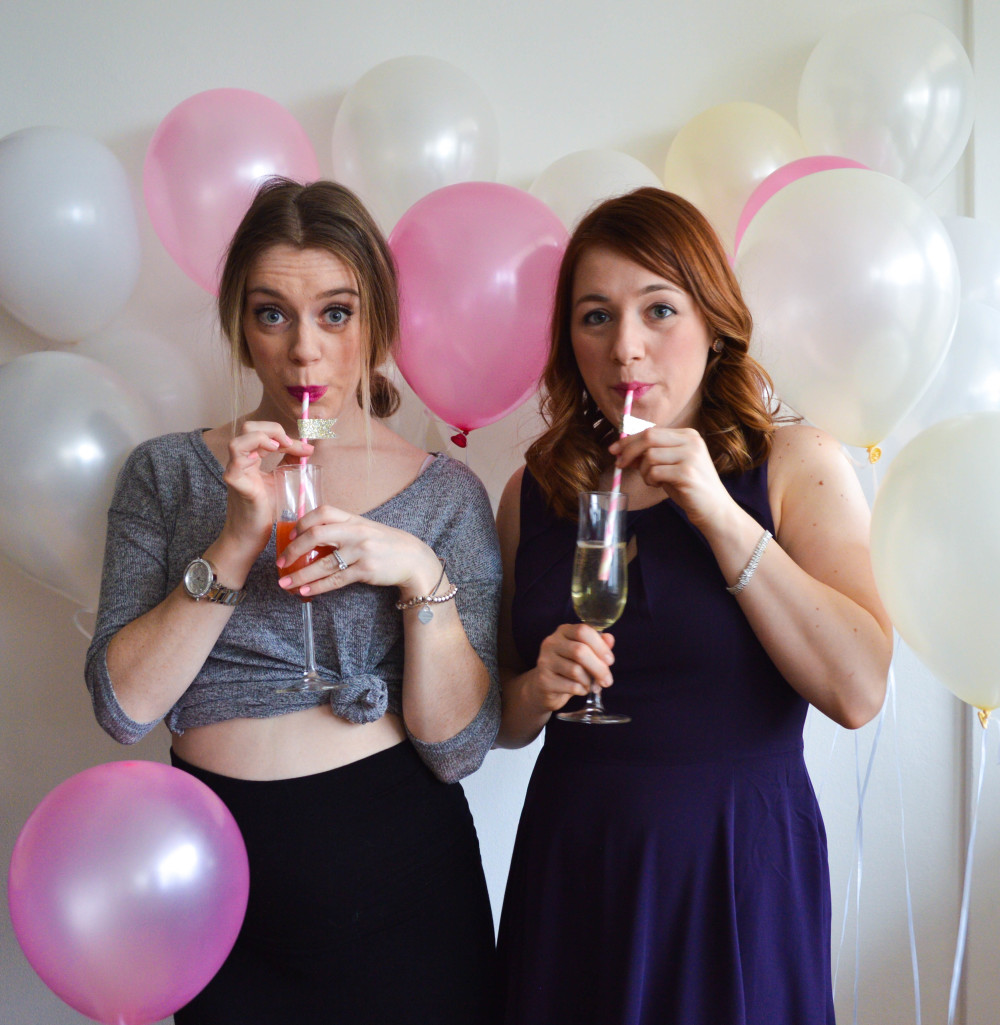 If you can't take silly pictures with your friend on your birthday then what is the point?? A huge thanks to Holly for making my birthday a little more sparkly and a lot more glamorous. To check out Holly's personal blog check out www.holbowmanxo.com and on Instagram.
Now for the good stuff:
In my family it is tradition to give a gift to someone else on your birthday so this year I decided to give a gift to a reader with a But I Could Never Go Vegan!: 125 Recipes That Prove You Can Live Without Cheese, It's Not All Rabbit Food, and Your Friends Will Still Come Over for Dinner by Kristy Turner GIVEAWAY! I have been following Kristy's blog Keepin' It Kind since going vegan almost two years ago and upon first reading it, it became an instantly bookmarked website and I check it every week. I ordered the book before my birthday as a little Treat Yo' Self pre-birthday gift much to Mark's dismay since when he asked me what I wanted for my birthday I said "oh nothing…I can't think of anything!"
This book is great for newbie vegans and ones with a little more experience in the kitchen. It has easy to read recipes, gorgeous photos and dishes your non-vegan friends will adore and ask for seconds (always the most flattering thing!). Did I mention the entire chapter dedicated to vegan cheese recipes AND a whole section with all chocolate recipes?? The chapters and recipes are dedicated to all the excuses of not going vegan and turns that negative attitude into delicious, mouth-watering, crave-able, filling vegan food. No more excuses, just get eating!
Recipes include:
Citrus-Herb Roasted Beets with Macadamia Ricotta

BBQ Cauliflower Salad with Zesty Ranch Dressing (omg this one is a fav!)

Chickpea Scramble Breakfast Tacos

Cashew Blue Cheese (it really does look like blue cheese!)

Flourless Chocolate Decadence Cake (swoooon…)
The giveaway contest is open to anyone in Canada and the United States and check out the Rafflecopter below on ways to enter! This contest will be closing Monday February 9th at 9am. Good luck!