Chocolate is my ultimate indulgence however finding great vegan chocolate goodies can be tricky and vegan-frozen treats are almost impossible. I will walk by Menchies and FroYo wishing they had a vegan option to beat the midday heat but thankfully making a delicious frozen dessert that is flavourful and vegan isn't too hard to make at home. Just get our your blender and some popsicle sticks!
This recipe happened on a very defeating day: I came home from school all doom and gloom with upcoming exams, it was raining when I wanted there to be sun (in July!) and I just pulled my third batch of popsicles out of the freezer with no luck in making my perfect rich creamy fudgesicles. I made myself a cup of chai tea, studied a bit but my mind was still on my failed recipe. I Googled some other vegan fudgesicle recipes and a lot of them called for coconut milk. Duh! What was I thinking not using it?! All my fudgsicles previous to trying the coconut were too icy and not creamy enough. Once the creaminess was taken care, I turned to changing the flavour. I had previously made banana-chocolate, chocolate-peanut butter and avocado-chocolate and while all tasted good I wanted a unique flavour. I love the spicy-sweetness of chai and thought chai-chocolate would be a great combination with the coconut. Fourth time is a charm and these ones were perfectly spiced and creamy.
Going vegan doesn't mean giving up your favourites and I do admit to being quite hesitant to make the switch almost entirely based on the fact that I did not want to give up chocolate. I had tried many vegan chocolate baked goods and candies but they weren't as decadent as I wanted. Thankfully, I stumbled upon Vegan Chocolate: Unapologetically Luscious and Decadent Dairy-Free Desserts by Fran Costigan and after flipping through just one chapter I quickly made my way to the check out line of the book store. This book contains eleven chapters dedicated to your favourite dessert from Truffles to Cookies, Bars and Little Bites to Cakes and for those who are a little more experienced in the kitchen: Master Recipes.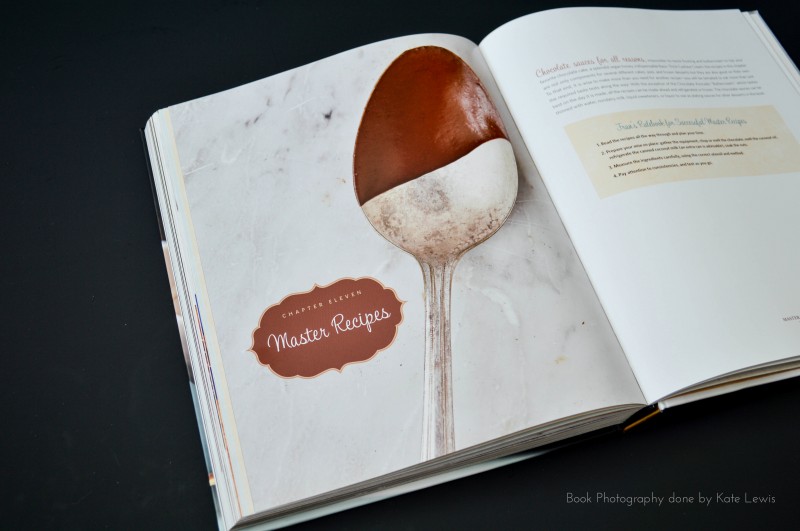 The beautiful photos will have you drooling and the recipes have simple ingredients that aren't hard too find (I found a lot of them at Bulk Barn). Costigan has made her cookbook easy and fun to read and understands us chocolate lovers. She wanted to ensure that her recipes were in fact chocolately, decadent and craved by all, vegans and non-vegans alike. How could you not swoon over Magic Chocolate Mousse, Chocolate Pecan Pie or Brooklyn Blackout Cake? Just to name a few! And for those in your life that may not love chocolate as much as you do (Mark who prefers vanilla?? Crazy) there are a few recipes in there that are chocolate-free. So why all this talk about this heavenly chocolate cookbook? Because Sprouts & Chocolate is giving away a copy of Vegan Chocolate!!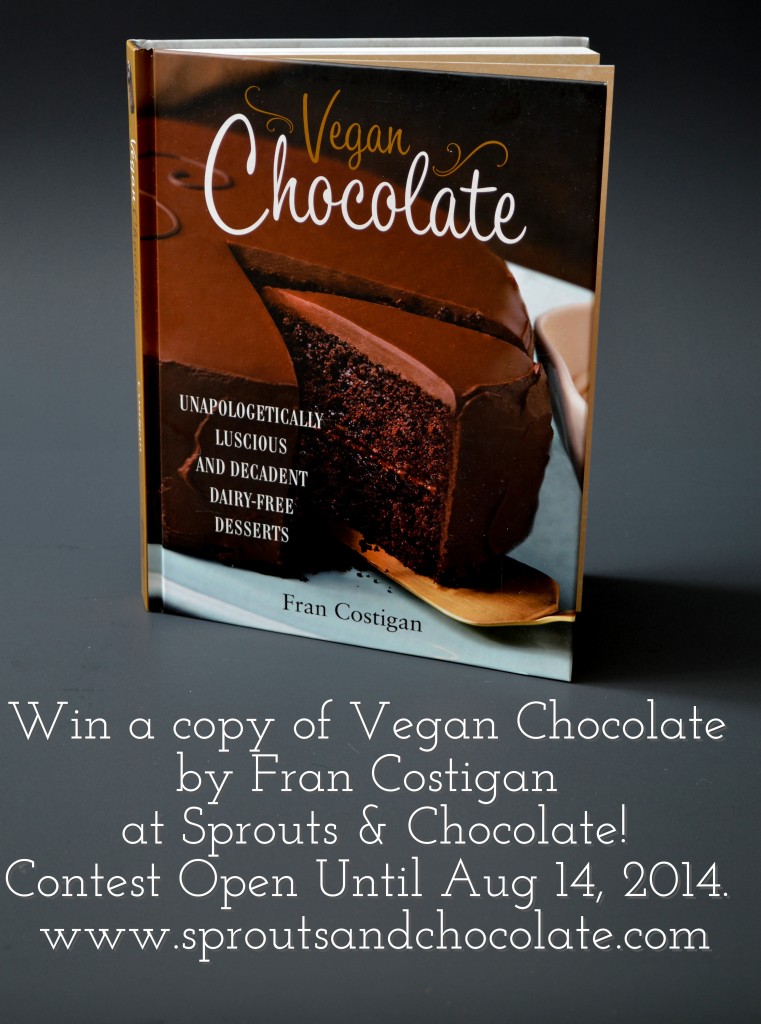 Entering is easy, just check the Rafflecopter box for ways to enter. The giveaway contest will begin today (Aug 1) and last date to enter will be Aug 14, 2014 at midnight (Eastern Standard Time). The giveaway is open to residents of Canada and the US. Good luck to those who enter!
Chai-Coconut Fudgsicles
2014-08-01 09:37:47
Creamy, rich and a perfectly spiced frozen dessert. Vegan, gluten free and oil free.
Ingredients
½ cup soy or almond milk
½ teaspoon ground cinnamon
½ teaspoon ground ginger
¼ teaspoon ground cloves
6 cardamom pods
Crack of black pepper (just a pinch)
¼ teaspoon fine grain sea salt
1 can full coconut milk
½ cup pure maple syrup
1 ½ - 2 tablespoons Dutch cocoa
2 tablespoons chia seeds
1-teaspoon pure vanilla extract
Instructions
In a high power blender add the spices and soy or almond milk. Blend on high until pods are fully broken and fine. Strain spiced milk through a fine mesh strainer into a small bowl.
Rinse out the blender well and add all the ingredients including the now strained spiced milk. Blend on high until the mix is very smooth, you should have about 3 cups of liquid.
Pour into Popsicle molds, insert the sticks if you need to and place in freezer until completely frozen.
Run the frozen mold under warm water until you can pull out a popsicle and serve.
Notes
If you don't have a high power blender, use ground cardamom pods and a pinch of ground black peppers however still blend and strain the milk since you don't want any gritty bits in your fudgsicle.
Sprouts & Chocolate http://www.sproutsandchocolate.com/