I have been a bad vegan lately: a lot of carbs, lacking vegetables and certainly not getting enough protein in my diet. Balance was non-existent for a little bit. It has been all school-work-school-work over and over and I had been feeling unmotivated to do little else when I got home besides homework and making myself something quick, like a peanut butter sandwich that I ate over the sink. It is easy to get into a bad routine and I sure was deep into it.
Thankfully I got my lazy butt in gear and made something wholesome, filling and delicious. Planning your meals, even just your lunches for the week can be a huge relief in your day to day routine since it is one less thing to worry about when you are heading out the door in the morning. Just assemble while your morning smoothie is blending up and you are all set! Mark and I ate this for lunch all week in wraps, stuffed in whole-wheat pitas or on The Big Salad (recipe below).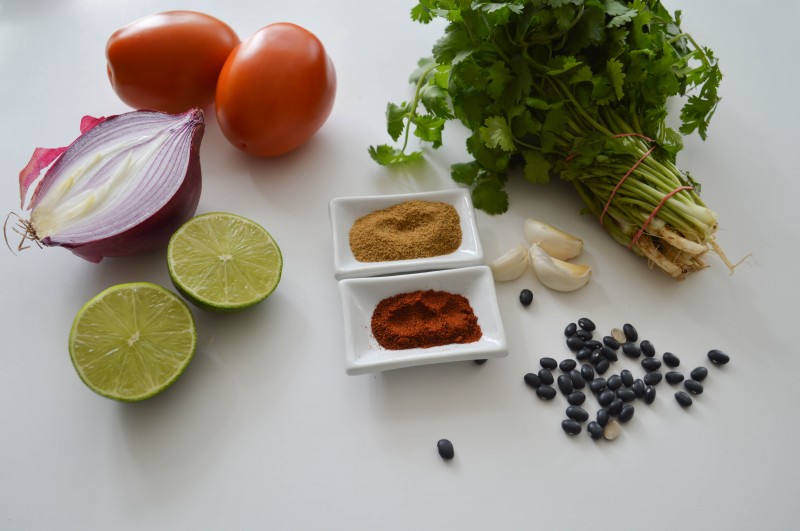 Though store bought dip can be convenient, it can contain a lot of junk masking as a health food. When I buy packaged food, even healthy food I find it has a certain "packaged" taste to it. Maybe it is the taste of canola oil? I can't quite put my finger on it. A recipe like this is effortless to make at home, is healthier and tastes better than the store bought stuff. All the more reason to make it for your lunch this week!
 Notes:
This recipe does make a lot of dip (about 3 ½ – 4 cups) so feel free to halve it.
Use as a spread on toast, top with sliced avocado and sprinkle with a pinch of salt and ancho chili powder for a serious protein packed breakfast.
Only top with an optional topping if serving right away since avocado tends to go brown etc
Don't skip the blanching step for the onions and garlic. If you do, the dip will taste like an onion punched you in the face.
This recipe is gluten free, oil free, nut free and soy free
 Oil Free Black Bean Dip
 ½ cup chopped red onion
3 small cloves garlic, chopped
2 Roma or plum tomatoes, diced
1 teaspoon fine grain sea salt
2 1/2 teaspoons ground cumin
¼ teaspoon ancho chili powder
1/3 cup packed cilantro leaves (not minced, just the whole leaves)
1 tablespoon white or black chia seeds
4 cups cooked black beans or 2-15 ounce cans, drained and rinsed
1 cup corn kernels (I used thawed frozen corn)
Toppings (Optional)
Avocado
Mango
Cilantro
Cherry Tomatoes
Set the onions and garlic in a small bowl and cover with boiling water and let sit for 5 minutes. Drain the water and the garlic and add to a food processor bowl. Add the diced tomatoes, salt, cumin, ancho and cilantro leaves; pulse the ingredients until chunky but not pureed.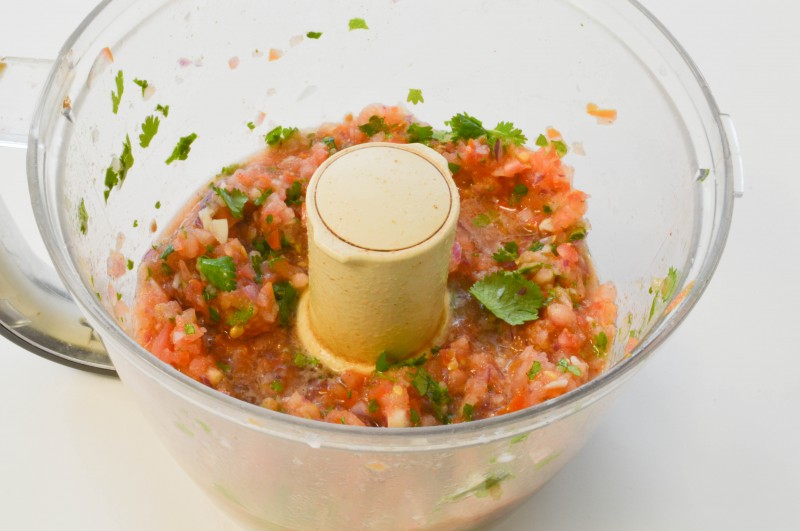 Empty the contents of the food processor into a large bowl. Sprinkle the chia seeds on the salsa mixture. Add the black beans to the food processor and pulse until only a few whole beans remain, like a chunky hummus.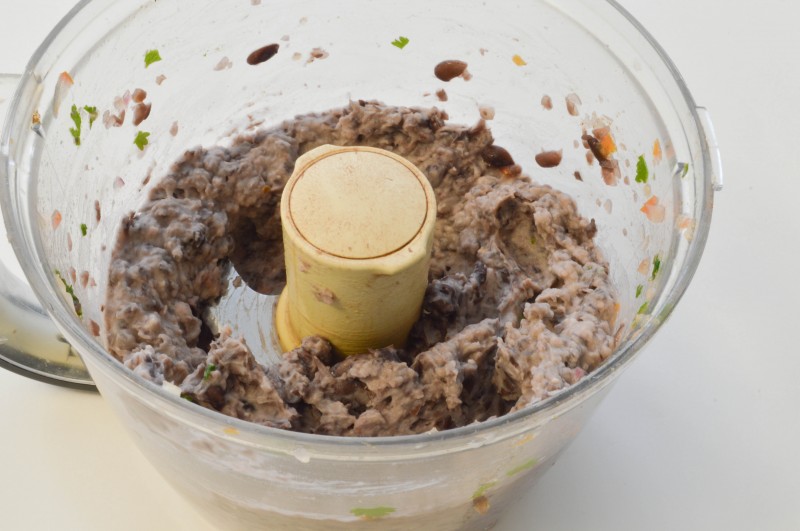 No need to clean out the bowl from the salsa since they are going to be mixed together. 
Add the black beans to the salsa mixture and stir until well combined; stir in the corn. Cover and let sit for 30 minutes to blend the flavours. Top with optional toppings, I used a mix of mango and avocado. Serve with pita chips, corn chips, veggies etc.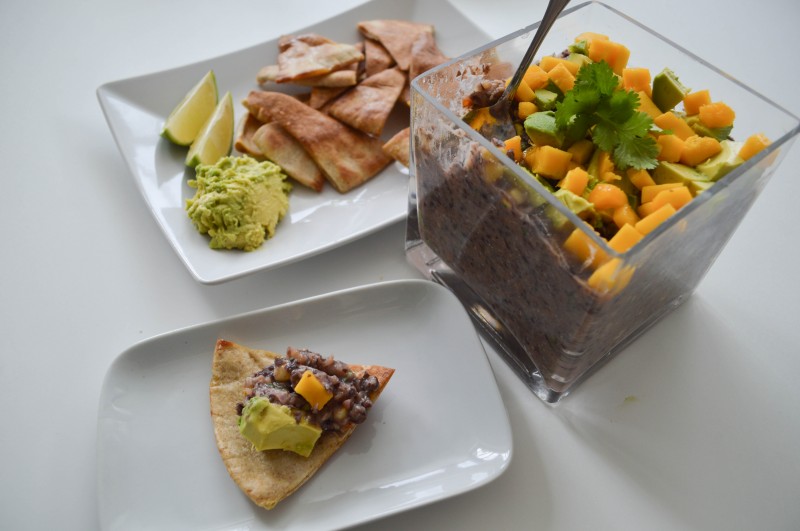 This dip is also great in a wrap with some smashed avocado and lots of romaine lettuce or my version of The Big Salad.
 The Big Salad
This salad is not your typical wimpy salad. It is hearty, filling and a meal in itself. A great salad to get anyone out of their basic chopped vegetable salad rut. The toppings are completely up to you and this isn't so much a recipe as it is a formula. If you like more tomatoes, add more or if you don't like something don't add it at all.
 Romaine Lettuce
Diced Red Peppers
Grape or Cherry Tomatoes
Smashed or Sliced Avocado
Cilantro
Oil-Free Black Bean Dip
Pita Chips
Roasted Sweet Potato Coins
Preheat oven to 425 degrees. Scrub and dry a long sweet potato and cut into ½ inch coins, leaving the skins on. Line a baking sheet with aluminum foil and line the sweet potatoes in a single layer. Drizzle with 3 teaspoons olive oil, ¼ teaspoon salt and pepper to taste. Flip sweet potatoes over, coating the bottom of the coin with oil and add a pinch more salt and pepper. Cook for 10 minutes on middle rack, flip and cook for another 5-7 or until browned but not burnt.
Assemble the salad and top with Lime-Cumin Dressing.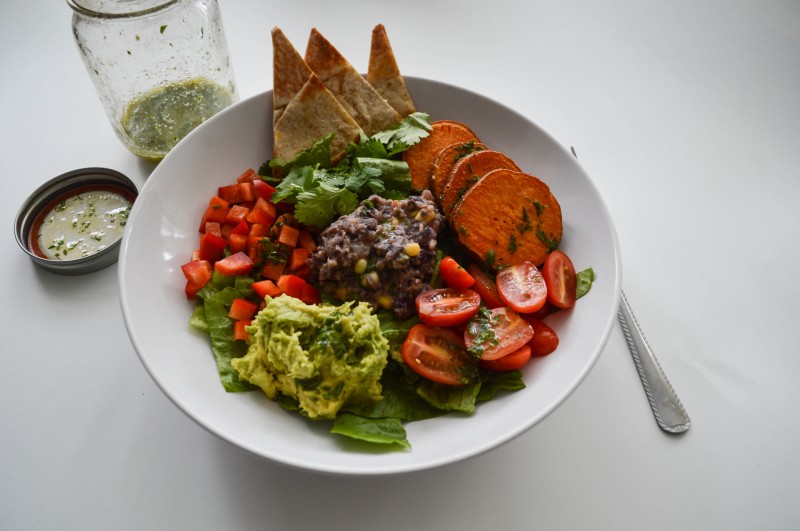 Lime-Cumin Dressing
This dressing does not last since it contains fresh chopped herbs. The cilantro will turn brown when left overnight but it is a quick dressing to make anytime. Don't like cilantro? Parsley is a good second choice.
Serves 2
1 tablespoon fresh chopped cilantro leaves
1 ½ tablespoon extra virgin olive oil
1 ½ tablespoon fresh lime juice
½ teaspoon ground cumin
¼ teaspoon salt
Pinch of cracked black pepper
Put all the ingredients in a mason jar, secure the lid and shake away!