First of all, my apologies for the late posting. Things have been crazy here between work and school and finding my way to the kitchen has been difficult. With the sun going down in the early hours, making and photographing a recipe has been almost impossible. I hope I kept you motivated to eat healthfully on these cold days with my pink and green smoothie recipes on Instagram.
Mark and I have a smoothie almost everyday since we are both very much on-the-go people; most days Mark leaves at 6:45am and doesn't return home until well after midnight from rehearsals or gigs. He is literally the busiest man I know. We both have been running on fumes lately and needed a little extra boost in our diet so despite the frigid weather, we have been drinking more greens and fresh ingredients.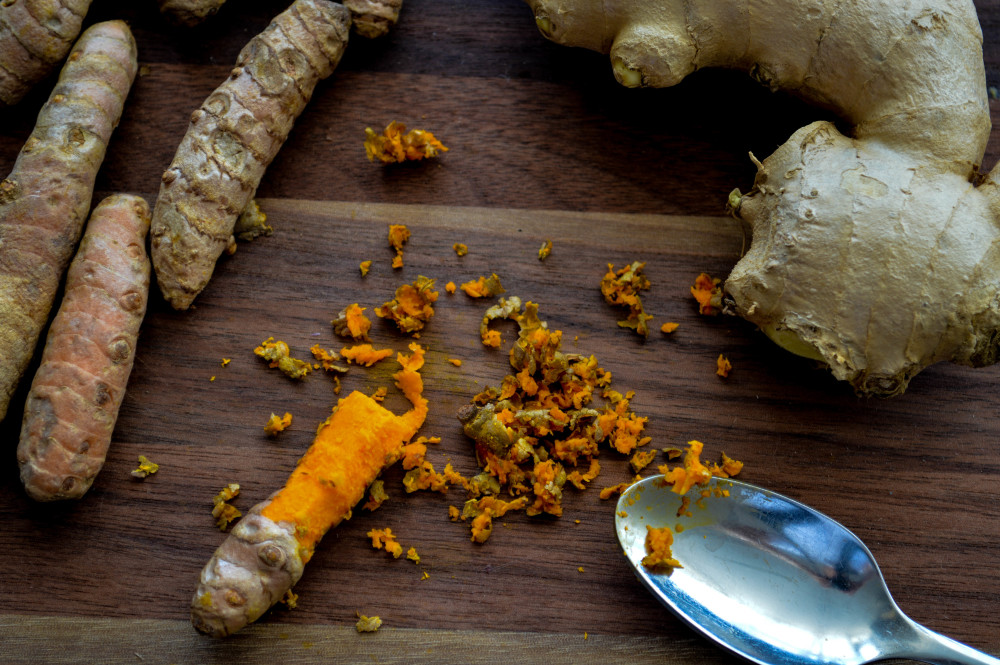 I have been hesitant to put up smoothie recipes after reading a few tweets, "Who needs a smoothie recipe? Just put in stuff you like." Oh, if it only were that simple. After a year of having my Vitamix I am much better at combining ingredients to make a delicious, nutritious, and colourful smoothie but at first, I made some seriously ugly ones. It was so discouraging to me when I made an unpleasant tasting smoothie and figured I would have to choke down every foul coloured drink I made. Sometimes a little guidance is needed.
After a seriously busy weekend working at the restaurant, my joints were stiff and I was feeling burnt out. I have been drinking turmeric and ginger tea but wanted to incorporate these anti-inflammatory ingredients into my smoothies too. So what is so good about anti-inflammatory ingredients?
Turmeric: this bright yellow spice is used traditionally in Indian and Chinese cooking but has tons of medicinal properties. It is said to not only reduce inflammation but also prevents cancer cell growth, lowers cholesterol and detoxifies the liver.
Ginger: this spicy root has quite the list of amazing properties besides tasting great. Ginger relieves nausea, protects your body against cancer and has immune boosting properties to keep those colds at bay.
Cinnamon: I love cinnamon and add to smoothies, oats and apple slices. This spice great for warming you up and mixed with ginger, it makes a great team against colds but also is said to control your blood sugar levels.
Who needs a cold?? Not you! Drink up and feel great!
A big congrats to Terri the winner of But I Could Never Go Vegan: 125 Excuses, Zero Excuses by Kristy Turner. I hope you love the book as much as I do! Thank you all so much for entering and your continuing support in my site!
Anti-Inflammatory Orange Smoothie
2015-02-17 12:13:04
This sweet, slightly spiced and earthy smoothie will keep those colds at bay with immune boosting and anti-inflammatory ingredients: turmeric, ginger and cinnamon. Mango is packed with cold-busting Vitamin C. This recipe is raw, vegan, nut-free, soy-free and gluten-free.
Ingredients
1 cup frozen mango
1 orange
1 ripe banana
1 cup unsweetened almond milk
1 inch knob peeled ginger
1- 1.5 inch knob peeled fresh turmeric
1/4 teaspoon ground cinnamon
5-6 ice cubes
Instructions
To peel the ginger and turmeric: I gently scraped the skin off with the back of a spoon. Chop before adding it to the blender.
Add all the ingredients to a high-speed blender and blend until completely smooth.
Notes
Mark says this drink is a little bit earthy for him so if you are use to very sweet smoothies, I suggest adding a pitted date to the ingredients and then blend.
Add less ginger if you are sensitive to spice.
Sprouts & Chocolate http://www.sproutsandchocolate.com/