Mark and I get along about most things but one important thing to me that we don't agree on is piecrust. He hates pastry piecrust and that is the thing I love most about pie. He won this holiday with his gingersnap piecrust but come Christmas it is all about the pastry! Compromise right? Be sure to cover the bottom of the spring form pan with tinfoil. No springform pan is leak proof so it is essential to cover it (see image below). I used a 7-inch pan but if you are serving for a crowd use a larger pan and modify the recipe to you pan size by doubling it. Did I mention that this is gluten free? Pie for all!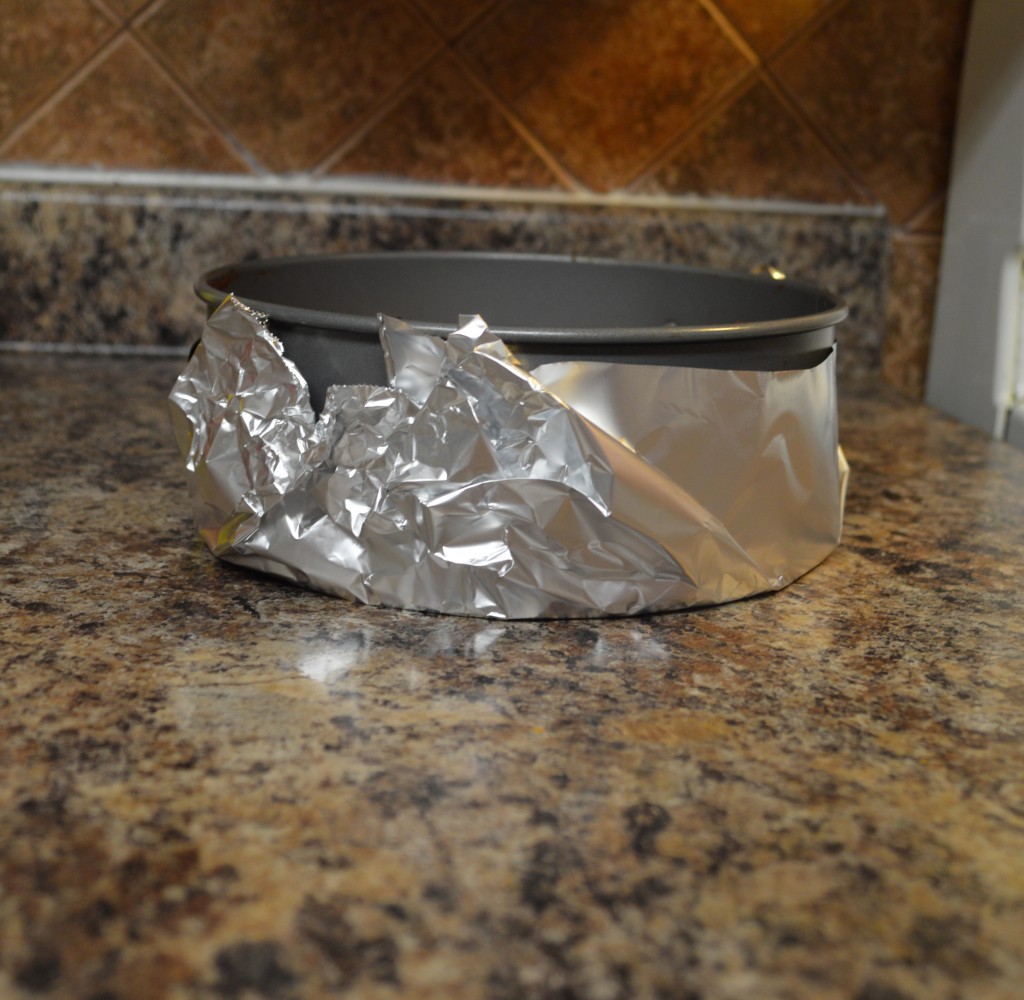 Cover your pan or the butter will leak out and make a mess of your oven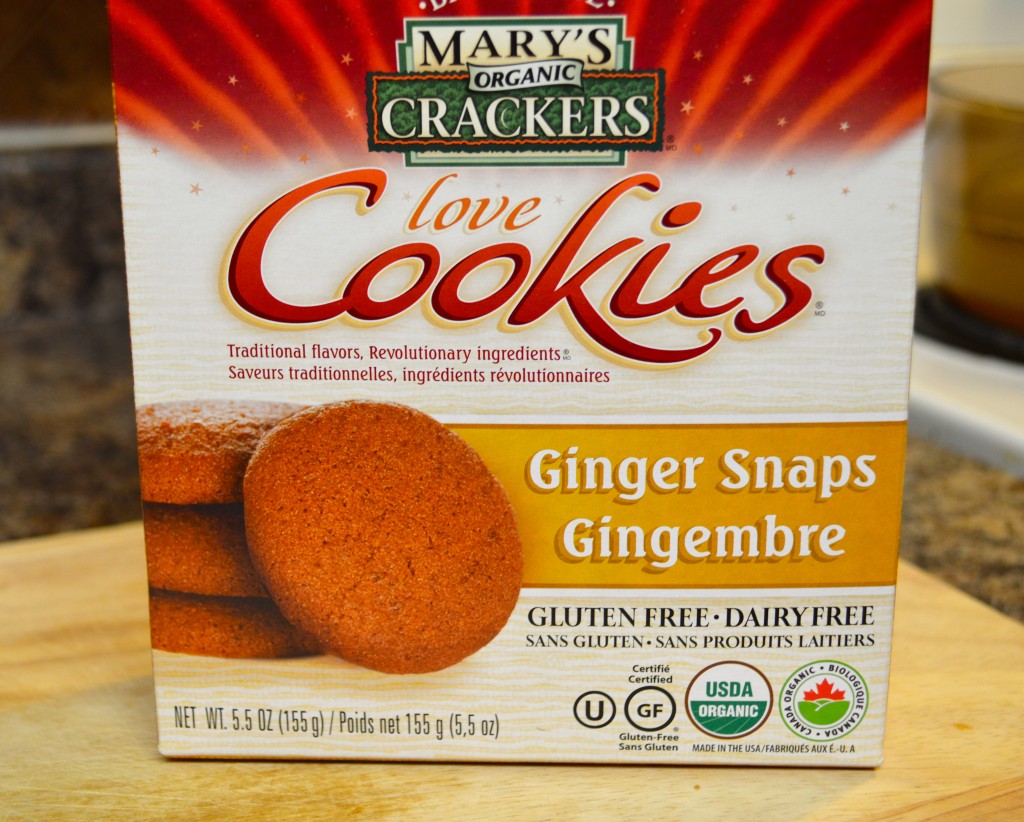 These are the cookies I used for the crust but any vegan gingersnap cookie will do.
Crust
1-cup (gluten free) gingersnap crumbs (I used 10 gingersnaps and processed them in a food processor until crumbs)
1 tablespoon melted Earth Balance Traditional
1 teaspoon evaporated cane sugar
Filling
Wet Ingredients
2 cups canned pumpkin (not pumpkin pie filling)
1/4 cup soy creamer
1 tablespoon Earth Balance, melted
Half of a banana, mashed (edit: pureed banana)
2 teaspoons vanilla extract
2 teaspoons fresh lemon juice
Dry Ingredients
1/2 cup Sucanat
1/4 cup evaporated cane sugar
3 tablespoons cornstarch
2 teaspoons pumpkin spice (Check out my homemade Pumpkin Spice)
Pinch of table salt
For the crust
Preheat oven to 325 degrees. Cut a sheet of parchment paper and trace with a pencil the bottom of a 7" springform pan. Cut the tracing and line the bottom of the pan. Combine gingersnaps and sugar in a medium bowl. Add the melted butter and toss with a fork until well combined. Add crumbs to the pan and press crumbs firmly and evenly into the pans bottom. Bake for 10 minutes. Let cool on a wire rack. Turn up heat to 350 degrees.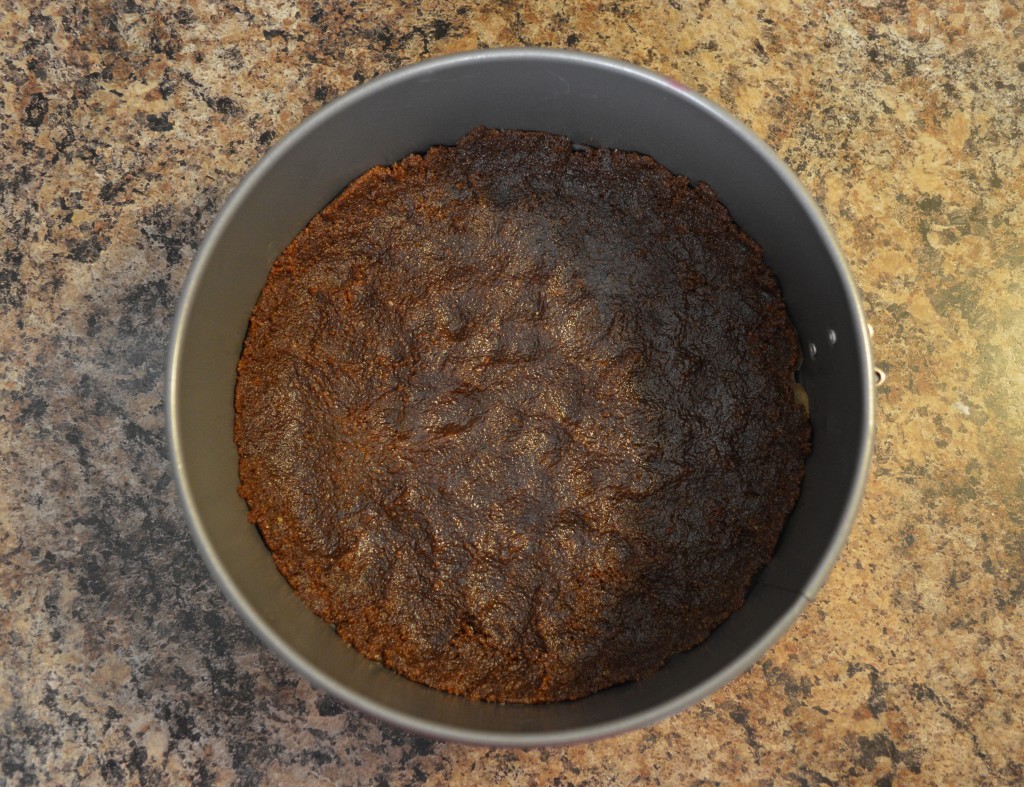 Sorry I did not take more pictures of the crust making but this is what it should look like before it goes into the oven.
For the filling
In a large bowl combine all the wet ingredients.
In a medium bowl combine the dry ingredients.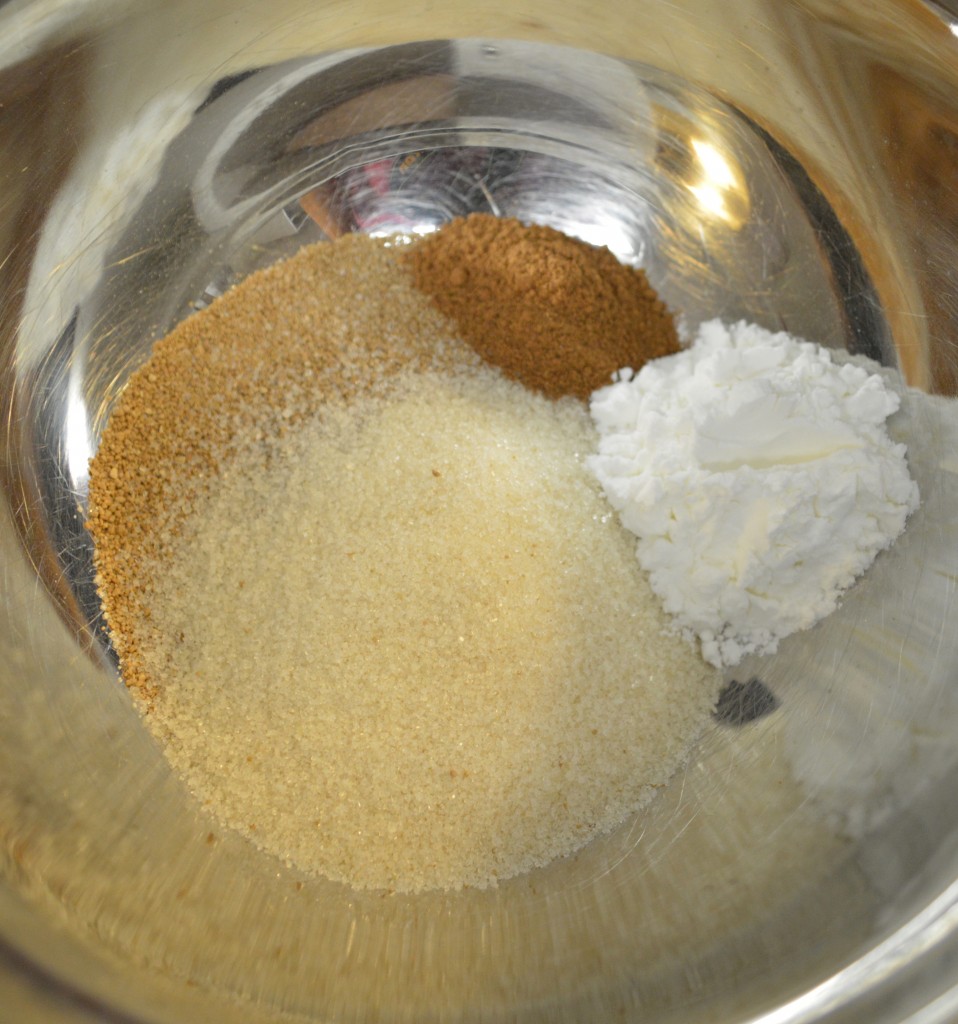 Gently fold in the dry ingredients into the wet ingredients until well combined. Add filling to the prepared crust and bake for 40 minutes.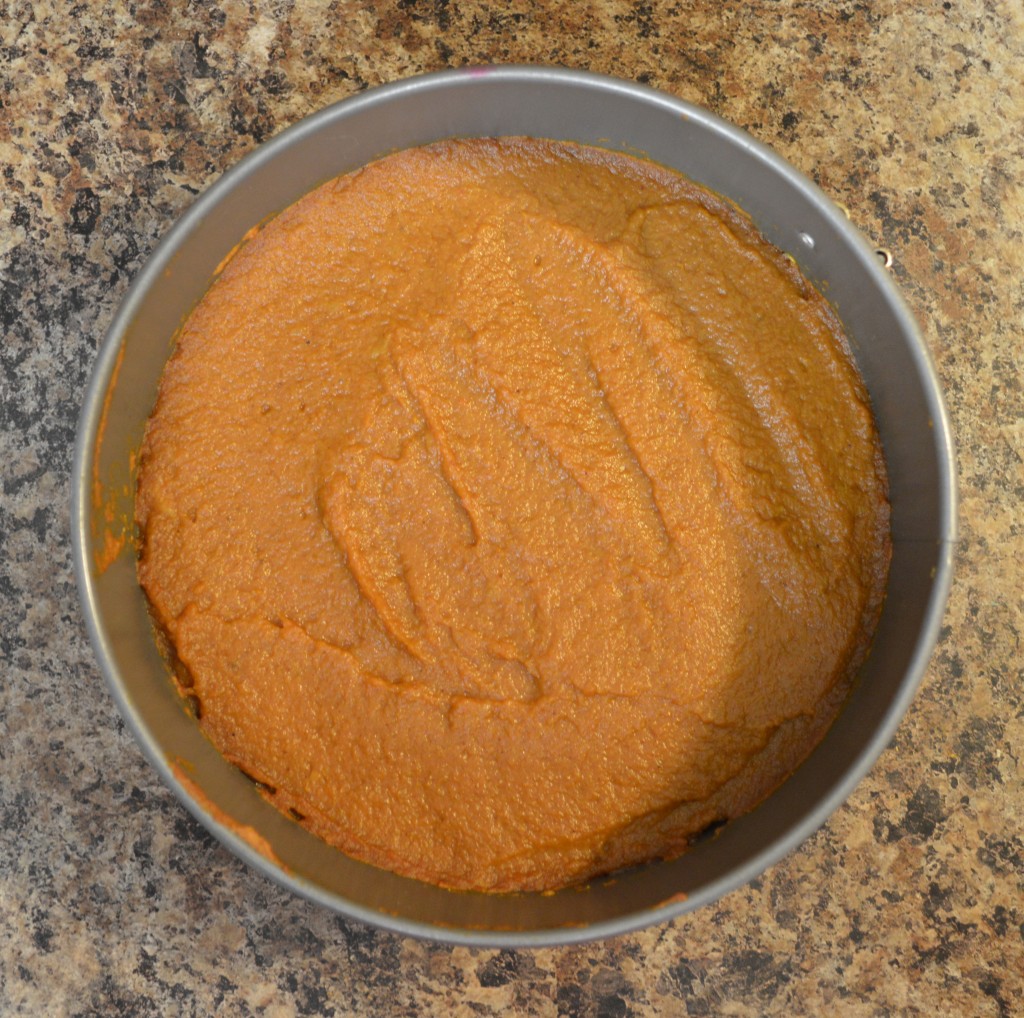 Before cooking the pie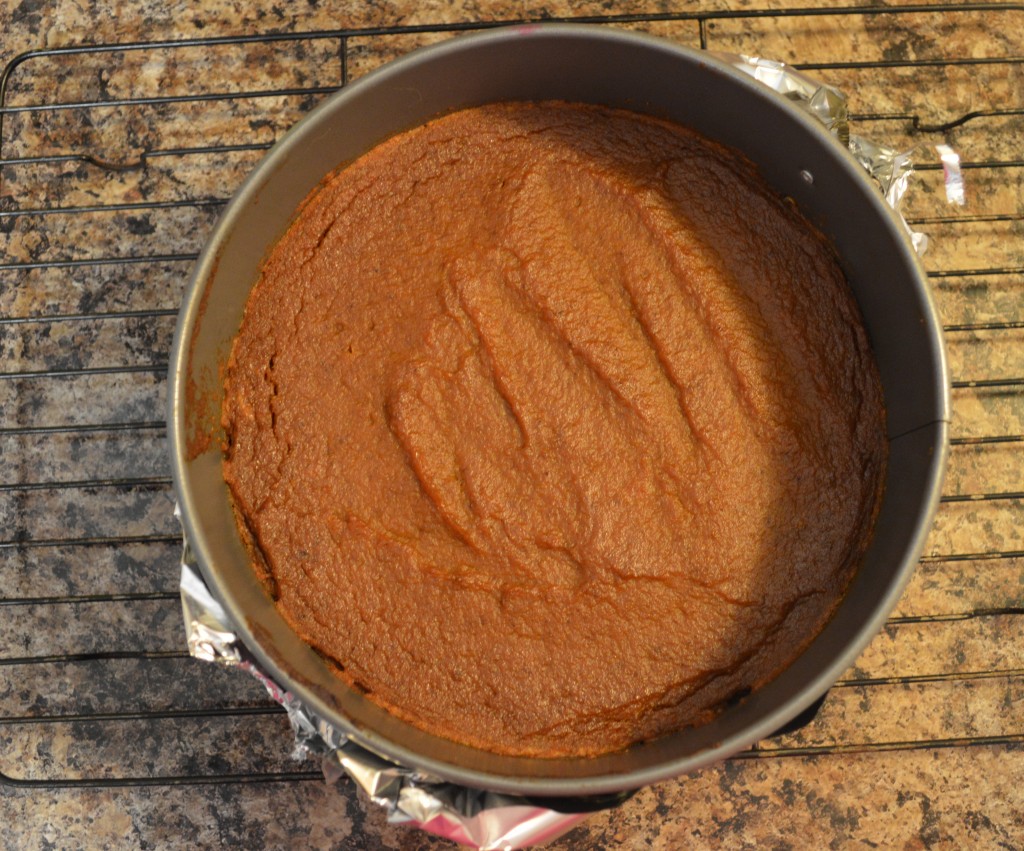 After cooking the pie. It will darken as it cools.
The sides of the pie should be cooked but the middle still wet when you take it out of the oven. Cool on a wire rack for 1 hour. Cover with tinfoil and refrigerate for at least 4 hours or overnight.
Remove pie from refrigerator 30 minutes before serving. When ready to serve, unlock the springform and gently slide the pie into a serving plate. It is ok if the parchment paper comes with it. Cut and serve with vanilla ice cream. I like Coconut Bliss vanilla flavour.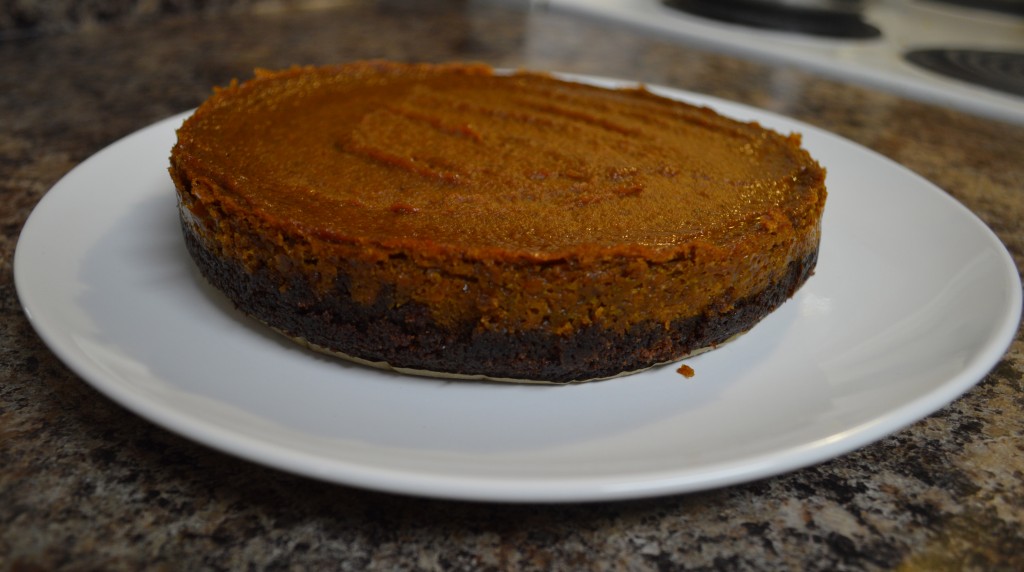 Want a thicker crust? Just double the crust recipe and cook the same way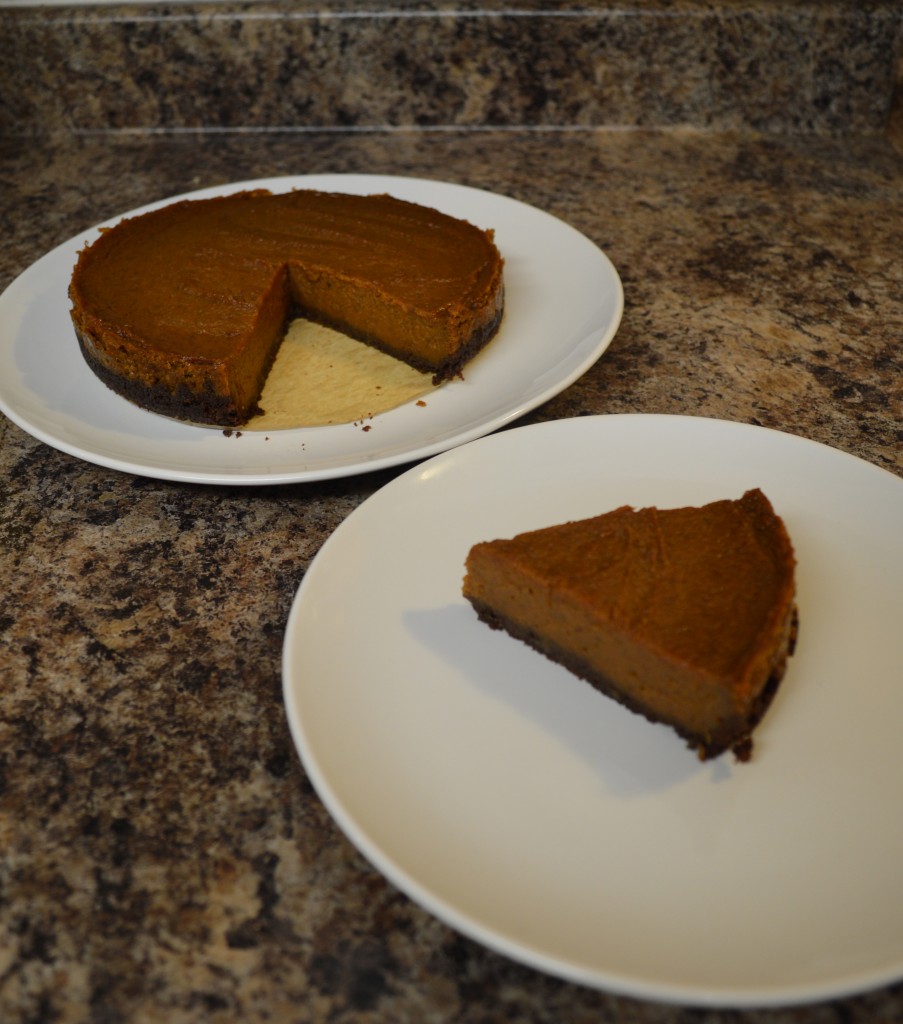 No ugly first slice here! Happy Thanksgiving!