Day 11 of Vegan MoFo…
Here I am Day 11 of the month long cooking (and eating!) vegan food fest that is VeganMoFo! While it has been a little stressful I organized my ideas for a few recipes on my fridge whiteboard calendar to make things a little easier for me since I started school and continue to work. So far, I am right on schedule with a few modifications here and there and couldn't be more pleased by my organizational skills. I have never been much of a meal planner but now I get what the big deal is about! It is less hectic now that I am coming back from school and knowing my dinner is already in the fridge (along with my after school snack because apparently I am 5 years old). Also having a meal plan doesn't force me to go on a serious snack quest when I come home from a long day and feeling extra hangry, consuming everything in my path.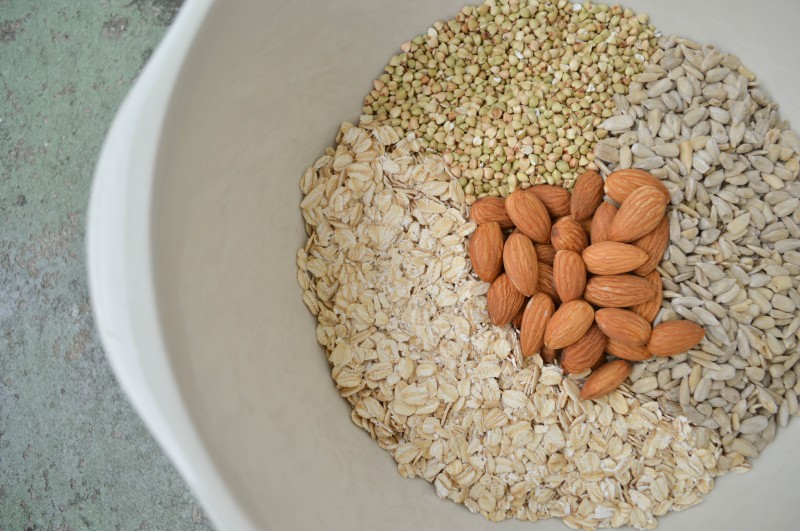 But what about breakfast? I have to admit I am pretty terrible with planning breakfast since it is always rush-rush for Mark and I in the morning. I usually stick to a smoothie but that was before I re-entered school and I definitely needing the extra fuel for my brain in the wee hours of the morning.
Mark is a huge fan of cereal but store bought just doesn't fill him up as a meal and before you know it half of the box is gone. I needed to make a substantial breakfast to boost our energy before we head out.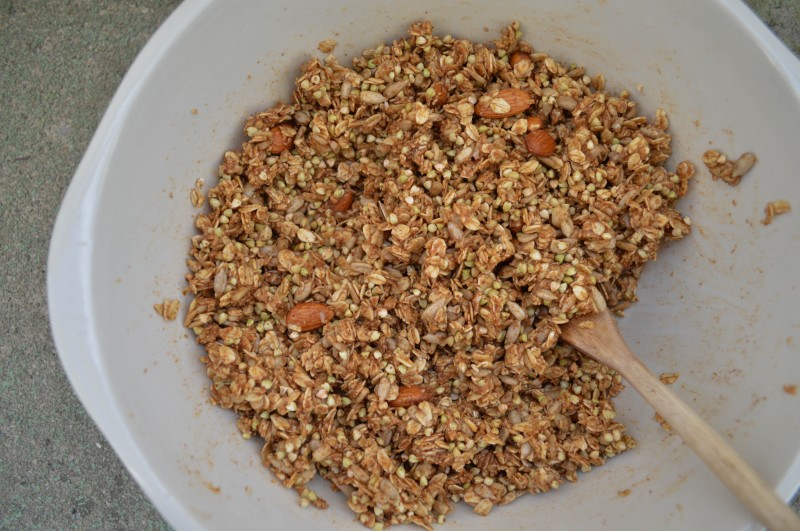 Granola is always my first choice for cereal since I can make a lot of it at one time and it lasts all work/school week in an airtight container. Is it too early for pumpkin spice? I would say not since Starbucks came out with their Pumpkin Spice Latte in August! I have a love/hate relationship with pumpkin and its warm spices- I love it until I hate it. You know that song you play on repeat a zillion times and then you hear it on the radio for your zillionth and one time and all of a sudden you think "If I hear this song one more time I may lose it!" That's my relationship with pumpkin. I eat EVERYTHING pumpkin for two months straight and never want to see it again [until next year that is]. Perhaps this year I will enjoy pumpkin in moderation? Haha who am I kidding?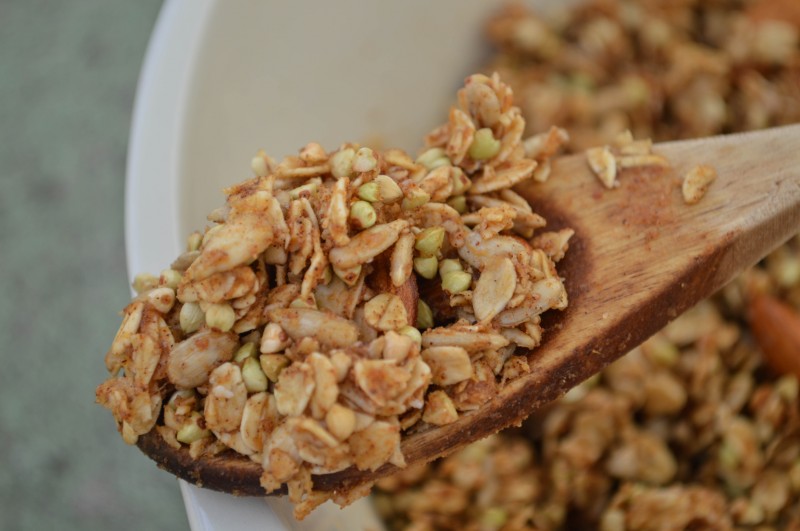 8 recipes down, 12 more to go!
Pumpkin Spice Buckwheat Granola
2014-09-11 18:29:39
Everyone's favourite spice! Pumpkin Spice Buckwheat Granola is full of autumn flavours. This recipe makes approx. 4 cups of granola.
Ingredients
¼ cup almond butter
¼ cup virgin coconut oil
½ cup pure canned pumpkin puree (not pumpkin pie mix)
¼ - 1/3 cup pure maple syrup
1 teaspoon pure vanilla extract
¼ teaspoon fine grain sea salt
2 cups raw rolled oats (not instant!)
1 cup raw buckwheat grouts
¾ cup raw sunflower seeds
¼ cup raw whole almonds
2-3 teaspoons pumpkin spice
Instructions
Preheat oven to 300 degrees and line a large baking sheet with parchment paper.
Combine all ingredients in a large bowl until the grains are coated in the wet mixture.
Bake for 35-40 minutes, flipping mixture half way through cooking time and keeping an eye on it after the 30-minute mark. It should be golden brown in colour.
Stir every 30 minutes while the granola is cooling and once completely cooled, transfer to an airtight container.
Notes
This granola is lightly sweetened with the 1/4 cup maple syrup. If you like it a little sweeter, just add some more.
I like a lot of pumpkin spice so I added the full 3 teaspoons but start with 2 and you can add more to suit your taste.
Feel free to add in dried cranberries, crystallized ginger or coconut flakes after cooking for some extra flavour.
Sprouts & Chocolate http://www.sproutsandchocolate.com/