There are few foods I truly dislike and they are weak coffee and weak "spicy" food. Whenever I make dinner for Mark and I, it is always a compromise on how spicy it can be based on Mark's tolerance and my desire. I do take my meals spicier than he does but he is getting there. When we first starting dating he did not like tomatoes, onions or spicy food. I am pleased to say all of those things changed fairly quickly since I am in love with all those things and use them daily.
I think my own love of spicy food came about when I read somewhere that eating spicy food increases your metabolism. This was also true of caffeine and I am pretty sure it is how I became a coffee addict as well and naturally I ate all the spicy food I could get my hands on and washed it down with strong coffee. Thankfully now I have a more healthful way of eating my favourite foods.
I do not care for hot sauce that is sooo spicy for the sake of being spicy. Hot sauce can't only be just hot but it needs to be flavourful however this can be hard to find in bottled hot sauce. Believe me when I say I have tried a lot of hot sauces but a lot of them were just spicy vinegar. Sriracha is still my favourite brand of bottled hot sauce but I decided to take things into my own hands and create my own. I asked my Trinidadian friend (Trinidad is a place well known for serious spicy food) what she put in her hot sauce and it was quite different that any other hot sauce I had heard of.  Cinnamon? Carrots? She said she had used the carrots for the body of the hot sauce so it wasn't super liquidly but slightly thinner than a paste. I followed her basic recipe but adding a few ingredients of my own and I love chipotle's smoky rich flavour. If you can't find dried chipotle peppers, chipotle in adobo is a good substitution but you don't need to soak canned peppers in the vinegar or just omit them completely but then the sauce will not be as smoky or flavourful.
Now Scotch bonnet peppers are really hot with a 10 rating on the Scoville Scale with a heat level of 350-855,000 Scoville Units while the japaleno has a Scoville Rating of 5 with a heat level of 5,000 – 15,000 Scoville Units according to this source. This hot sauce is not for the faint of heart! I like to add it to things like peanut sauce for stir- fry, mixed with Veganise Brand Mayo for a little added kick for sandwiches or burgers or wherever you like to use hot sauce.
Notes:
You must wear gloves when cutting the peppers. I bought my gloves at a drug store. They don't have to be fancy but you do need to protect your hands.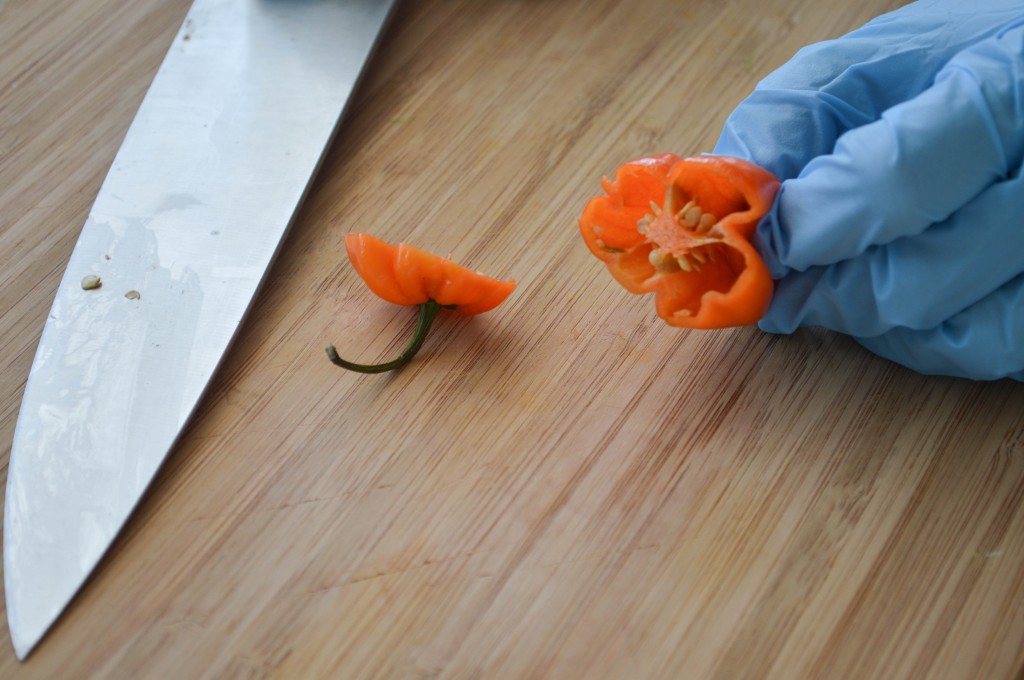 It is actually the pepper's rib membrane that is the spicy part of the pepper, contrary to the popular belief that it is the seeds themselves that contain the most heat. The ribs hold the pepper's seeds.
Do not get your face too close when it is cooking. It can bubble and burn your skin.

The vinegar helps with the heat and also preserving the freshness so it should last 2 weeks in the fridge. Store in a glass container since plastic can absorb the heat from the peppers.
After adding the hot sauce to your dish, try it before adding more. I have been too daring at times and it was too spicy even for my taste.
Smoky Hot Sauce
Makes about ½ cup
 1 dried chipotle pepper
¼ cup apple cider vinegar
2 large cloves garlic
½ cup shredded carrots, about 2 small or 1 medium carrot
4 fresh Scotch bonnet pepper, destemmed and roughly chopped (wear gloves!)
¼ cup Dijon mustard
¼ cup low sodium tamari (I used Liquid Braggs Aminos)
¼ teaspoon oregano
¼ teaspoon ground cinnamon
¼ teaspoon kosher salt
Pinch of ground cloves
Add the vinegar and chipotle pepper to the blend and let sit for 10 minutes to revive the pepper. Add the rest of the ingredients together in a blender and blend until fairly smooth. Transfer to a small pot on medium-low heat and let it simmer for about 15 minutes, stirring frequently, until the sauce is a brown-orange colour. If you prefer it thinner, just add some water to it as it simmers.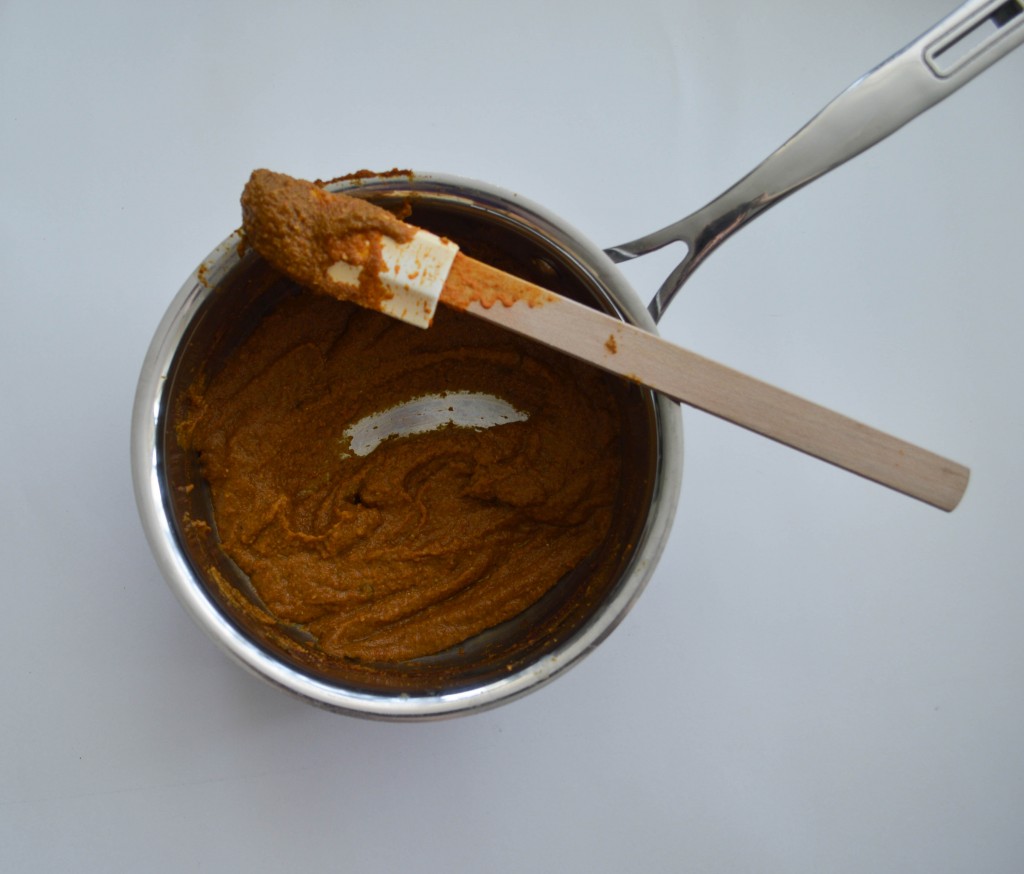 Store in the refrigerator and use whenever you are feeling daring.