March break had a lot more appeal when I was in middle school, but now when I walk around the streets of Toronto mid-day I question where all these kids came from? Usually I am at school during the day and then straight to work at night so I normally don't see many children but thankfully I got to see one kid, my nephew Sammy.
Sammy just turned 7 and though I missed his birthday party (I am still so sad about this) I had offered my sister to bring him to Toronto for a few days over the March break. Both my sister and my nephew whole heartedly agreed and I could hear his anticipation over the phone telling me he had only a couple more sleeps until I was going to pick him on the GO train.
I was feeling great! Cool Auntie Jess was taking her small town nephew out into the big city, exploring the different neighbourhoods, taking him to the movies (that part was mostly for me, I really wanted to see the Lego Movie), watching Pokémon on Netflix while eating stove top popcorn and staying up waaay past his bedtime. I was so pumped! However as soon as I picked him up from my sister, the first question out of his mouth: "Where is Mark?"
Whaaat? My sister told me that he had asked about Mark the whole way to the train station. Was Cool Auntie Jess not so cool anymore? I knew that Mark and Sammy had bonded over Christmas since Mark is just a big kid himself. They played Pokémon cards together and both love video games, you know, boy stuff.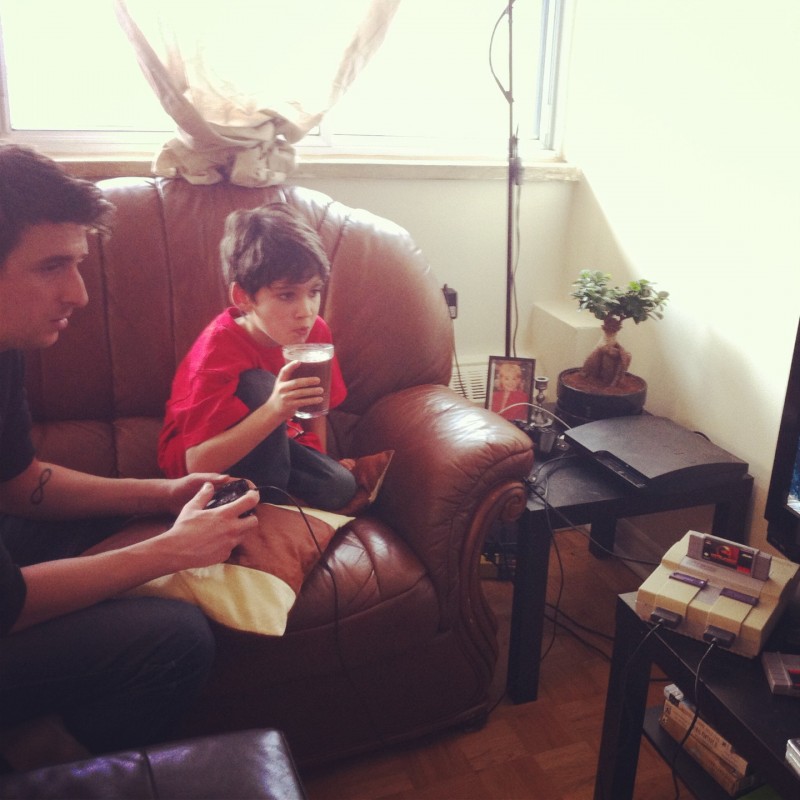 Yes, that is a Super Nintendo and Sammy tried to wipe the outside of the video game with his shirt when it didn't work the first time. I showed him that you have to blow into it to get all the dust out. He finds it a little dated and prefers the PS3. Perhaps it is because I kicked his butt in Mortal Combat? Why am I so proud of myself for beating a 7 year old in a game? Sammy is also enjoying a kale and berry smoothie. I just forgot to mention all the kale I put in it.
I may treat Sammy a little too baby-ish when I see him, which is apparently a huge mistake when around other people. At Christmas I oohed and awed over him a little too much and when I kissed him on the cheek in front of his cousin who is the same age as him, I had crossed the line. Even my sister whispered to me, "Jess you are embarrassing him in front of his friends." Oh no. What had I done? I pulled a "Mom Move". I always told myself as a kid that I would never embarrass my (or sister's) kids in front of their friends but then I went and did it. I was mortified.
I decided to lay off a bit and though it is hard, I try to act a little less like a public embarrassment around him. He still grabs my hand while crossing the street and thinks my activity planning is still cool and fun. Small victories and I will take them!
Sammy is not a vegan at his house but when he comes to my house he eats whatever I give him. He is a pretty good eater when it comes to healthy food. He really loves cucumbers, carrots and all the fruit he has ever tried. Last time he stayed with Mark and I, he ate an entire watermelon and its black seeds in a matter of 2 days. I told him that a watermelon would grow in his stomach but he called me out. Sigh. I bet he doesn't think that chocolate milk comes from brown cows either. Kids these days…
Thankfully, there is one thing Sammy enjoys that I do better than Mark does and that is pancake making, especially this recipe. He doesn't know they are vegan or whole wheat, he just knows that he likes them a lot.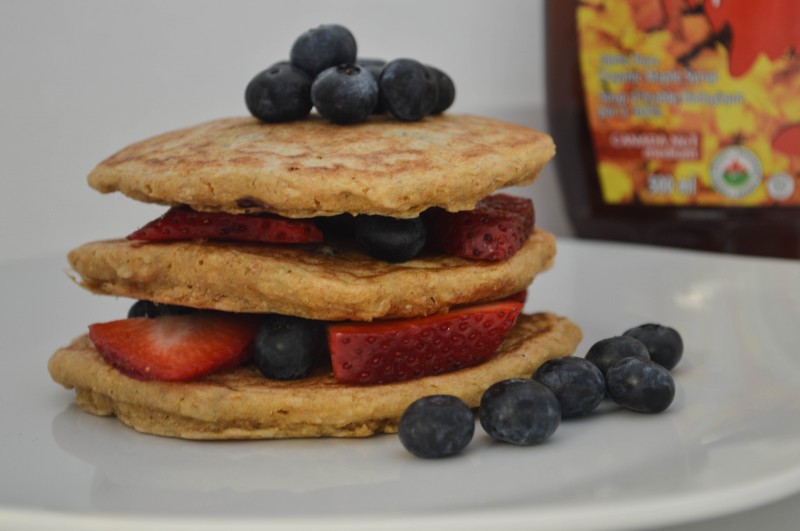 Notes:
Patience is key while making pancakes. Wait for the pan to be hot enough and wait until you see some bubbles come up through the pancake. You won't regret it.
Transfer pancakes to a wire rack over a baking sheet while cooking the others. The wire rack helps air ventilation keeps the crispiness in tact on each side of the pancake but do not stack pancakes on top of each other while in the oven.
DO NOT OVERMIX! Over mixing causes the pancakes to become rubbery. A few lumps of flour is ok.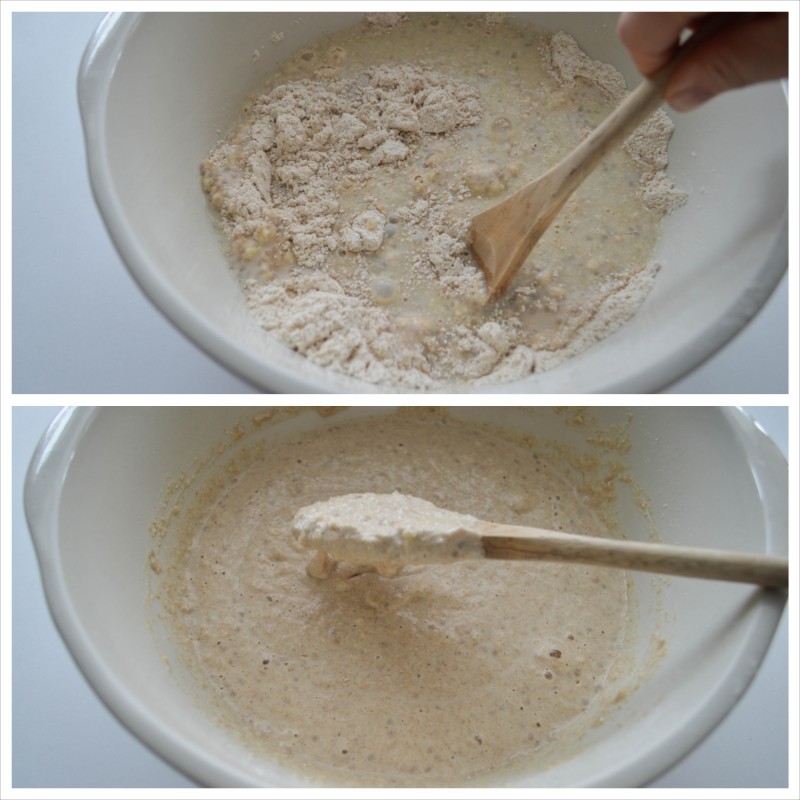 Do not overload each pancake with berries. The blueberries release a lot of liquid when they are cooked so if you add too many it will result in a mushy pancake. Stick to about 5-6 berries per pancake depending on how large your berries are. You can use frozen berries but it will result in a blue-grey hue in the batter. I don't mix the blueberries in the batter; I just push them into the pancake while it is cooking on the pan.
Wtf is a chia egg? It is 1 tablespoon white chia seeds+ 3 tablespoons warm water mixed and let sit until the seeds have expanded. I used white seeds but black seeds would work just fine. I know some kids can be picky and might not want to see black little seeds in their meal but the white ones blend right in.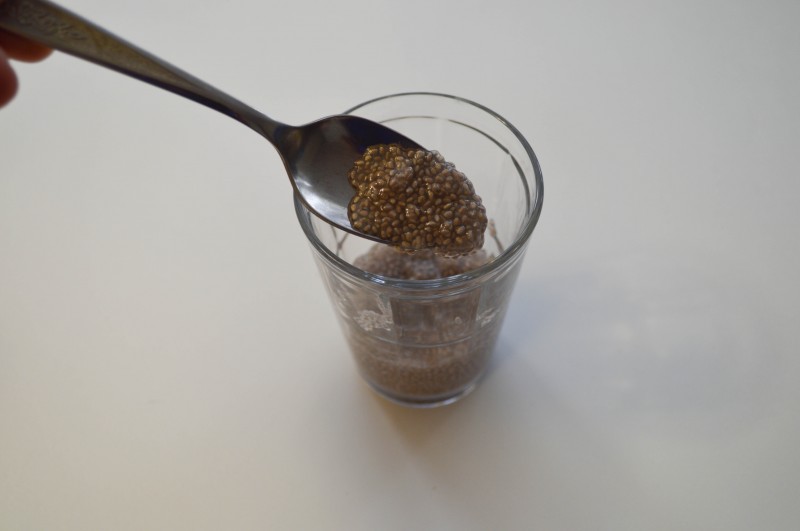 Whole Wheat Blueberry Pancakes: Kid Approved
Makes approx. 14 pancakes
 2 cups unsweetened almond milk
1 tablespoon apple cider vinegar or fresh lemon juice
2 cups whole-wheat pastry flour (sometimes called "soft" whole wheat flour)
2 teaspoons baking powder
½ teaspoon baking soda
½ teaspoon fine grain sea salt
1 chia egg (see note)
3 tablespoons Earth Balance or coconut oil, melted and cooled (with the oil, it will taste a little coconut-y)
2 tablespoons pure maple syrup + more for serving
1 cup fresh or frozen (see notes) blueberries, rinsed and dried. Some will be left over to serve with your pancakes.
3-4 teaspoons oil, any neutral flavoured oil will do (I don't recommend olive oil)
Adjust the oven rack to the middle position and heat oven to 200 degrees. Set a wire rack on top of a baking sheet and place on the oven rack. Whisk milk and vinegar (or lemon juice) together in a medium bowl; set aside to thicken the milk.I n a large bowl, whisk together the flour, powder, soda and salt until combined. Form a well in the middle of the mixture.
In the medium bowl with the milk, add the chia seeds, syrup and melted butter or oil and whisk until combined. Pour the wet mixture into the well of the dry ingredients and whisk gently until just combined. I repeat myself in saying please do not over mix!
Heat 1 teaspoon in a 12-inch non-stick skillet over medium heat until shimmering. Using a ¼-cup measure, portion the batter into the pan, creating 4 pancakes, smooth the pancake batter out with a spatula. Add 5-6 berries per pancake, gently pushing them down into the pancake. Cook pancakes until bubbles on its surface appear, about 1-2 minutes. Flip the pancakes with a wide spatula and cook the second side for another minute or 1-½ minutes. Transfer pancakes to wire rack and repeat with remaining batter, adding more oil with each new batch.
Stack with fresh blueberries, strawberries, bananas (whatever you like!) and serve with pure maple syrup.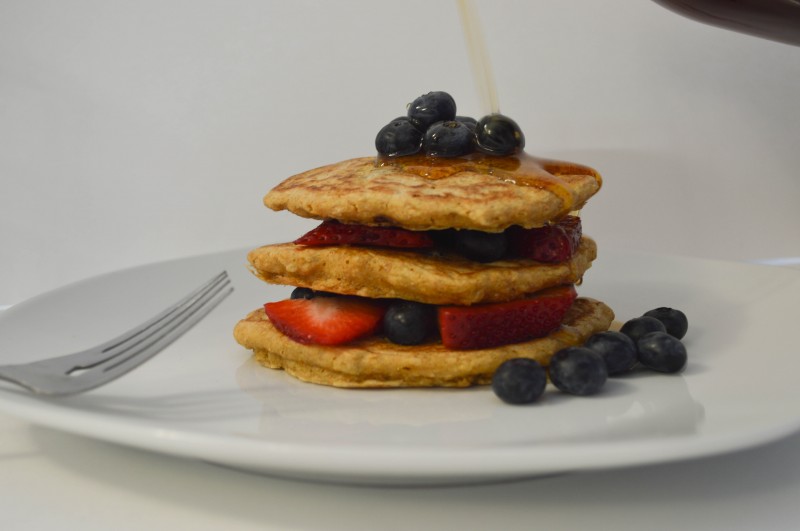 While you dine on these berry-full pancakes dream of warmer days. Is anyone else tired of seeing this? I know I am done with the bundling and unbundling of coat, hat, mitts, boots, scarves etc. Springtime needs to hurry up!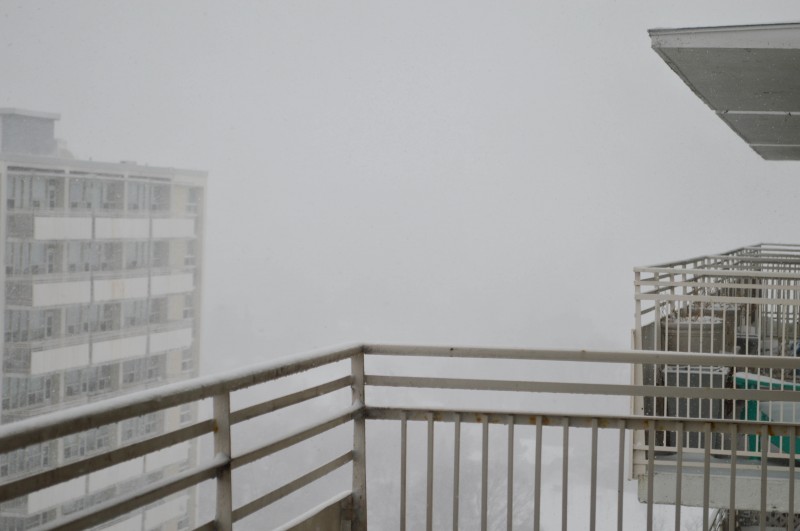 There is a park under all that blowing snow. 9 more days until Spring?