Turkey with stuffing is a classic Thanksgiving meal but I am sure the turkeys appreciate us vegans on every holiday. I wanted a beautiful and hearty entrée for Thanksgiving and not just a plate full of side dishes. Stuffing squash may seem like a lot of work but it is nothing in comparison to making a turkey. This recipe can be done in one hour (with a little planning) and is easily double or tripled for a large crowd. I bought the acorn squashes at Whole Foods in Yorkville and to my luck they were on sale for 99 cents a pound (usually $1.49 a pound). They also happened to be local and organic. While shopping I noticed the turkey prices at $4.99 per pound and that was on sale. Who said being a vegan is more expensive?
I hope you all have a wonderful holiday with family and friends. I am sure everyone is going to try and sneak a bite off your plate with this dish.
Stuffing Dry Mix
2 cups whole-wheat sandwich bread, crusts removed and cut into ½ inch cubes
½ cup whole pecans, toasted and roughly chopped
This can either be left out overnight to become stale or you can bake it at 200 degrees for 40 minutes. Just don't forget you have it in the oven and accidentally crank the heat for something else like I did. When the bread is ready, place in a large bowl with the pecans and set aside.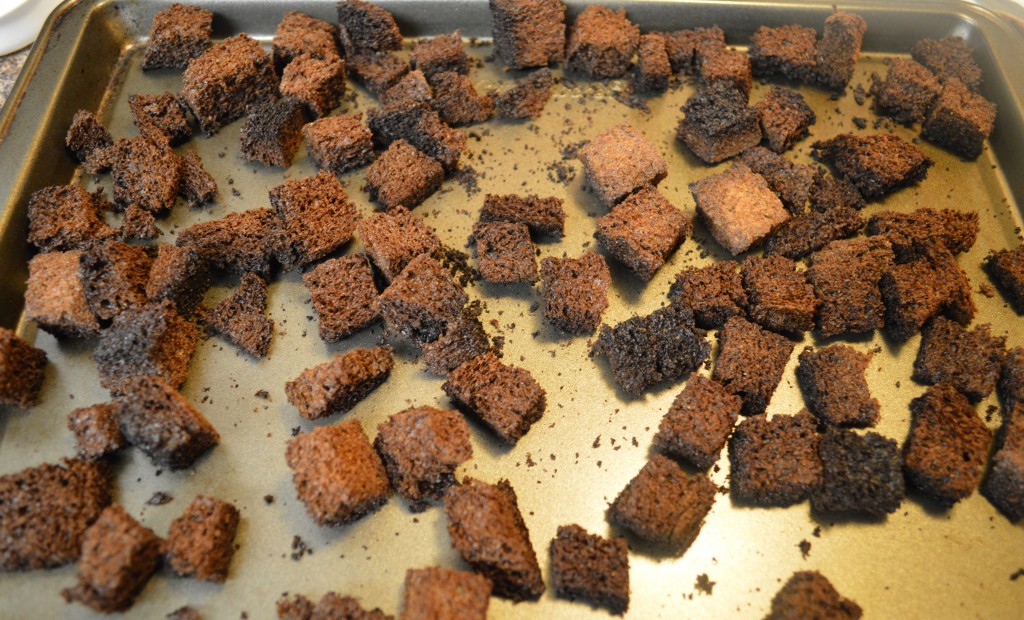 Oh silly me forgetting stuff was in the oven. Thankfully I did not burn down the house, just the bread. With some planning, let the bread cubes sit overnight to become stale.
Squash Puree
1 delicata squash, peeled, seeded and chopped
1½ cups low sodium vegetable stock
Over high heat bring stock to boil and add the squash. Turn down the heat to medium and simmer until squash is fully cooked.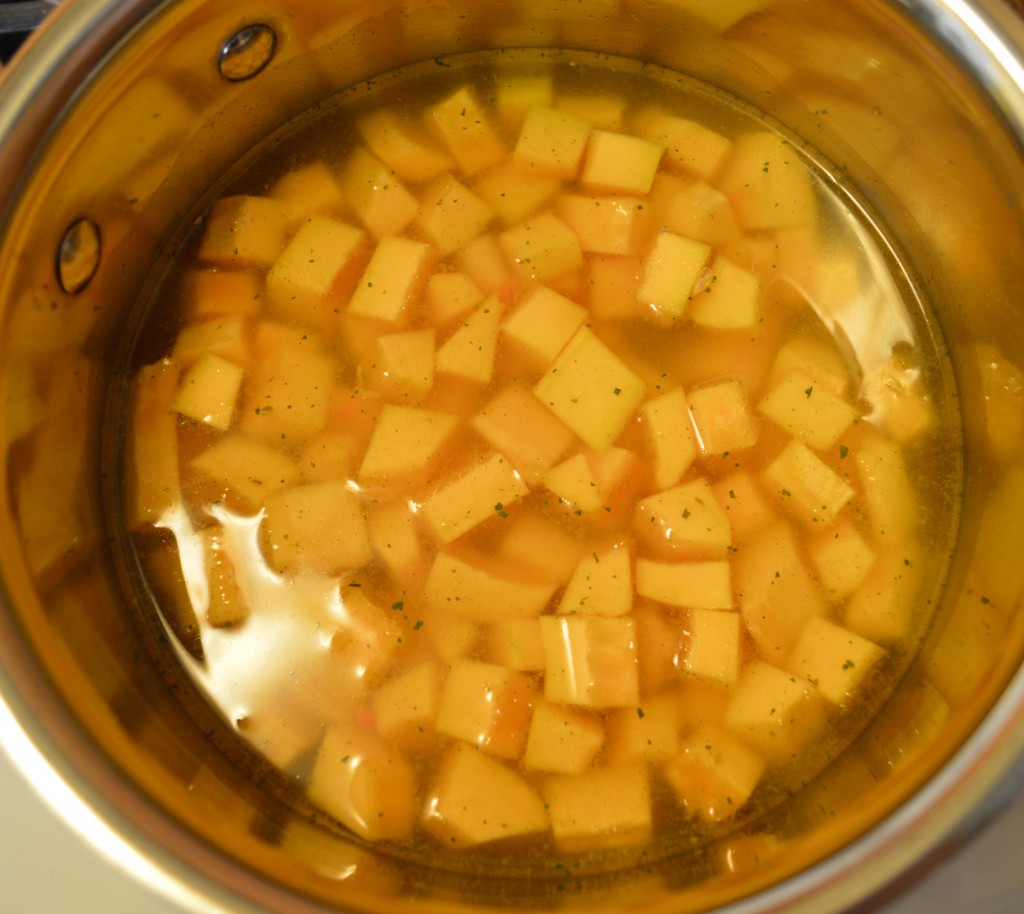 Place stock and cooked squash in a blender or food processor and process until very smooth. This step replaces the eggs in traditional stuffing recipes and adds a great flavour to the stuffing.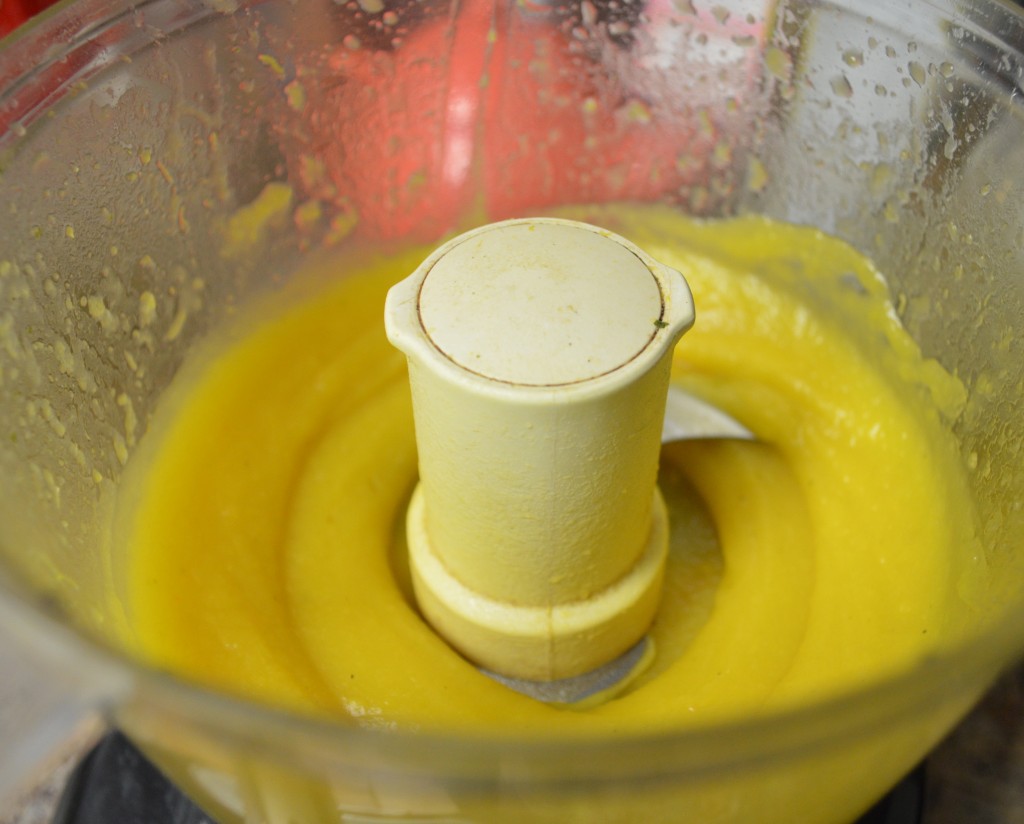 Squash Prep
2 acorn squash
1-tablespoon extra virgin olive oil
Kosher salt and cracked pepper
Preheat oven to 400 degrees. To prep you acorn squash, cut a slight amount of the bottom so it is able to stand on its own. Cut 1 inch off the top so it creates a lid for the squash.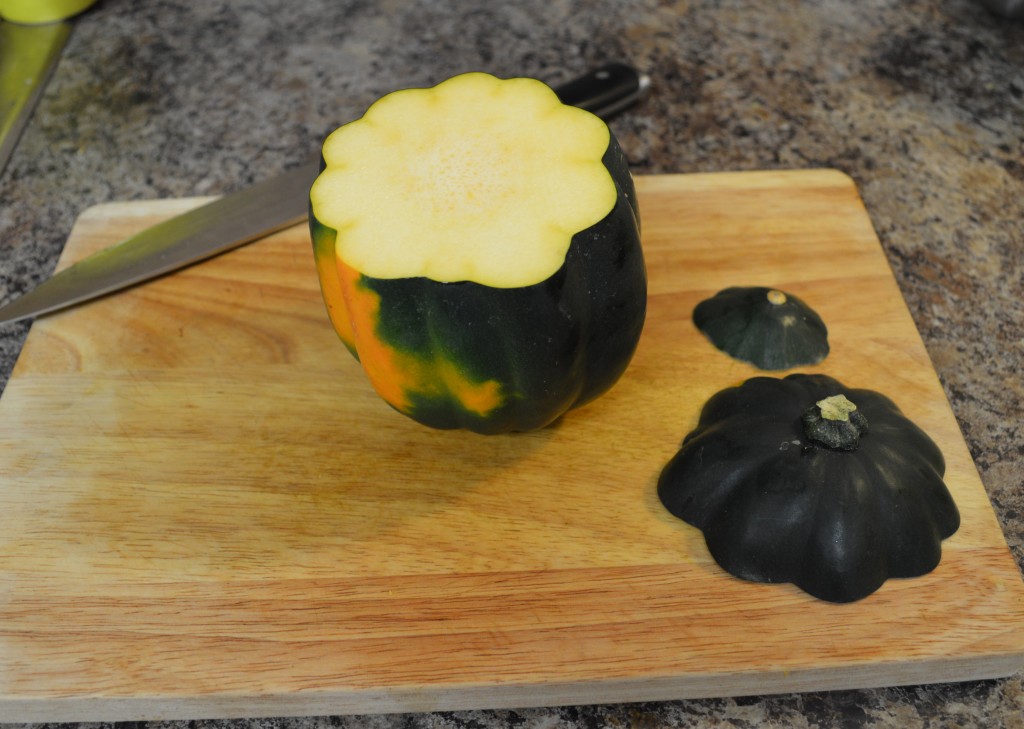 Scoop out all the seeds and fibres.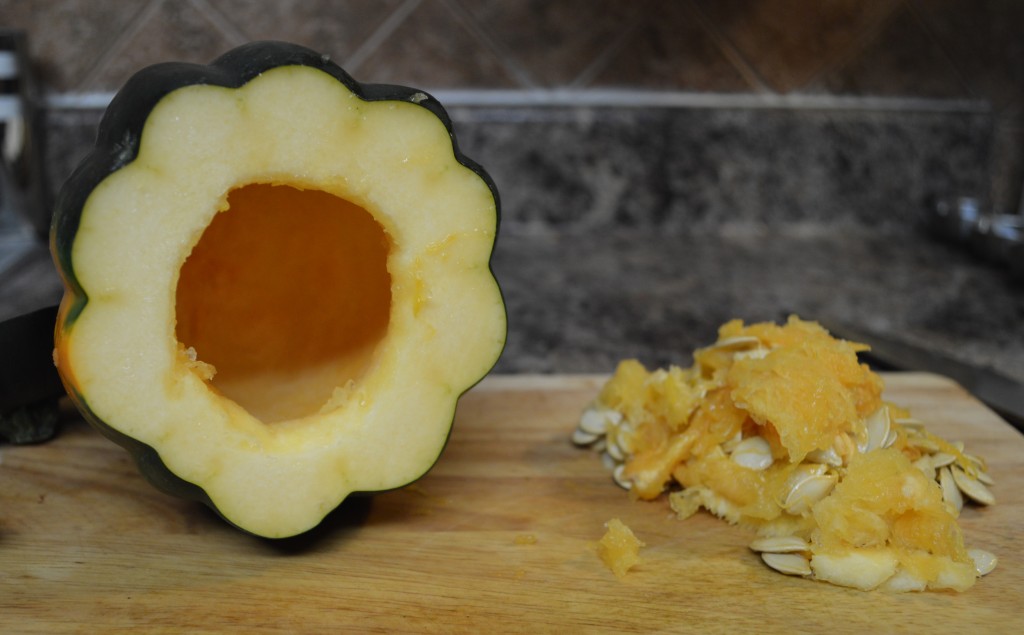 Pierce the squash all over with a fork; coat both squashes (inside and outside) with oil and season with salt and pepper. Bake for 25 minutes standing up on a heavy-duty baking sheet or broiler pan lined with tin foil. While the acorns are cooking, make the stuffing.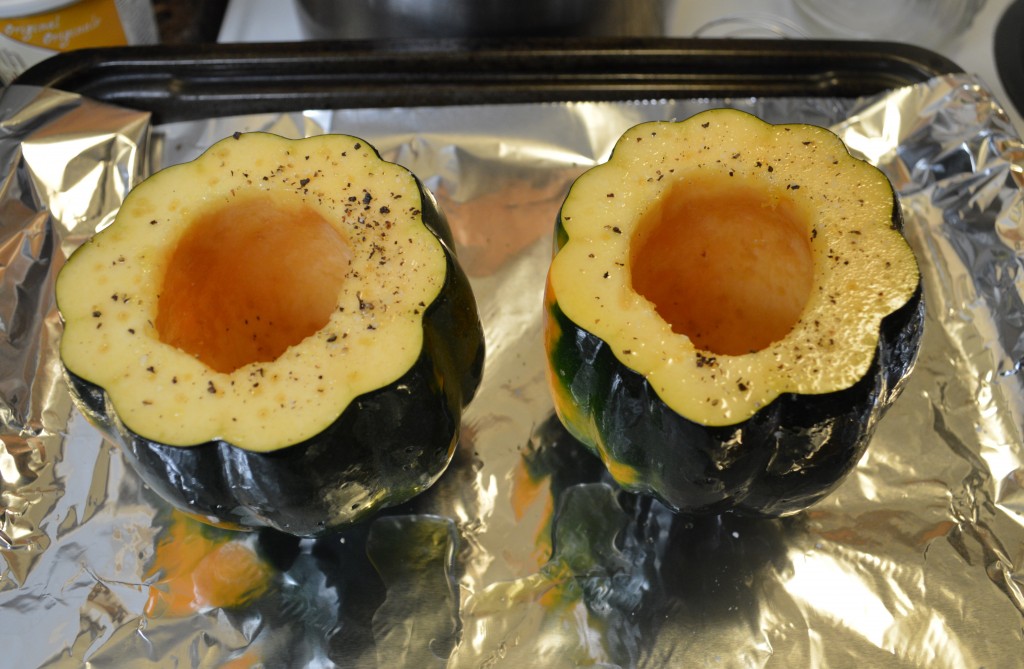 Stuffing Wet Mix
3 tablespoons Earth Balance Traditional
1 yellow onion, chopped fine
1 celery rib, chopped fine
2 green apples, peeled, cored and cut into ½ inch cubes
¾ teaspoon kosher salt
½ teaspoon cracked black pepper or more to taste
1 tablespoon minced fresh thyme
1 tablespoon minced fresh marjoram
1 tablespoon minced fresh sage
1½ cups low sodium vegetable stock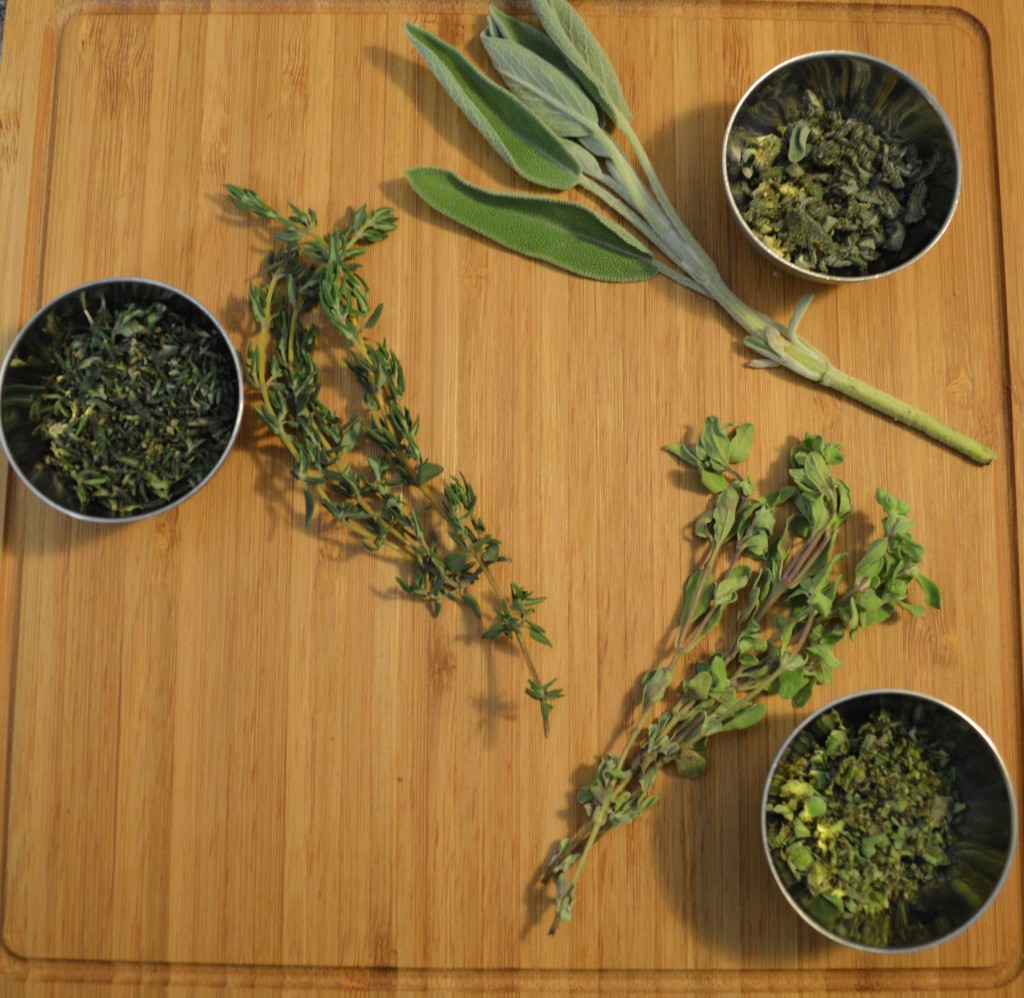 Do not substitute dried herbs for fresh ones for this stuffing. Fresh ones add more depth and flavour than dried.
In a 12-inch skillet, melt butter over medium high heat until bubbling. Add onions, celery and apples and cook until softened, about 8 minutes. Add the seasonings and herbs and cook until fragrant, about 1 minute. Add the stock and pureed squash to the skillet and cook for 3 minutes.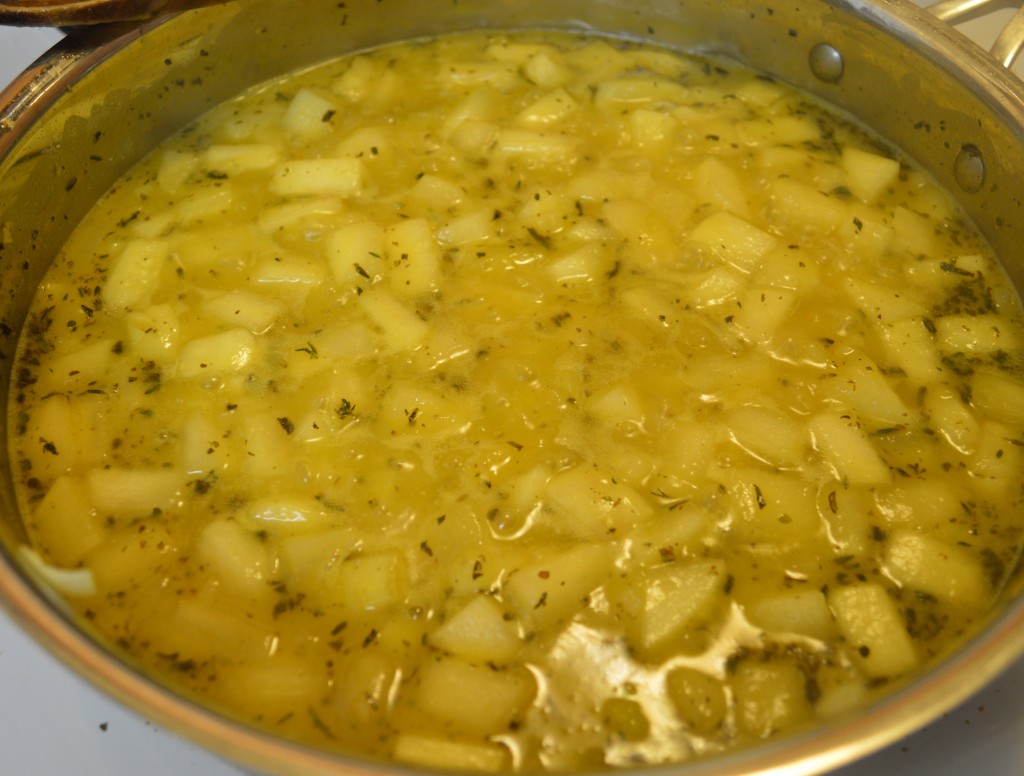 Add the skillet mixture to the dry mix bowl and combine with a wooden spoon until fully incorporated.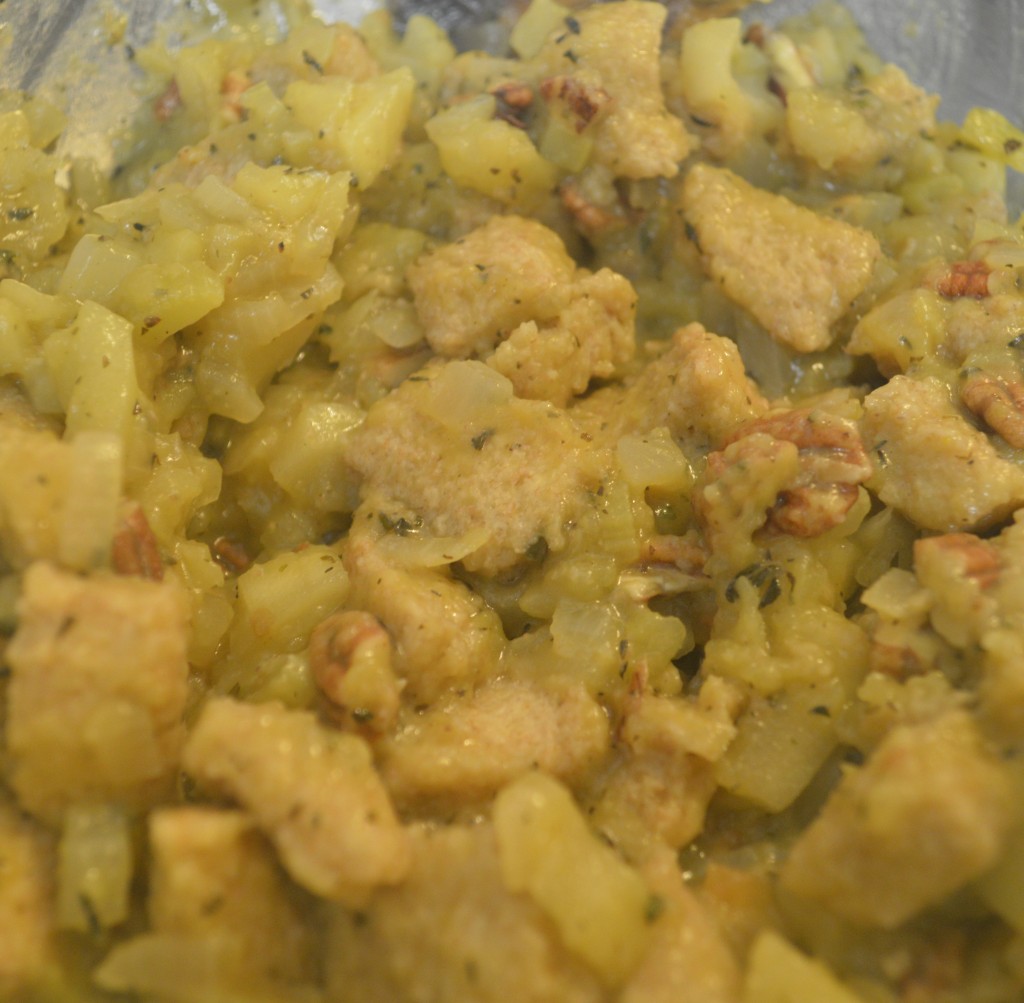 Add the stuffing to your semi-cooked hollowed out squash. If you have a bit of extra stuffing, add it to a broiler safe loaf pan and cook along side of the squash.
Cover the squash (and loaf pan) with tin foil and add the caps (with a drizzle of oil) to the baking sheet (cut side down) with the stuffed squash. Put it all the oven and cook for another 30-35 minutes.

The squash caps and squash should be easily pierced with a fork. Take the caps off the baking sheet and take tin foil off the tops of the squash and loaf pan and crank oven up to broil. Allow the stuffing to brown for 1 minute keeping a careful eye to ensure it doesn't burn.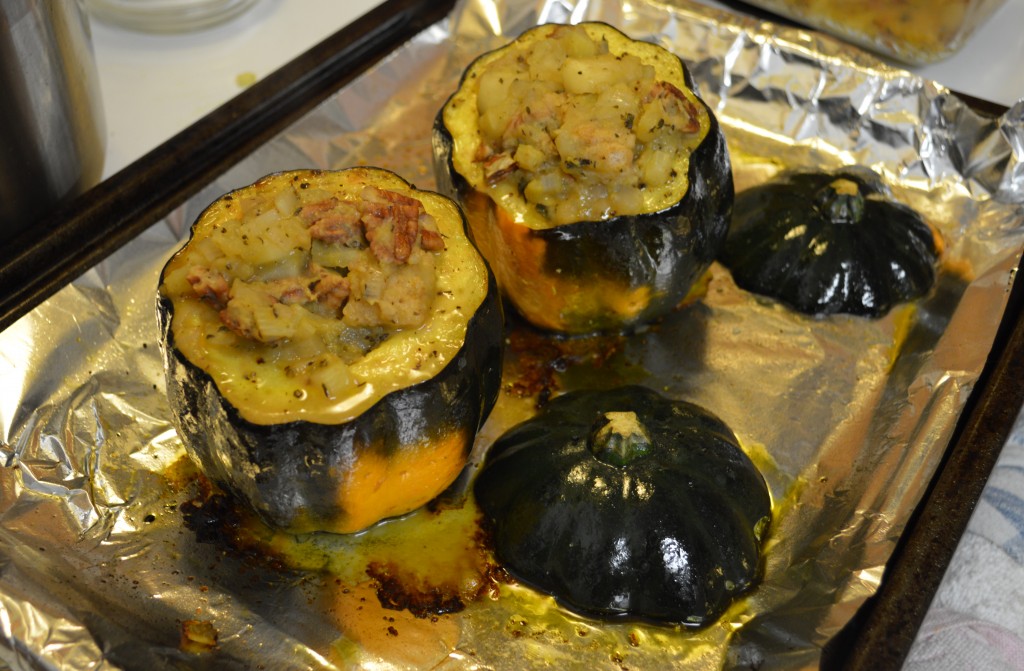 Serve with the caps on top of the acorn squash (like a lid) or on the side.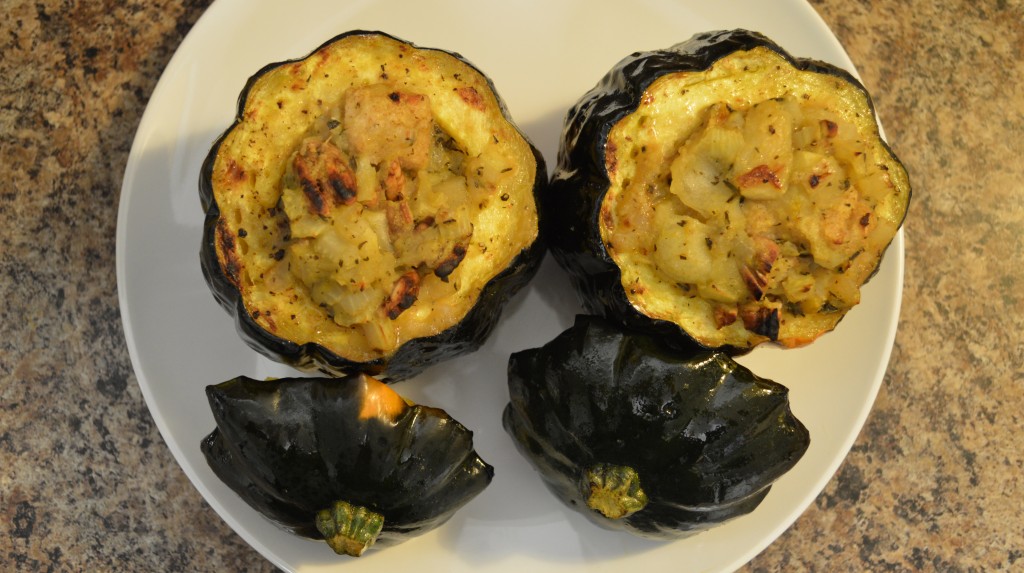 Let this vegan entree stand tall on your plate this Thanksgiving