Day 9 of Vegan MoFo: Retro Recipe!
When I think of a retro recipe, my mind goes to this cookbook that every mother since the 1970's seemed to own, my own mother included. Thankfully, my mother spared me from Party Potato Salad loaf, Frozen Cheese Salad, and anything with a mixture of gelatine and mayo. I am forever grateful.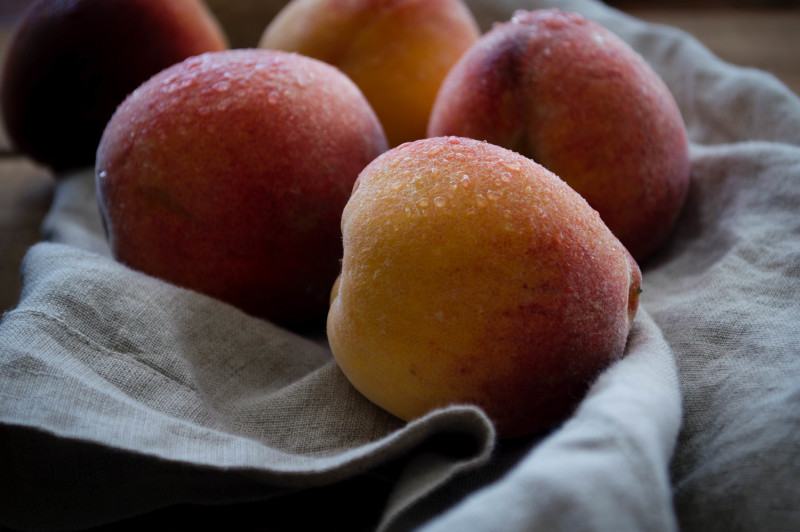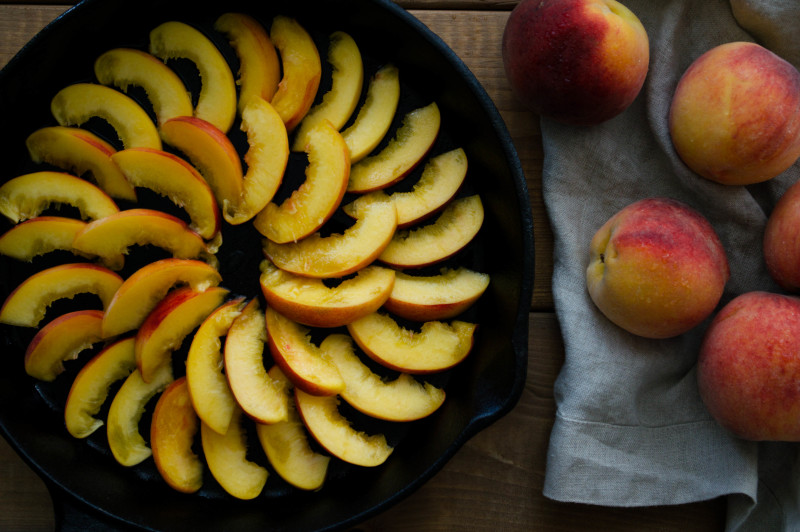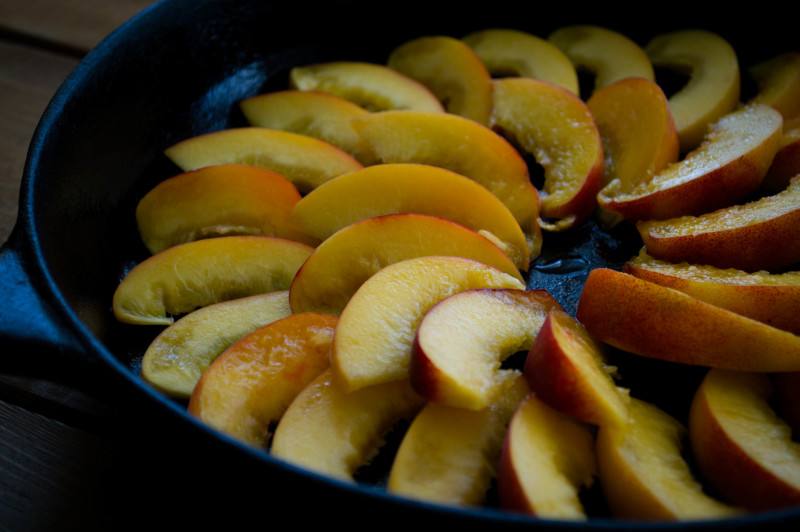 The only real recipe that looked good, or edible, was a Pineapple Upside Down Cake. I wanted to update this recipe with some seasonal fruit, make it vegan, and with a gluten free option. I am crazy for peaches and haven't been eating them enough. 
I was at the farmer's market where these beautiful fuzzy peaches were calling my name. The farmer suggested to wait a day before eating them to ripen up a little bit more but slightly underripe peaches were perfect for this cake. Ripe peaches are great for eating but a little more difficult to cut for this recipe.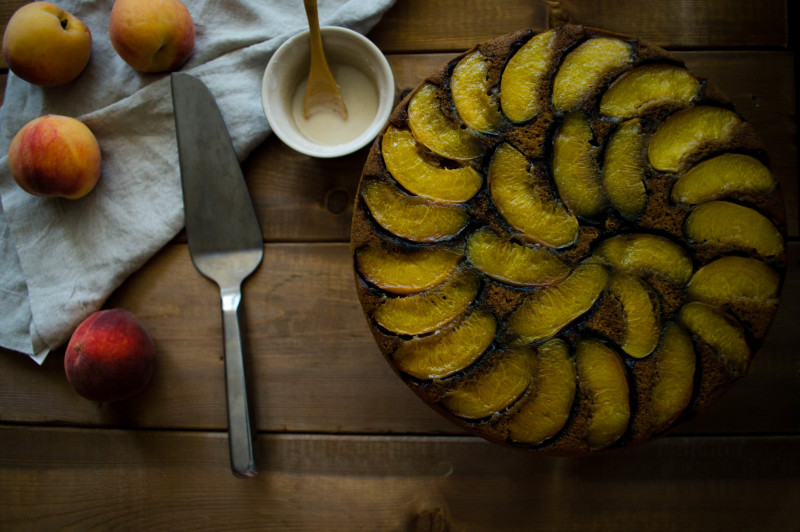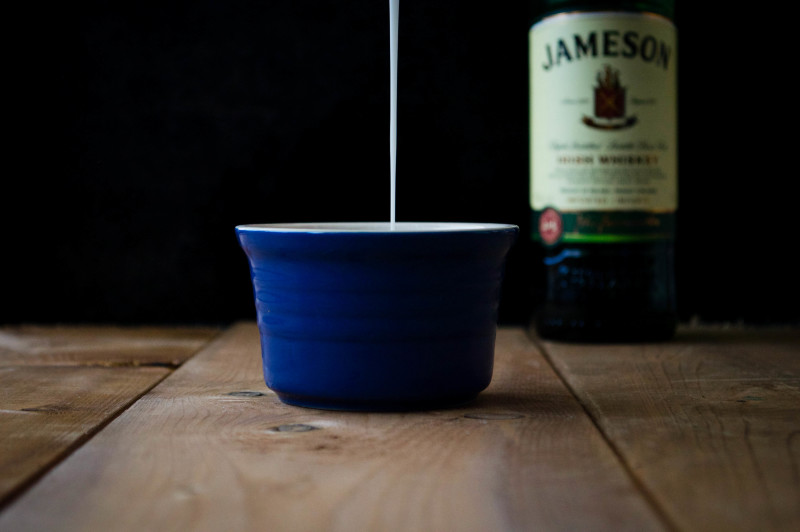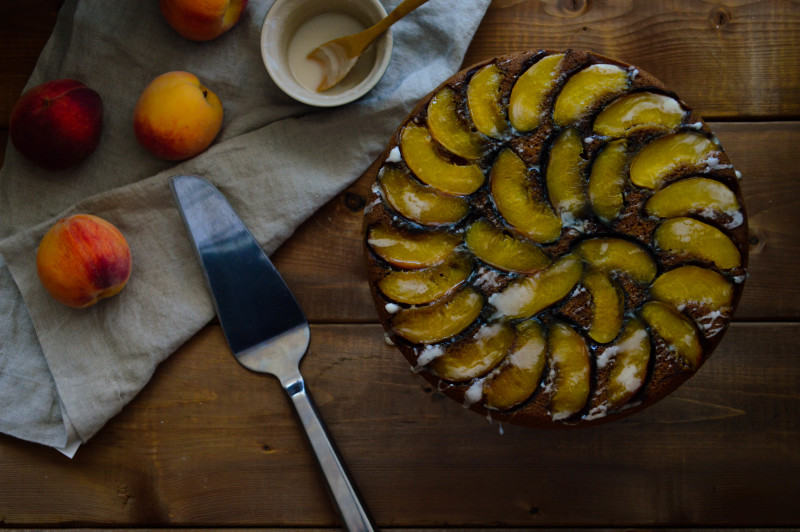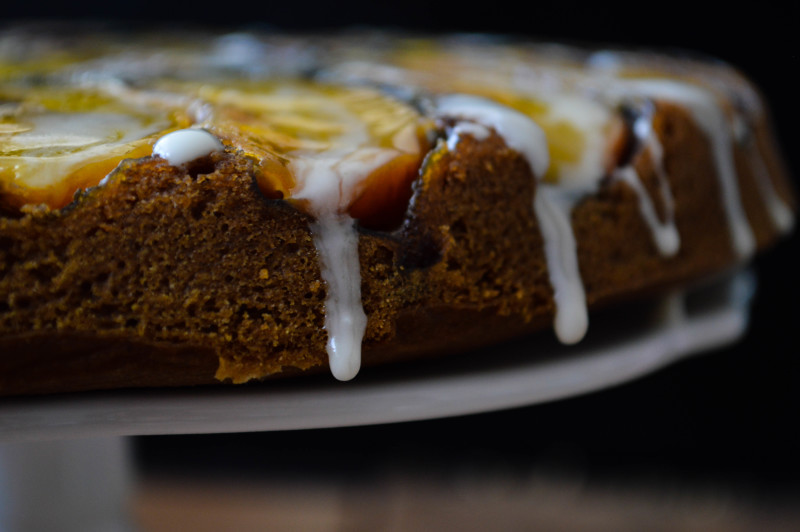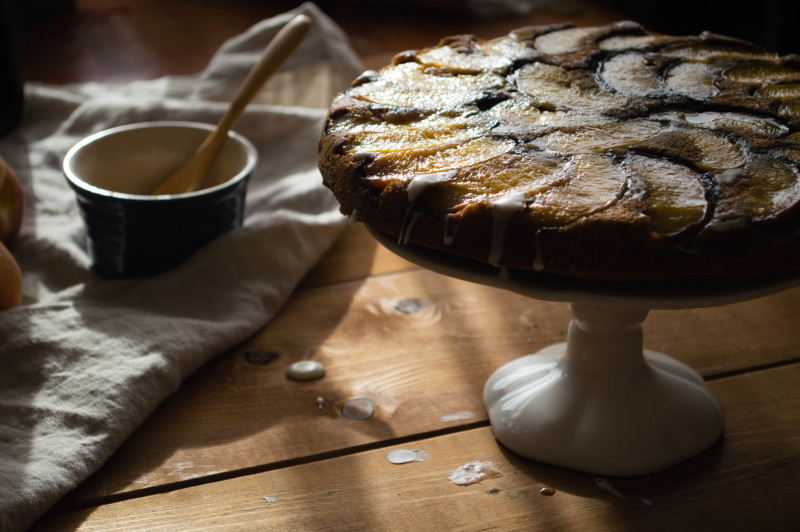 I consulted one of my favourite culinary books, The Vegetarian Flavor Bible: The Essential Guide to Culinary Creativity with Vegetables, Fruits, Grains, Legumes, Nuts, Seeds, and More, Based on the Wisdom of Leading American Chefs
, for some flavour suggestions and saw ginger and whiskey. Whiskey is not gluten free since it is made with grains but if you need this cake to be entirely gluten free, replace the whiskey with fresh lemon juice or just powdered sugar. 
The spicy ginger and warm whiskey pair so well with this lightly sweetened peach cake. It can be made in a cake pan instead of a cast iron. The day I tested this recipe, I made it three times just make sure. Make sure each peach slice is touching the cake pan and the peaches don't layer onto each other or when you flip the cake to remove it from the pan, it is one big mess. Believe me! 
The recipe is best served over tea with a good chat with a friend. If you don't like peaches or ginger, omit the two and try with some berries perhaps. I haven't tried it but I am sure it would be good. 
9 recipes down, 21 more to go! See you tomorrow for Day 10: Something Blue. Missed Day 8? Check it out here.
Stay connected on the daily by following me on Instagram, Twitter, Facebook and Pinterest.  Made this recipe? I would love to see it! Use the hashtag #screcipe on your social media. 
FYI: This post does contain an Amazon Affiliate link, which means I would make a (very) small commission on any purchase of my recommendation. I personally own this book and LOVE it! Mark owns the non-vegetarian version and the veg one is bigger 😉 When it comes to books, size matters. 

Peach & Whiskey Upside Down Cake
A retro upside down cake with a modern vegan twist! Inside of the traditional pineapple, I decided to use summery peaches, warm ginger, and whiskey. It can be made in a cast iron or cake pan. The baking time will vary slightly. Always test out with a skewer and allow to cool completely.
Ingredients
For the Cake:
½ tablespoon melted coconut oil
2-3 firm but ripe peaches, pitted and sliced thin
1 
cup + 1 tablespoon unsweetened almond milk
1 
teaspoon apple cider vinegar
½ cup coconut sugar
⅓ 
cup melted coconut oil
1 
teaspoon vanilla extract
1 ¼ 
cups 1:1 ratio gluten free flour blend*
1
 teaspoon baking powder
1
 teaspoon baking soda
1
 teaspoon ground ginger
¼ teaspoon sea salt


For the Whiskey Glaze (optional):
6 tablespoons icing sugar
1 tablespoon Jameson Whiskey (it's vegan!)
Teeny pinch of salt
Instructions
Add the ½ tablespoon melted coconut oil to the cast iron skillet or 9" cake pan and wipe all around with a paper towel. Add the peach slices to the pan cut side down, making sure that the peaches have contact with the pan. If they are layered too much on top of each other, when you flip the cake over, the peaches will be a mess. Set aside.
In a medium-sized mixing bowl, whisk together the apple cider vinegar and the almond milk until the mixture is frothy. Allow it to sit for a few moments.
Mix in the sugar, coconut oil, and vanilla.
In a large mixing bowl, combine the flour, baking powder, baking soda, ginger, and salt.
Add the wet ingredients to the dry ingredients and mix until they're just combined, adding a little more almond milk if the cake batter is too sticky.
Bake for 35 to 40 minutes, or until the topping is fragrant and toasty and a toothpick inserted into the cake comes out clean.
Leave the cake in the pan for about 10 minutes. Run a pairing knife along the edges of the cake. Gently flip the cake over onto a wire rack. Allow the cake to completely cool before adding the glaze.
To make the glaze: In a small bowl, whisk together the icing sugar and whiskey until completely smooth. For the gluten free option, add it with lemon instead of whiskey or add powdered sugar.
Slice and serve!
Notes
*I used Bob Mill's 1:1 GF Flour Blend