Day 8 of VeganMoFo…
When I first moved Toronto, my friends Sarah, Sarah and I all shared a two-bedroom apartment in the smaller Chinatown on the east side of the city. We were all pretty broke at the time and it was a rainy summer (the summer of the Toronto garbage strike BLAH!) so we spent a lot of it cooped up at home, watching Jumbo Video rentals, reading trashy fiction novels and cooking whatever we could conjure up from the nearby extremely cheap Chinese fruit and vegetable stand. It was one of the best summers I have ever had.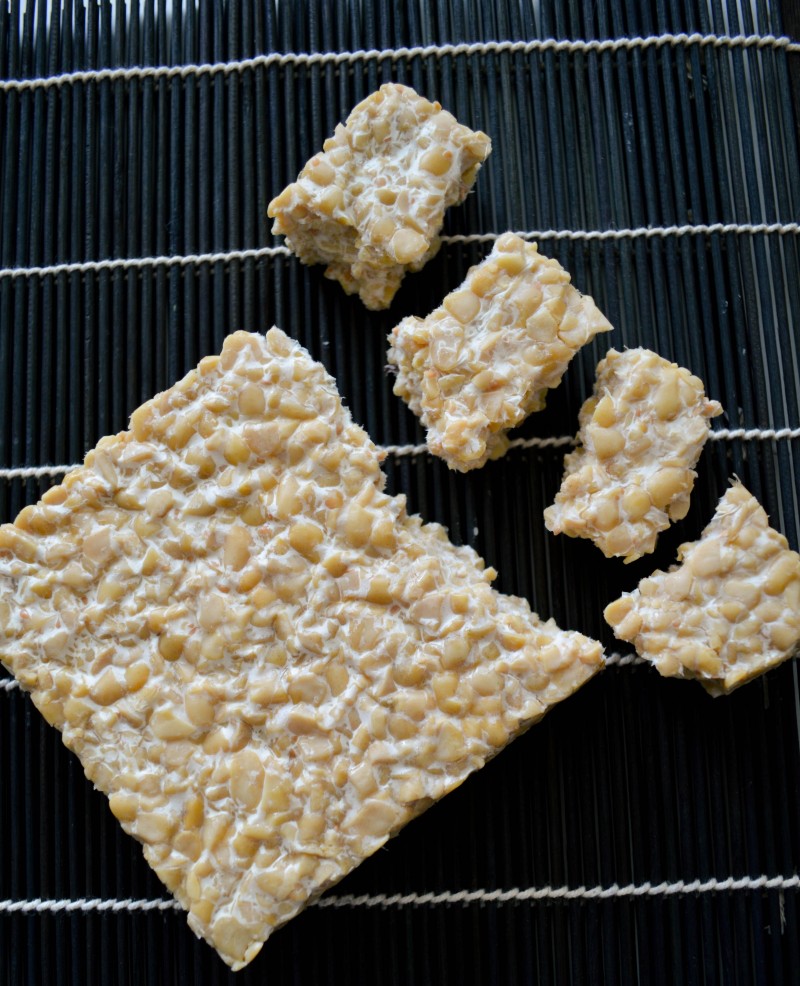 Whenever it was pouring rain out and one of us had an extra bit of money, we would treat ourselves to expertly made steamed dumplings. Mother Dumplings at College and Spadina was always our first choice for some seriously good (and cheap) dumplings. The red interior is so inviting, you can see about ten women hand making each dumpling you order through the glass window looking into the kitchen and the table has an array of condiments: chilli oil, Sriracha, soy sauce and brown rice vinegar so you can mix it up in the little white dish to your liking [mine is always extra chilli oil, a hefty dose of rice vinegar and a splash of soy sauce.]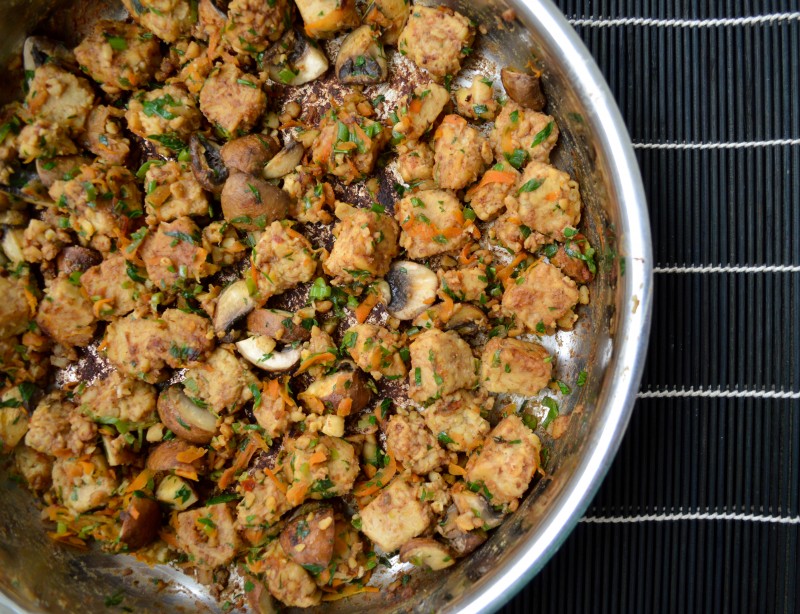 They serve the dumplings right out of the weathered bamboo steamer baskets, stacking them up high if you order a lot of them and we always did. Once the steam drifted away, it revealed the perfect little dumplings just waiting to be dip into your sauce.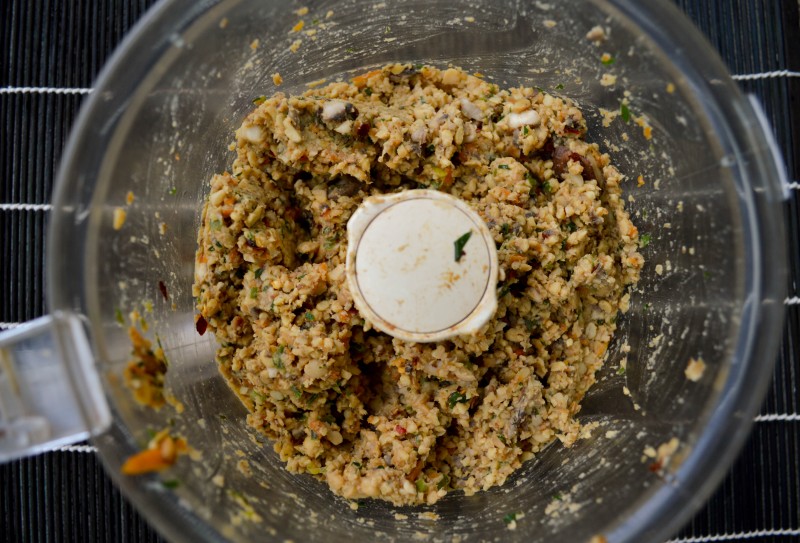 I always felt I got the short end of any cultural experience growing up in a small town since children in highchairs use chopsticks better than I do. I never used chopsticks before moving to the city and needless to say I was pretty clumsy with them, needing the elastic band wrapped around the top to take anything somewhat gracefully from the serving dish to my plate. Thankfully, I have been getting better and there are fewer soy sauce splashes around my dinner plate.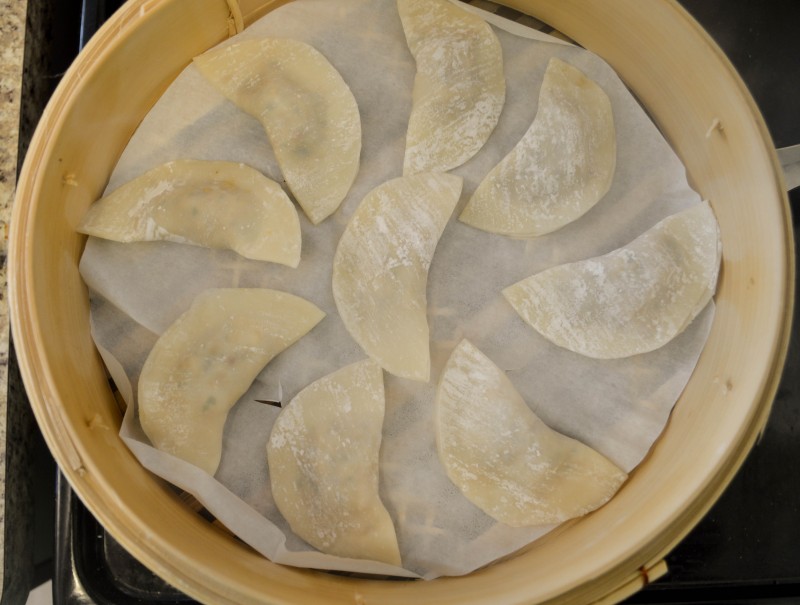 Like any dumplings, these ones take a bit of planning and work but they are worth it. I like to set up my laptop on the dining table and stream some Netflix while I wrap the dumplings, make it go by quicker since I try to make a huge batch when I do make them. Mark is now hooked to dumplings since I have introduced them to him and he helps me fold them to be rewarded with an extra dumpling or two.
P.S. it helps if you have ridiculously adorable chopsticks too.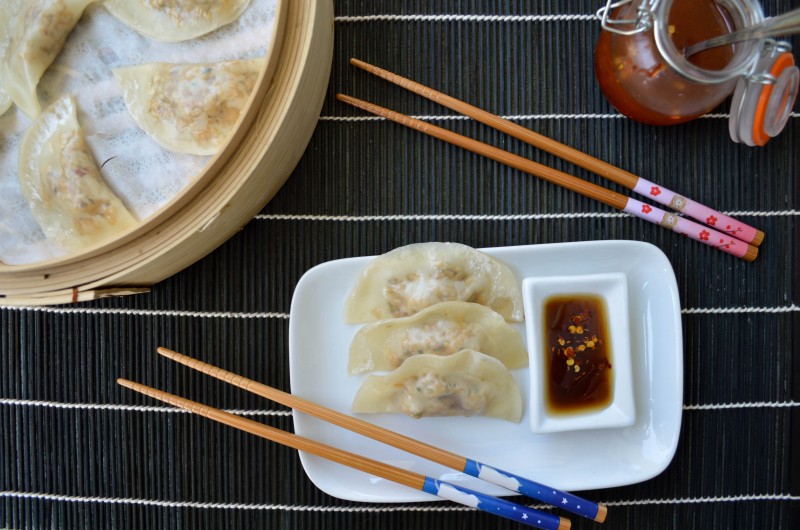 7 recipes down, 13 more to go…
Steamed Miso-Mushroom & Tempeh Dumplings with Red Chilli Peanut Oil
2014-09-04 16:21:33
Red Chili-Peanut Oil
4 tablespoons peanut oil
1 tablespoon toasted sesame oil
2 tablespoons dried red chilli flakes
Miso Marinade
1 tablespoon white miso
1 tablespoon pure maple syrup
1 tablespoon seasoned rice vinegar
1/2 tablespoon tahini
1/2 tablespoon tamari
1 teaspoon toasted sesame seed oil
4 tablespoons water
Pinch of dried red chili flakes
250 gram pack of unflavoured tempeh, cut into small cubes
Dumpling Filling
Marinated tempeh
2 teaspoons peanut or olive oil
1 heaping cup quartered cremini mushrooms, stemmed removed
1/4 cup grated carrot (peeled and then grated on the larger hole side of a box grater)
1/4 teaspoon red chili flakes (optional)
1 tablespoon tamari (I used Braggs)
1 tablespoon seasoned rice vinegar
2 tablespoons fresh chopped parsley
3 tablespoons finely chopped green onion (green part only)
50 round or square eggless wonton wrappers
For the Red Chilli Peanut Oil
Add all the ingredients together in a small jar; stir and refrigerate until ready to use. This stuff gets spicier than longer it sits so I make mine before I marinate the tempeh. I add a few chilies and some oil to my dumpling dipping sauce.
For the Miso Marinade
In the container you are using to marinate your tempeh in, whisk all the ingredients (excluding the tempeh) until very smooth. Add the cubed tempeh and coat it with the marinade mixture. Refrigerate for 2-4 hours or overnight, stirring once or twice.
To prepare the dumplings
Remove the tempeh from the refrigerator. Heat the oil in a large non-stick skillet over medium-high heat; add the tempeh (most of the marinade should be absorbed) and fry for 6 minutes until it is evenly browned. Add the quartered mushrooms and carrots and cook for another 5 minutes, stirring occasionally.
Reduce heat to medium and add the rest of the ingredients with exception of the onion and parsley. W
hen the liquid has become thick add the onions and parsley and sautéed for 30 seconds. Transfer mixture to the bowl of a food processor and pulse until evenly ground.
On a clean surface, lay out the a few wrappers, the tempeh mixture, a teaspoon measuring spoon, a large baking sheet lined with wax or parchment paper, a tea towel to cover the dumplings once wrapped and a small bowl filled with water for your fingertips to press the dumplings wrappers together.
Add one slightly heaping teaspoon of the tempeh mixture to the center of the wrapper, dip your fingers in your water bowl and lightly moisten the edges of the wrapper. Fold in half, pressing the edges closed and pushing out any air bubbles. Place on parchment paper lined sheet, cover with kitchen towel and continue with the rest of the mixture.
At this point you can freeze them, single layered on the baking sheet, once completely frozen transfer to a freezer bag.
To set up the steamer
Line the bottom of each tray with parchment paper, cut into a circle the size of your steamer and poke a few holes in it to prevent the food from sticking to the basket and allowing the steam to come through. Add the dumplings in a single layer. The top layer should be covered with a lid.
Make sure your steamer basket fits snugly in (or over) the pot and isn't in danger of tipping over. The bottom basket must sit above the water line and doesn't get submerged. A wok is the traditional choice but I used a shallow pot. Add about two inches of water to the pan and bring the water to a simmer over medium heat.
Once the water is simmering, settle the steamer basket with the dumplings in the baskets over the pot. Keep a watchful eye on the water level and add more if the pot starts to go dry. Steam dumplings for 3-5 minutes until the wrapper is translucent (add more time if you are using frozen dumplings.)
Notes
I serve the dumplings right out of the bamboo steamer with a mix of red chili peanut oil, rice vinegar and tamari to dip.
Sprouts & Chocolate http://www.sproutsandchocolate.com/