Buffalo wings use to be my absolute go-to bar food and when I first went vegan I was craving wings. I haven't eaten chicken wings since committing myself to veganism but my friends ask me if I would eat a chicken wing ever again and my response is always: "Sure if it wasn't made out of chicken." Then I realized what I was really missing: the buffalo sauce. The vinegary smell and lip smacking heat of Frank's Hot Sauce makes my mouth water.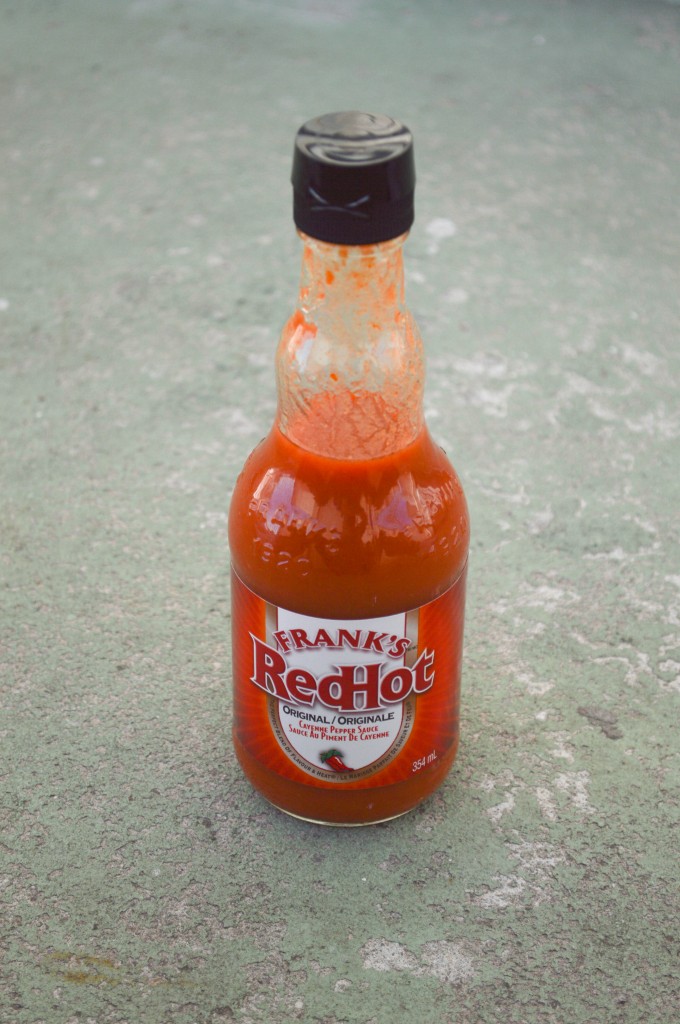 The only really good vegan chicken wings I have had are from a Toronto restaurant on Bloor Street called Hogtown Vegan. On their menu, they serve a buffalo chicken finger style appetizer that both Mark and I love so much we get our own plate. No sharing here.We always reminisce about our first date at a shady bar patio eating chicken wings and drinking cheap draught beer. It makes me smile to know how incredibly unromantic it was but Mark and I just loved chicken wings that much. I have (in a past life) participated and won 2nd place in a chicken wing-eating contest in university. Yikes right?
I had tried a few cauliflower buffalo bites before but they really didn't do it for me. I read recipes for roasted chickpeas and thought it would be good to try to make them buffalo style. After roasting them in the buffalo sauce only, I knew they need more ingredients to make them more flavourful. After adding some of this and some of that and roasting them until slightly crispy they were pretty delicious on their own but naturally I wanted to keep it up a notch. I tossed the roasted chickpeas in a light coating in more Frank's Hot sauce and they became exactly what I wanted; crispy exterior, soft interior, hot, flavourful with a good vinegar bite. I could have eaten the whole bowl of them to myself but in the spirit of getting out of the typical salad rut, I made my favourite dressing of all time: ranch which is a typical side for chicken wings to dip the celery and carrots.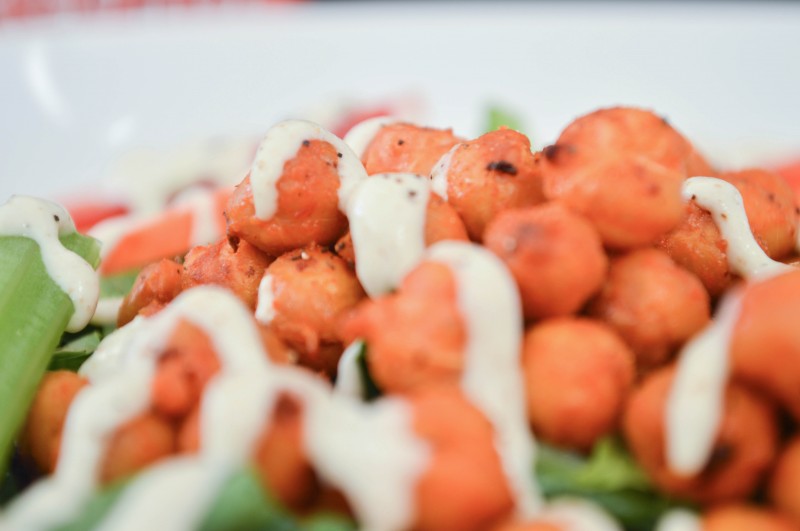 When I was a meat/dairy eater I couldn't even have a bottle of ranch dressing in the house in fear of putting it on everything, not just on salad. Now this ranch recipe doesn't taste exactly like bottled ranch which is a good thing in my books since the packaged stuff can have a lot of chemicals in it. My version is fresh, garlicky and is a great pair with the roasted buffalo chickpeas.
So when a craving strikes for an old favourite don't fret, get creative and veganize it. It may not be exactly like you remember it just might be better.
 Notes:
 Make the dressing first, giving it some time for the flavours to blend together.
Don't skip drying the canned beans since a wet bean will never crisp up. It is really simple and essential to the recipe. Drain and rinse the canned beans, layer them in a single layer on some paper towels, place a paper towel on top of the beans and very gently roll the beans under your hands.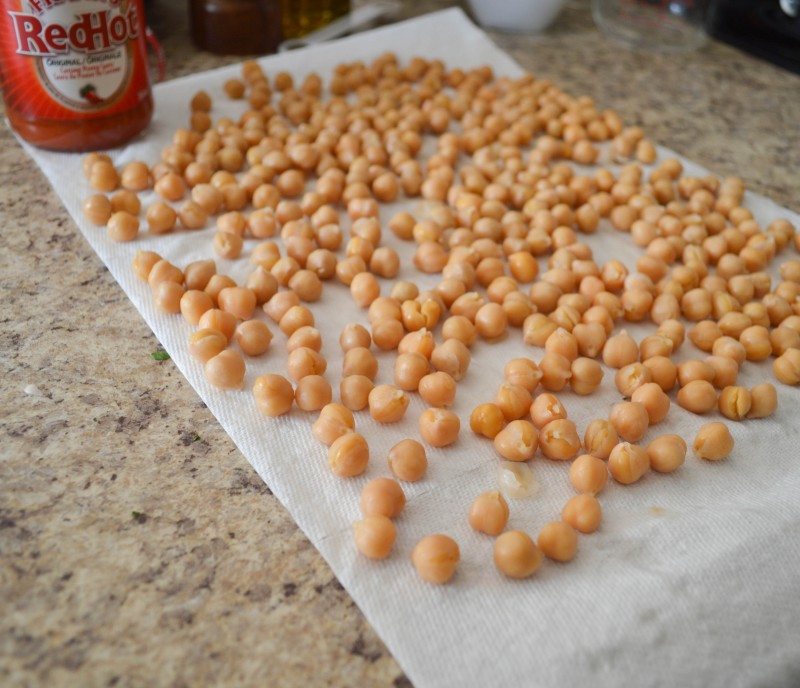 Not all Frank's Hot Sauce is vegan so read the ingredients before purchasing. For true buffalo style flavour use Frank's and not another hot sauce brand.
This recipe serves 2 large salads so you don't have to share unless you really want to.
Vegan, gluten free and dairy free
Creamy Ranch Dressing
Makes 200mL of dressing
½ cup raw cashews, soaked for 2-8 hours until very soft. If you own a high power blender you can skip this step.
½ cup water
1½ small garlic cloves (1 was too little but 2 was too pungent. Oh recipe developing can be interesting…)
1 green onion, chopped (use the whole thing)
1 tablespoon each apple cider vinegar and fresh lemon juice
1 tablespoon white or black chia seeds
1 teaspoon maple syrup
½ teaspoon Dijon mustard
½ teaspoon fine grain sea salt or kosher salt
¼ teaspoon cracked black pepper
2 dashes Frank's Hot Sauce
Add all the ingredients to a blender and blend until very smooth. Store in the fridge while you prep the rest of your ingredients.
Buffalo Roasted Chickpeas
 1-540mL can unsalted chickpeas, drained, rinsed and dried (see notes)
2 tablespoons + 1 ½ tablespoon Frank's Hot Sauce, separated
½ tablespoon fresh lemon juice
1 teaspoon extra virgin olive oil
¾ teaspoon kosher salt or fine grain sea salt
½ teaspoon ground cumin
Pinch of cayenne pepper
Adjust oven rack to middle slot and preheat oven to 400 degrees. Line a baking sheet with parchment paper. In a medium bowl, whisk all the ingredients (the 2 tablespoons Frank's) except for the chickpeas until mixed.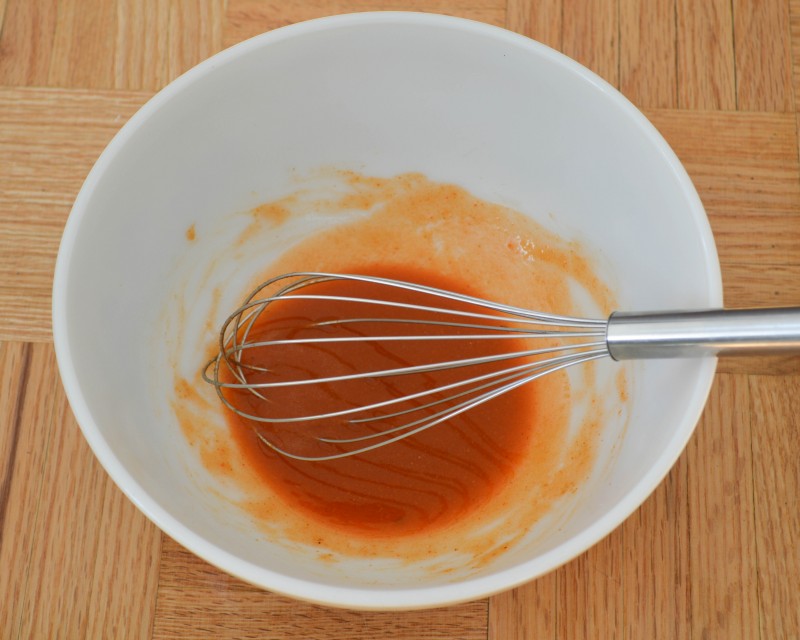 Add the dried chickpeas to the bowl and gently toss with a spatula. Layer the chickpeas in a single layer (no overlapping of beans) and bake for 30 minutes, very gently turning the chickpeas halfway though the cooking time, they will shrink and be slightly crispy.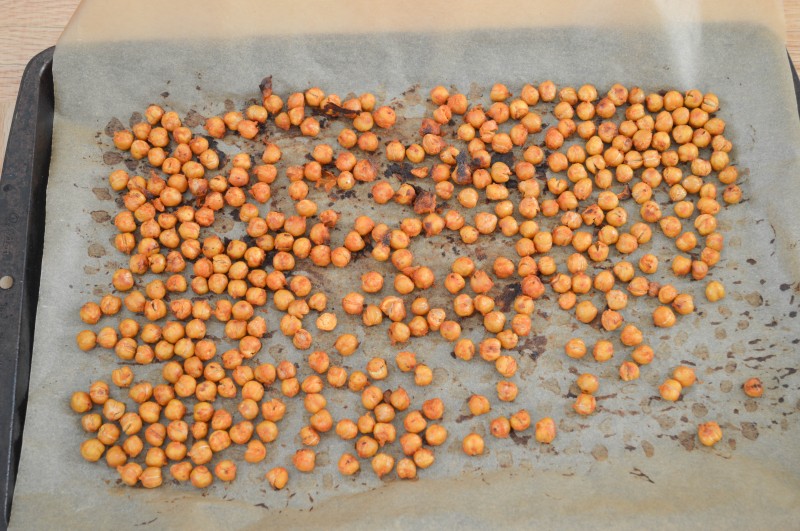 Take the chickpeas out of the oven and let them cool for 5 minutes. Transfer the beans to medium size bowl and coat them with the 1 ½ tablespoons of remaining sauce.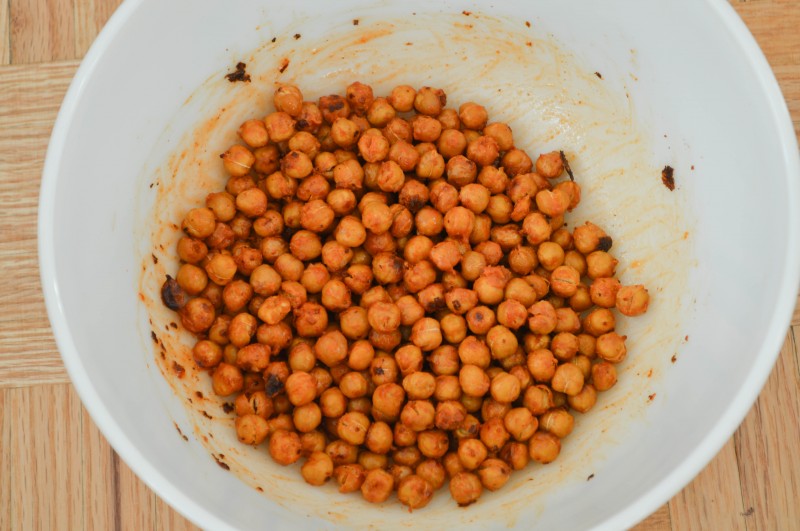 Now they are ready to serve on the salad.
Assembling The Salad
 2 carrots, peeled and cut into matchsticks
2 celery sticks, trimmed and cut into matchsticks
1 red pepper, deseeded, de-ribbed and cut into matchsticks
1 head romaine lettuce, chopped, washed and dried
I added a lot more ranch and a few extra dashes of Frank's after taking the photos since salad dressing wilts a salad pretty quickly. Add any more vegetables you think you would like in it but I wanted to stick to the classic.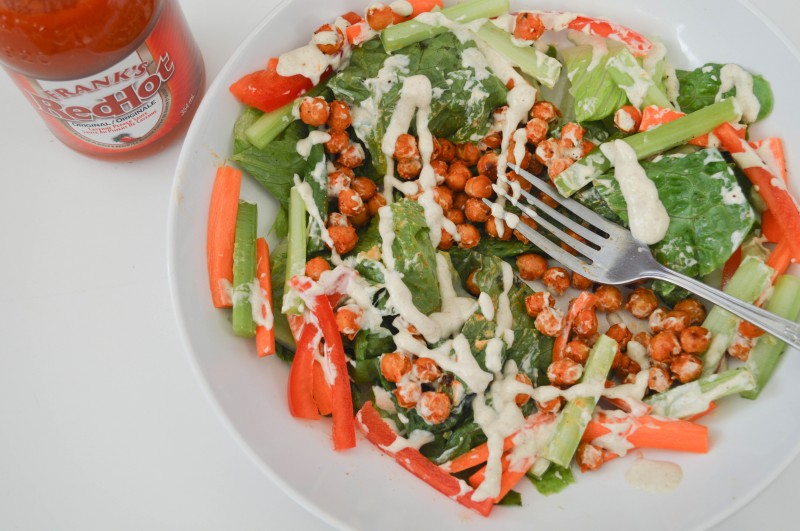 What do you do when a craving for a former favourite hits you? How do you veganize it? Leave comments below!