I am quite enjoying being out of school; the alarm-less mornings (I work in the evening), the relaxed coffee consumption and getting a lot of things done that I hadn't been doing since I have been in school/work full time. I want to say I have done all the things I have set out to do but that would make me a liar. As much as I want to be productive and check things off my list, I can't help to enjoy a little indulgent time to myself. Being out of school frees up a lot of my time and I have kept my work schedule as if I was in school, working four days a week instead of five. This summer I have decided to be a tad more selfish with my time and while I would be making a bit more money with the extra shift, I have now put a price on my sanity. So for the next little while, the extra day is mine to do as I please which means cooking, pouring myself over amazing cookbook for inspiration, checking blogs I love and (when the weather is pleasant- where is that sunshine!?) reading novels on my balcony.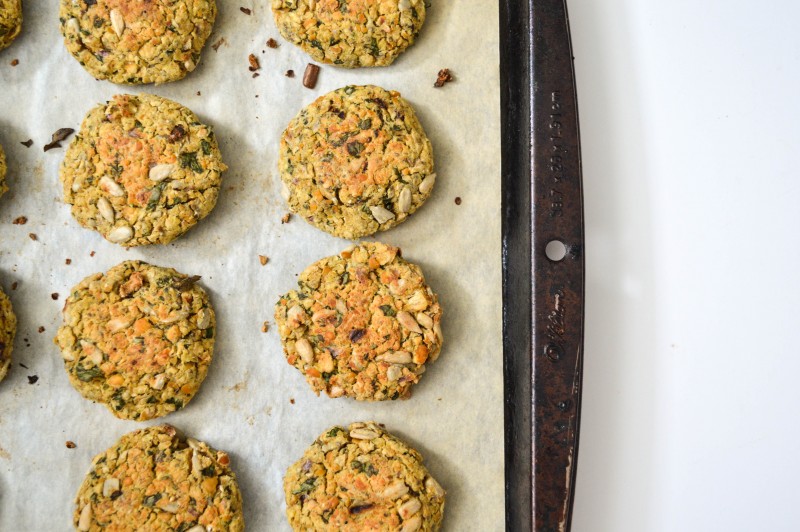 The things I do miss about school are my wonderful friends, Jerri and Matt whom are supportive and kind even when I literally cried over math. Literally. Without them, school would be the most unpleasant experience. We are all fast tracking high school credits to apply to university, which is stressful and chaotic at times. Thankfully every lunch period we hang out under a tree to eat, talk about schoolwork and look up Youtube videos to help us out. One of our favourite lunches to have under our tree is on Tuesdays when Ali Baba's has a 2 for 1 falafel wrap special. I go for this lunch every week but my stomach has taken the hit a more times than I like to admit. All the rumbles and whale noises my stomach makes in the quiet classroom can be fairly embarrassing but I just love falafels!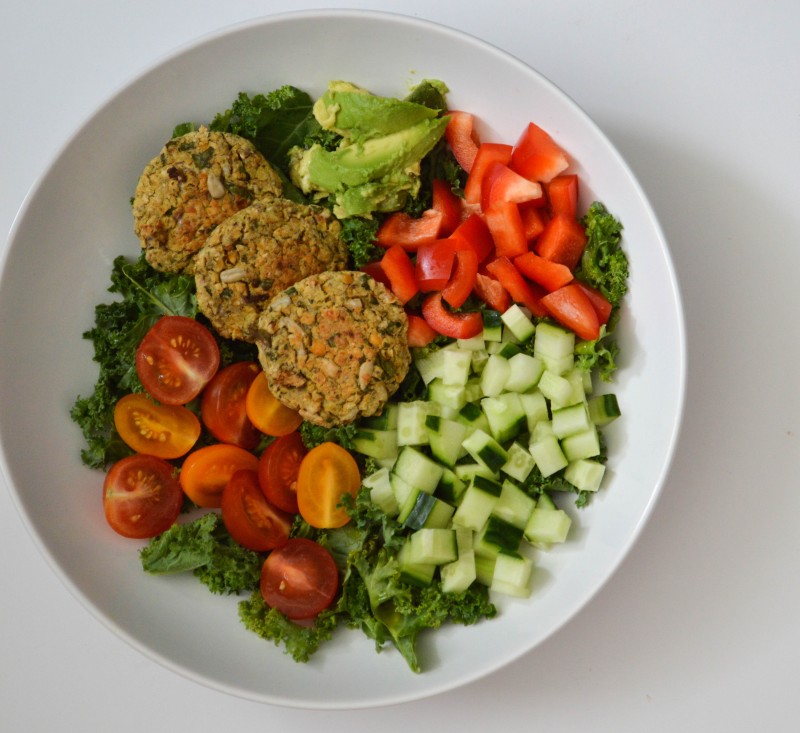 Making this homemade version is simple and the food processor does a lot of the work. It is fresh, lighter and gluten free so your stomach will thank you for skipping the fried stuff. Besides who likes frying at home? The heat, the mess, the potential burns, the small fires…not saying that I have set a fire in my kitchen or anything… Compared to the fried ones, these baked ones are more satisfying and will leave you glowing!
Congratulations to Jerilyn F from Waterloo, Canada who is the winner of the Sprouts & Chocolate's Vegan Chocolate Cookbook by Fran Costigan giveaway! Your prize will be shipped to you very soon!
The Big Falafel Salad with Lemon-Tahini Dressing
2014-08-14 19:20:55
Light, fresh, gluten free and vegan. This bowl will have you not missing takeout.
Baked Falafels
Makes 16 small falafels
2 tablespoons chia seeds mixed with 2 tablespoons warm water
3 large garlic cloves
½ cup roughly chopped red onion
1/3 cup lightly packed cilantro leaves
1/3 cup lightly packed parsley leaves
1-19 ounce can chickpeas, drained and rinsed thoroughly
¾ teaspoon ground cumin
Pinch of cayenne pepper
½ teaspoon fine grain sea salt
3 tablespoons chickpea flour
¼ cup hulled sunflower seeds
½ tablespoon toasted sesame seed oil
Lemon-Tahini Dressing
Makes 2/3 cup
¼ cup tahini
¼ cup fresh lemon juice (do not use concentrate!)
1 tablespoon toasted sesame oil
2 tablespoons nutritional yeast
3 tablespoons water
1 large garlic clove, peeled (minced if you don't own a high power blender)
¼ teaspoon ground cumin
¼ teaspoons fine grain sea salt
Salad
1 teaspoon extra virgin olive oil
1 teaspoon fresh lemon juice
5-6 large green kale leaves, de-stemmed and shredded (per salad)
Cherry tomatoes
Diced cucumber
Diced red pepper
Sliced avocado
Hulled hemp seeds
For the baked falafels
Preheat oven to 400 degrees and line a large baking sheet with parchment paper.
In a small bowl mix the chia seeds and water and set aside.
In the bowl of a food processor, add the garlic and pulse until minced. Add the chopped onion and herbs and pulse 8-9 times (one second pulses) until the mixture is fine. Transfer mixture to a large bowl. In the now empty food processor, add the chickpeas and pulse 16-20 times (scraping down the mix as needed) until all the beans are processed but not hummus texture.
Transfer chickpeas to the large bowl. Add the rest of the ingredients including the now (gluey) chia mixture and mix until fully combined.
With a 1-tablespoon spoon, measure out a two-tablespoon portion of the mixture and form a small patty. Place patty on the lined baking sheet and continue with the rest of the mixture.
Bake for 30 minutes, turning halfway through the baking time.
For the Lemon-Tahini Dressing
Add all the ingredients to a blender and blend until very smooth. Set aside until the falafels are ready.
For the salad
In a medium sized bowl, whisk the lemon juice and the oil together. Add the shredded kale and massage until all the kale is coated, let sit while the falafels bake. This softens the kale. Add the rest of the ingredients when the falafels are ready and drizzle on the dressing.
Notes
I know this may seem like a lot of work and ingredients but this recipe comes together simply and takes less than an hour. Not to mention the loads of leftover falafels you will have to stuff into wraps or sandwiches or on top of your lunch salad for the week.
These falafels are a million times better for you than any takeout you can get. They are also gluten free, baked and of course vegan! No dangers of cross contamination with meat products like many take out places.
I added a lot more dressing to the salad after photographing because salad tends to wilt quickly, making it look soggy.
Sprouts & Chocolate http://www.sproutsandchocolate.com/