Day 5 of VeganMoFo
Oh these rainy days, how I am not loving you. This is a recipe to make when you are cuddled up at home, avoiding leaving your house because the sky is looking sinister and if you are anything like me, have an obscene amount of laundry to do but there are always things to cook to comfort you on day like these.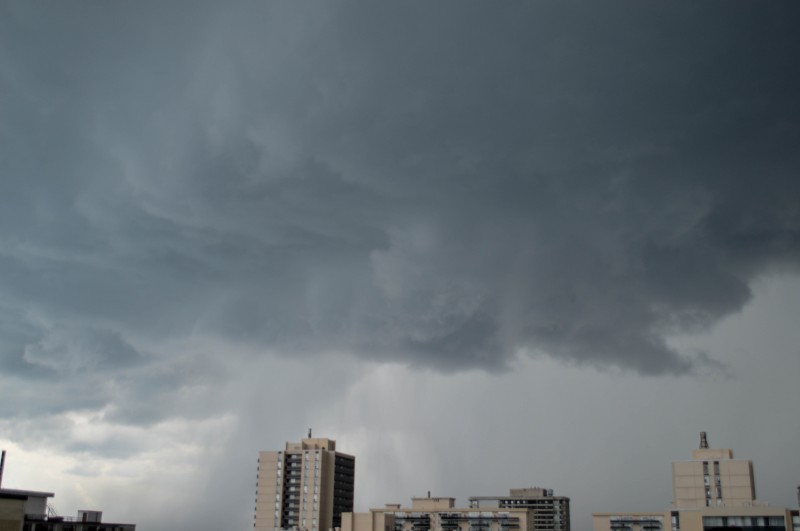 There is that time of year that I deem most special and I get more excited for than any other actual holiday. I am talking about tomato season. Those glorious few weeks at the end of August/early September that I mark my calendar and take out my granny cart to head down to the farmer's market to load it up with juicy, sweet and fresh tomatoes.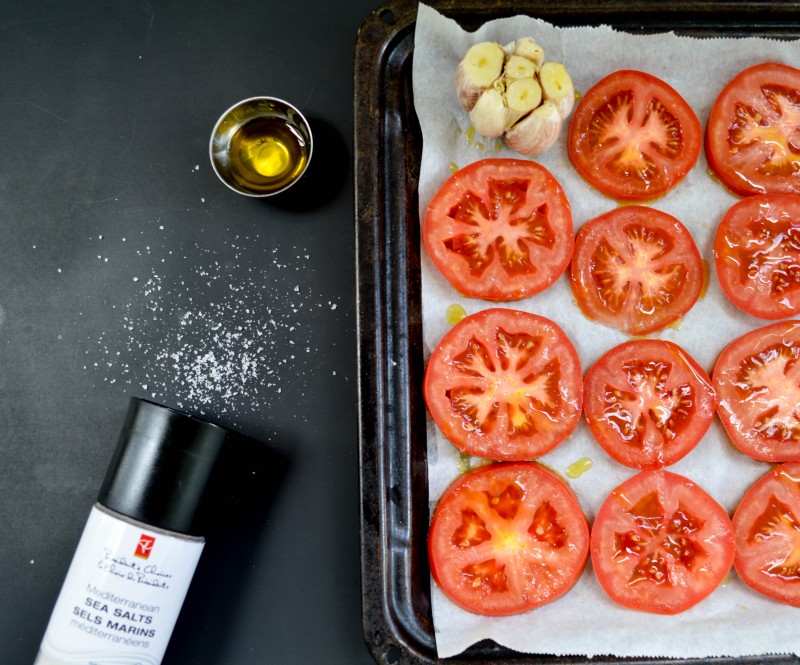 Tomatoes are on my list of favourite foods along with chocolate, onions, roasted garlic, red wine and hot sauce. But when tomatoes are out of season, they really do suck. They aren't juicy, sweet and (though I have never tried but I imagine) to taste a lot like Styrofoam. When they are in season I stuff myself full of all the tomatoes I can get my hands on, sometimes just sliced on a plate with a sprinkle of fleur de sel, cherry tomatoes served whole on a deep green salad or slow roasted to perfection and made into a pasta sauce. I was once asked, "Why waste good summertime tomatoes in a slow roast?"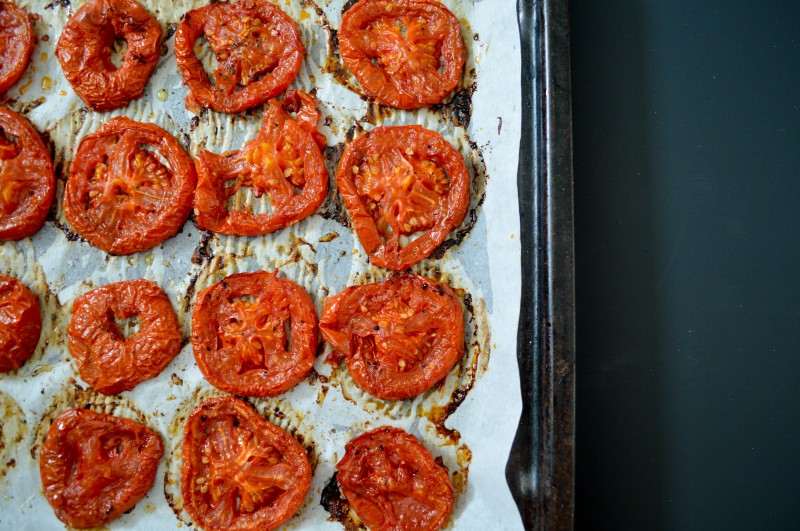 Waste? Please. In season tomatoes shine on their own but slow roasted tomatoes do not have to wait until winter. Slow roasting the tomatoes brings out their natural sweetness so they are no longer tangy or acidic.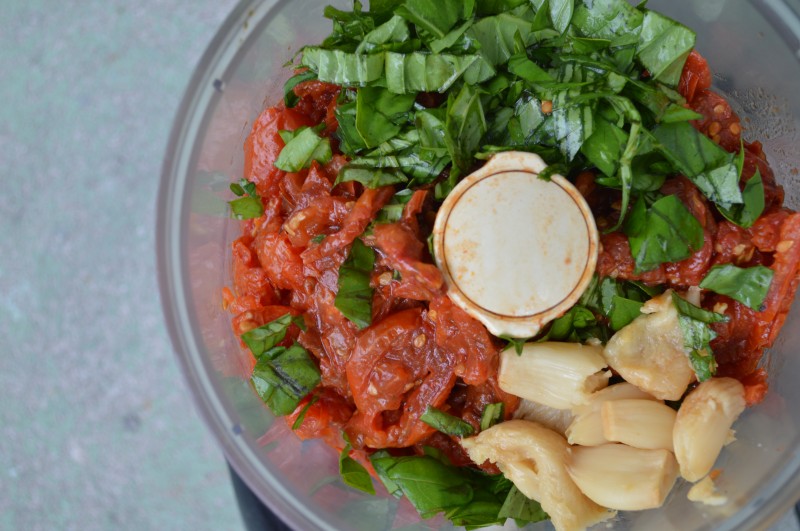 Mark came home to the heavenly smell of roasted tomatoes and while we waited for the pasta water came to a boil, we ate some tomatoes straight off the pan, too impatient to wait for the sauce. Sure they take a long time in the oven but they are well worth the effort. Then again, isn't that true for most things?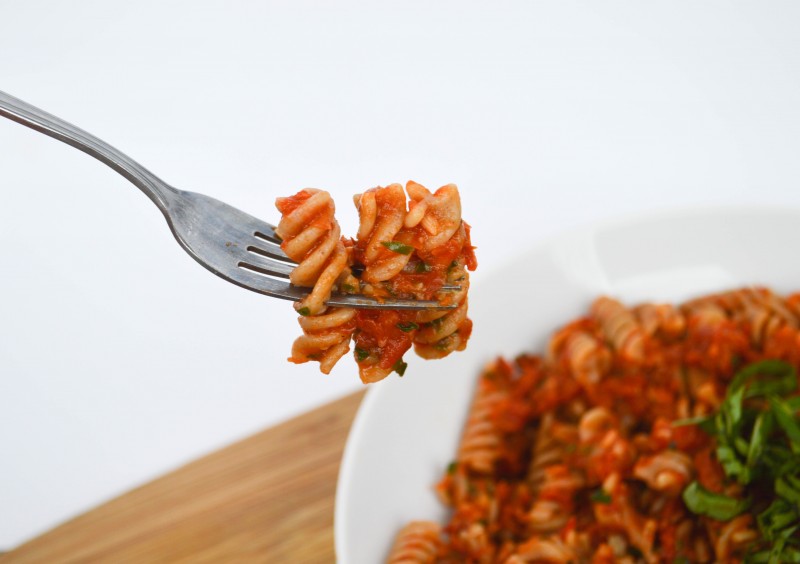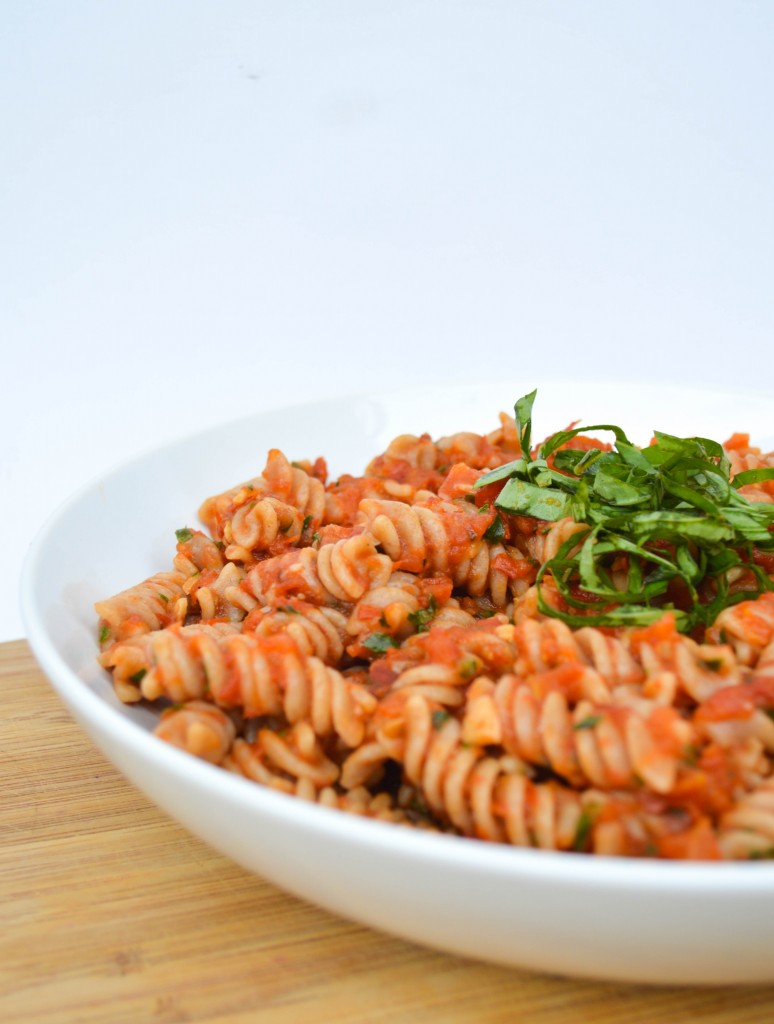 Slow Roasted Tomato and Garlic Pasta Sauce
2014-08-31 10:55:50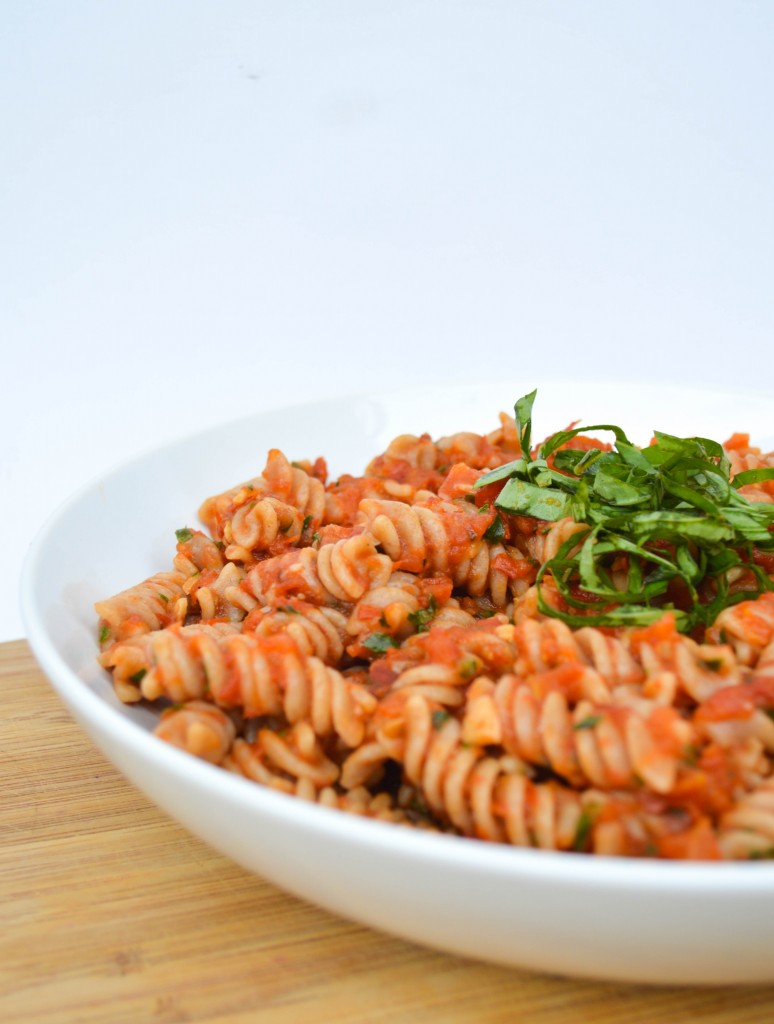 Serves 4
Slow roasting tomatoes brings out their natural sweetness and when made into a sauce, it is a heavenly combination. Takes a little while but it is entirely worth the effort.This recipe makes 3 cups of pasta sauce and it is enough to coat a little more than a pound of pasta (depending on how your like your pasta dressed).
Ingredients
3 pounds local tomatoes, on stem preferred (Roma tomatoes would be a nice choice too)
¼ cup extra virgin olive oil
1 teaspoon fine grain sea salt + 1 tablespoon for 4 quarts of pasta cooking water
1 cup lightly packed fresh basil
1/3 cup lightly packed fresh parsley leaves
2 large heads of garlic
1 pound of dried pasta (I chose a spelt fusilli but any tube or spiraled pasta will do)
Instructions
Preheat oven to 300 degrees and line as many baking sheets you need (and that will fit into the oven) with parchment paper. I fit 4 sheets in my oven and used about 3 pounds of tomatoes.
With a pairing knife, cut out the stem of the tomato and discard. Cut the tomatoes into even ½ inch thick slices and transfer to baking sheets.
Remove all but one layer of the paper-y skin off the garlic bulbs and cut off just the tops of the heads, exposing the garlic, set on the baking sheet with the tomatoes. Drizzle everything with olive oil and sprinkle with salt and pepper.
Roast tomatoes for 2 hours total, flipping tomatoes halfway through roasting time and transfer the bottom baking sheets to the upper oven rack and the top baking sheets to the lower oven rack after flipping. Take out the garlic when you flip the tomatoes and set aside. When cool enough to handle, squeeze out the roasted garlic out of its skin.
When the tomatoes are almost ready to be taken out, fill a large pot with water, season with a generous amount of sea salt ("your pasta water should be as salty as the sea" I was once told and it hasn't let me down yet), bring water to rolling boil and cook your chosen pasta according to the directions to cook it al dente.
While your pasta is cooking, stack the basil leaves, roll together and cut into little strips. Finely chop the parsley and transfer both herbs to the bowl of a food processor. Take out the tomatoes from the oven and in batches roughly chop them and transfer to the food processor. Once all the tomatoes are chopped and in the food processor bowl add the skinless roasted garlic cloves, pulse until desired consistency. I wanted a thick, chunky sauce so I pulsed the sauce 10 1-second pulses but if you prefer a smooth sauce, process for longer.
Place a bowl in your sink and drain the pasta, reserving some of the pasta water in the bowl. In the now empty pot, add the tomato sauce to heat, adding some pasta water to thin it out if necessary. I added about ½ cup pasta water in total. Add the drained pasta to coat the noodles.
Transfer to serving plates, top with more basil and serve immediately.
Sprouts & Chocolate http://www.sproutsandchocolate.com/