Day 15 of Vegan MoFo: OMG the President is coming to dinner!
As a Canadian, I only have a foreigner's opinion of President Obama's policies but from where I stand, he seems like a pretty cool guy. He recently tweeted his Spotify playlist for summer jams and I think I like him even more. And who doesn't find these amazingly funny? 
While some may disagree, I admire a lot of the work he has done with the issues of gender equality and same sex marriage equality. I hope that the future President will uphold these policies and continue to move forward for human rights.
But what to make him for dinner? I wanted to create something a little more elegant than my typical meal or my current obsession with bowls (exhibit a, b, and c). I Googled the President's Dinners of the past for inspiration for the recipe. The main course of these lavish dinners usually consisted of beef with potatoes so I went with Portobello Steaks and Cauliflower Mash. I like mushroom steaks with a sauce and decided to make a parsley basil pesto; it is fresh, quick, and tastes fancier than it is.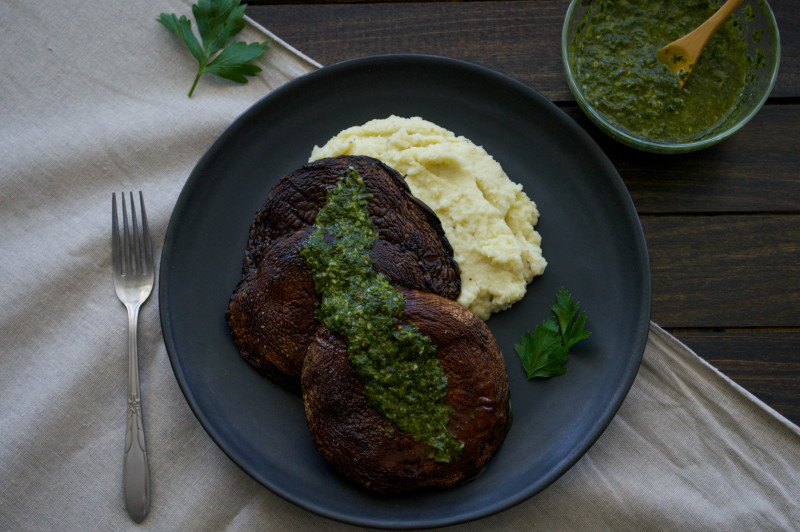 I think the First Lady would approve of this vegetable-filled meal for the President.
15 posts down, 15 more to go! See you tomorrow for Day 16: Late Summer Favourites! Missed Day 14? Check it out here.
Stay connected on the daily by following me on Instagram, Twitter, Facebook and Pinterest. Made a recipe from this post? I would love to see it! Use the hashtag #screcipe on your social media.

Portobello Steaks + Cauliflower Mash w/ Parsley Basil Pesto
This recipe is a little fancier than my usual fare but it is a great dish to make when people come over. It serves 3 large servings with lots of sauce. This recipe is gluten free, grain free, and nut free.
Cuisine:
vegan, gluten free
Ingredients
For the Parsley Basil Pesto:
1 cup parsley leaves
½ cup basil leaves
2 small garlic cloves, peeled
3 tablespoons fresh lemon juice
½ teaspoon fine grain sea salt
Pinch of red chili flakes
5 tablespoons extra virgin olive oil


For the Portobello Steaks:
6 portobello mushrooms, destemmed and gills scraped off gently with the spoon
1 tablespoon extra virgin olive oil + 1 tablespoon fresh lemon juice, mixed together
¼ teaspoon fine grain sea salt


For the Cauliflower Mash:
1 large head cauliflower, main core removed and cut into bite-sized pieces.
2 tablespoons vegan butter, softened
3-4 tablespoons unsweetened almond milk
2 tablespoons nutritional yeast
1 teaspoon fine grain sea salt
Cracked black pepper, to taste
Instructions
Preheat oven to 450 degrees and line 2 baking sheets with parchment paper.
While the oven preheats, make the pesto. Add the parsley, basil, garlic, lemon juice, salt, and chili flakes to the bowl of a food processor. While the food processor is running, slowly add the oil in a steady stream until combined. Transfer to a glass container and set aside until you are ready to serve. Clean out the food processor bowl.
Set the mushrooms on the baking sheet and rub the mushrooms in the oil + lemon juice mixture. Sprinkle with salt and cook for 30 minutes, turning halfway through the cooking time.
Meanwhile, set a steamer basket in a large pot with a few inches of water at the bottom. Over medium-high heat, cook the cauliflower in the basket until very tender and can be easily poked with a fork (not a knife).
Once the cauliflower is fully cooked, add half of the mixture to the food processor with 1 tablespoon of softened butter,1 tablespoon nutritional yeast, 2 tablespoons of milk, and ½ teaspoon fine grain sea salt. Process until it resembles mashed potatoes. Transfer to a bowl and repeat with the other half. Pepper the mash as you like.
Pile the mashed cauliflower onto the plate, add 2-3 of the mushrooms, and top with sauce. Serve and enjoy!