Developing recipes is a tricky process and I have had some epic FAILS while working on this blog. Though I love cooking I have muttered some seriously vile language as a sauce didn't thicken the way I wanted it to or broiling something for ever too slightly too long because I misplaced my oven mitt. Even though the first attempt may fail, it does help me modify the recipe to make it better. I usually make all the recipes twice to ensure the process. Needless to say, we eat a lot of leftovers in this house but it is all worth it when I post a recipe to share.
These Chocolate Dipped PB Crispy squares are a perfect example of recipe failures turned into success with a little patience! I looked up a bunch of the traditional rice squares and noted a lot of powdered sugar and of course marshmallows. I did not want to take this route because vegan marshmallows are hard to find and some square recipes had up to 3 cups of powered sugar. Yikes! It makes my teeth hurt thinking about it. I turned to natural sugars in the form of pureed dates. Fail. Weirdly colored rice and it didn't set at all. Just a big bowl of nada. I don't know why I thought dates would work but now I know dates won't work. I turned to liquid sweetener in the form of agave but it had a weird taste. I was about to give up entirely when I was looking through my copy of Forks over Knives cook book and notice they use a lot of brown rice syrup in their desserts. I had a jar of it in the back of my pantry that I had completely forgotten about so I pulled it out in one last attempt. To my delight the squares had set the way I wanted them too and tasted great. Brown rice syrup has a fairly neutral taste and I got my jar at Tutti Frutti in Kensington Market but I have seen it in most well stocked health food stores.
This recipe reminds me of part Crunch bar, part Reese's cup, my two favourite Halloween treats. My sister and I had some serious negotiations when it came to our Halloween candy but we held on dearly to our Reese's cups. My mother always hid our candy from us so we wouldn't overdo it but every year one of us always found the bag. However there was a code to finding the bag: we always had to tell the other person where the bag was because if I was caught eating candy by my sister she would tell my mom and all the candy would be taken away so we snuck the candy together instead. Oh we thought we were so clever.
You can use less chocolate on the squares with a drizzle instead of a dunk in the chocolate (but really who likes less chocolate?)
 What is your favourite candy? Something you looked forward to or traded with a sibling? Leave comments below.
Right before posting this, Mark mentioned that he told his younger sister that the crunch in a Crunch bar are spider eggs so she would give him the chocolate bar to eat himself. To this day she will not eat a Crunch bar despite being told by countless people that they are not in fact spider eggs. I am dating a monster. Happy Halloween!
Chocolate Dipped Crispy PB Squares
Makes 12 squares
4 cups Rice Krispy Cereal*** (Or another rice cereal)
2 tablespoons salted roasted peanuts
1.5 tablespoons Earth Balance
¾ cup natural peanut butter
¾ brown rice syrup
½ teaspoon kosher salt
1-cup vegan chocolate chips or dark chocolate chips (I used Whole Foods 365 Brand)
In an 8×8 Pyrex dish create a sling with some overhang off each side with two pieces of parchment paper. Please do not skip this step; you will never get a square out if you do. Line a baking sheet with parchment or waxed paper. Place cereal in a large bowl and set aside. In a blender or food processor, pulse the roasted peanuts until a fine crumb and set aside.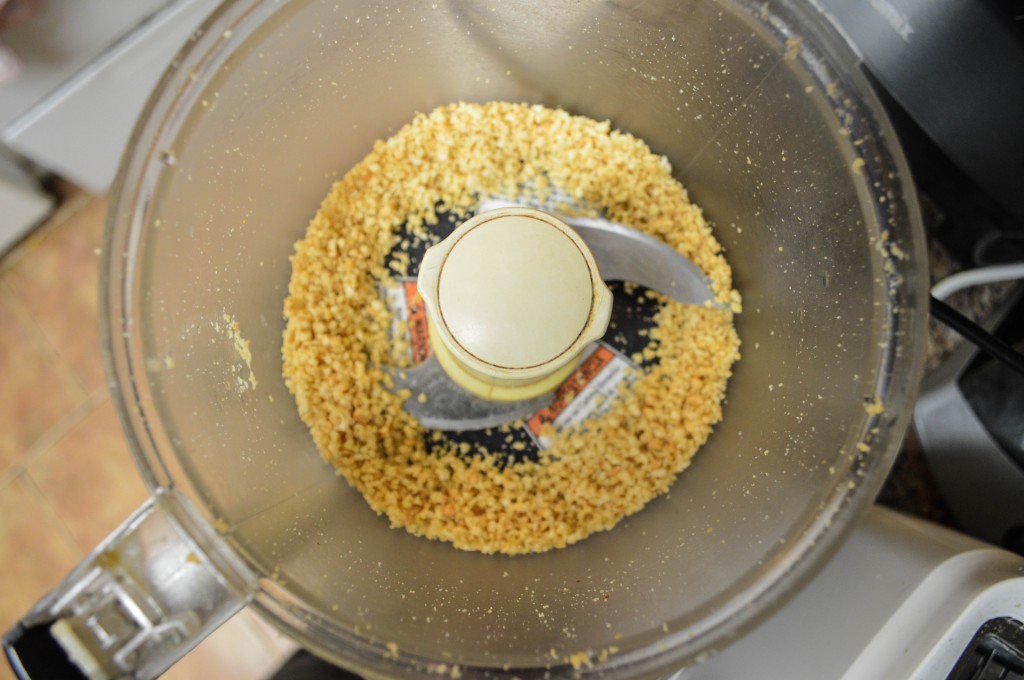 Over medium heat in a small saucepan, combine the butters, syrup and salt. Whisk until very smooth and melted. Turn off heat and pour mixture onto the cereal. With a spatula fold in mixture until cereal is well coated. Transfer coated cereal to Pyrex dish and press into the pan using your fingers or spatula, spreading the mixture evenly over the dish. Place in freezer for 10 minutes. While the cereal is setting, melt in the chocolate in a double broiler (a stainless steel or glass bowl over a pot of barely simmering water work well). When the chocolate is just about melted take the bowl off the pot and stir until chocolate is completely smooth. Take the cereal out of the freezer and using the overhang from the sling lift the cereal from the dish. Cut into 12 squares and half dip in the melted chocolate, scraping any excess chocolate off the square with your finger. Set on lined baking sheet and sprinkle the peanut crumbs on the chocolate half.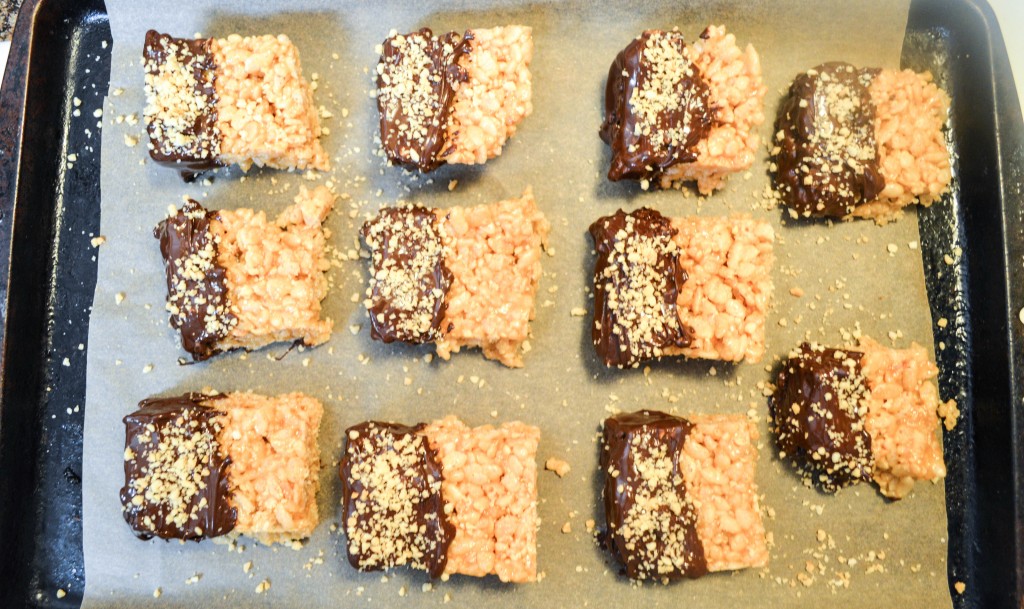 Continue with the remaining squares and place in fridge until chocolate has hardened slightly, about 5 minutes. At this point the squares are semi frozen so you can bring it up to room temperature but they are still delicious this way too. Serve!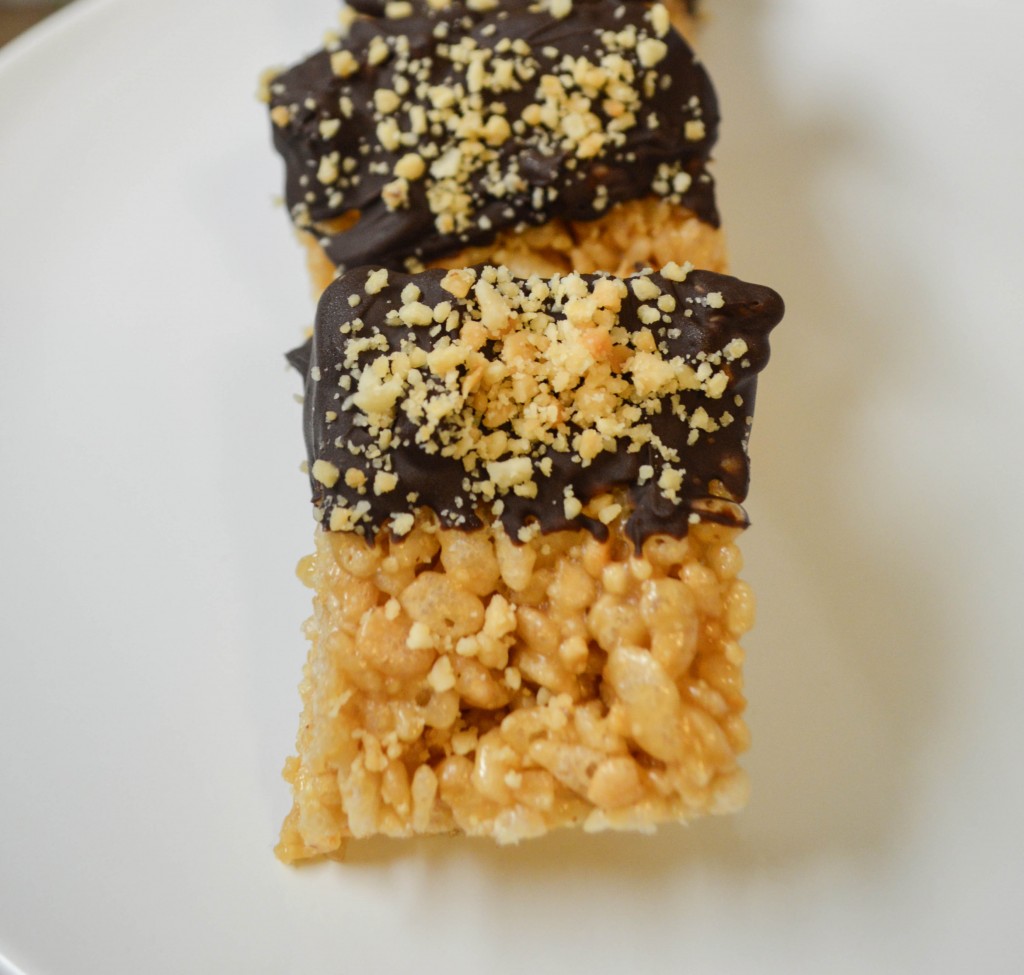 ***According to this http://www.peta.org/living/vegetarian-living/breakfast.aspx Rice Krispies are vegan***