I love the Fall better than any other season. It's slightly cooler out so you can wear a scarf (I have far too many) and I love the sound of the colourful leaves crushing under your boots while walking down the street.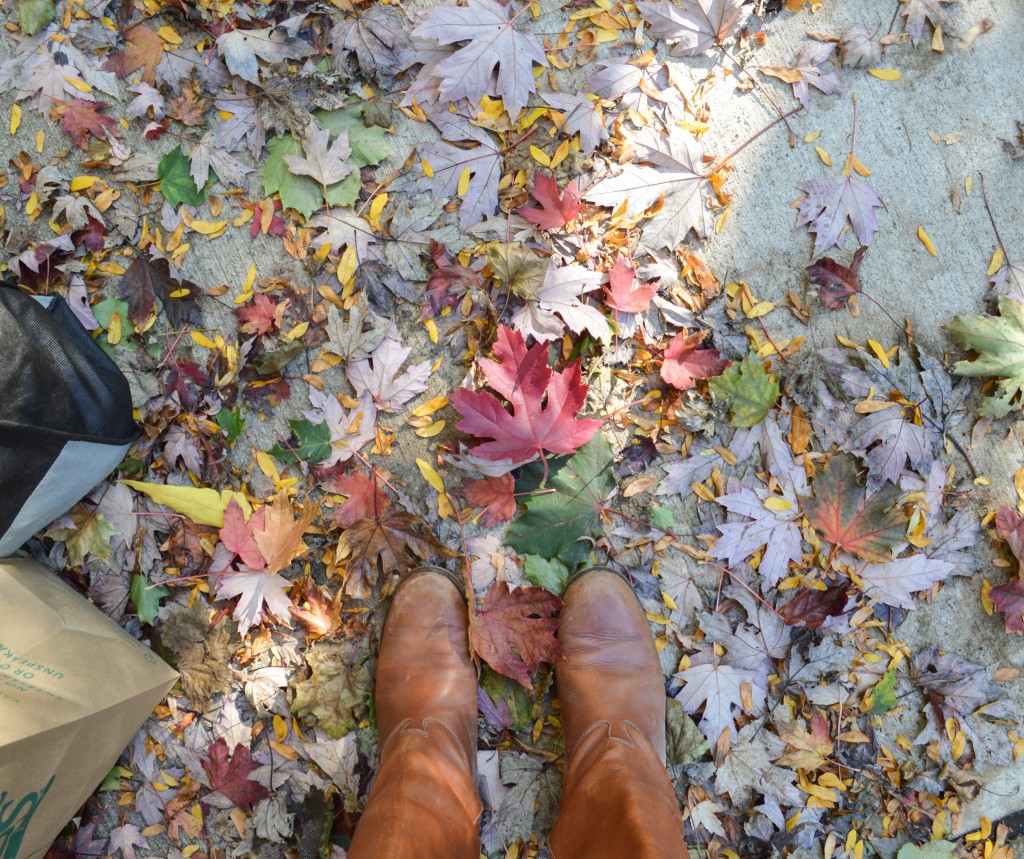 The foods that Fall has to offer are among my favourites: pumpkins, apples, squash, pears and root vegetables. Best part is you are no longer afraid to turn on your oven to roast all these tasty foods.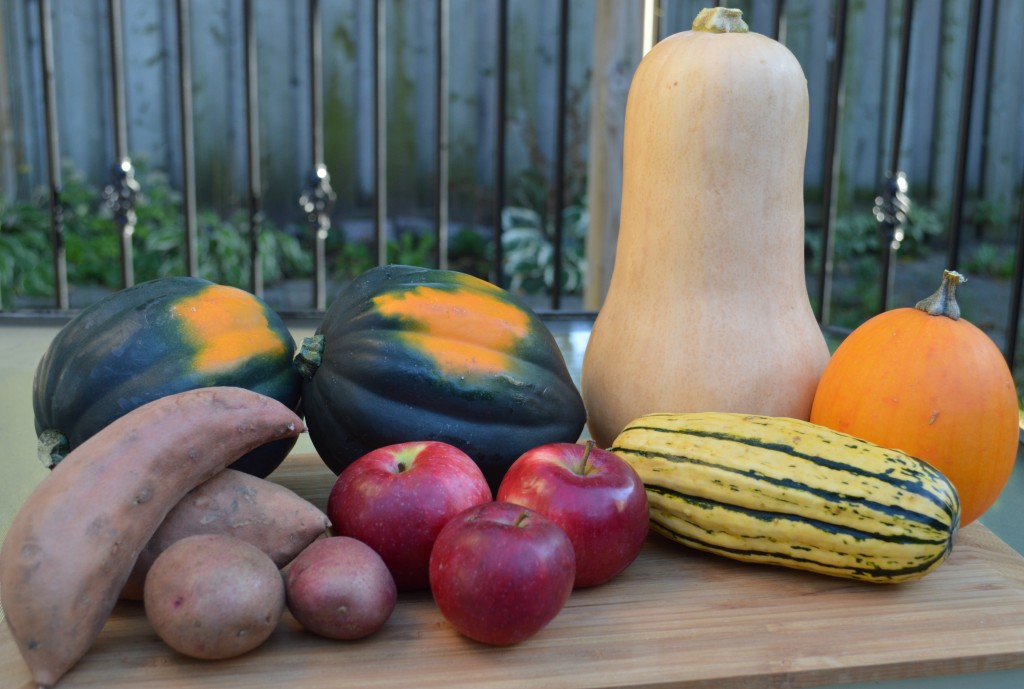 I was walking down Bloor and saw a lot of fruit vendors had pumpkins of all sizes. I hadn't carved a pumpkin in years, probably since my childhood because as a teenager I thought I was too cool to carve pumpkins. I bought two small pumpkins since that was all I could carry on the bus and headed home. Mark prepped the table with some old The Grid newspapers and I got out the markers and pairing knives. We cut the caps off and pulled out all the pumpkin guts and seeds. This was my most dreaded task as a kid. I hated the cold wet fibrous goo that came out of the pumpkin. I always asked my dad to take them out for me but regretted it almost instantly as he would chase me around the yard with a handful of it. I am a grown up now (I use this term loosely) and I took the guts out all by myself (with the help of a wooden spoon). Mark was too consumed with his pumpkin to chase me around with the guts. Before I drew anything on my pumpkin, I envisioned doing this great piece where it was so beautifully carved it would be featured on some Halloween special but then I quickly remembered I have no artistic talent. I wanted to go for Alex from A Clockwork Orange (you know because pumpkins are orange…ha-ha I am so creative) but when that quickly failed all I was left with was a smiley pirate.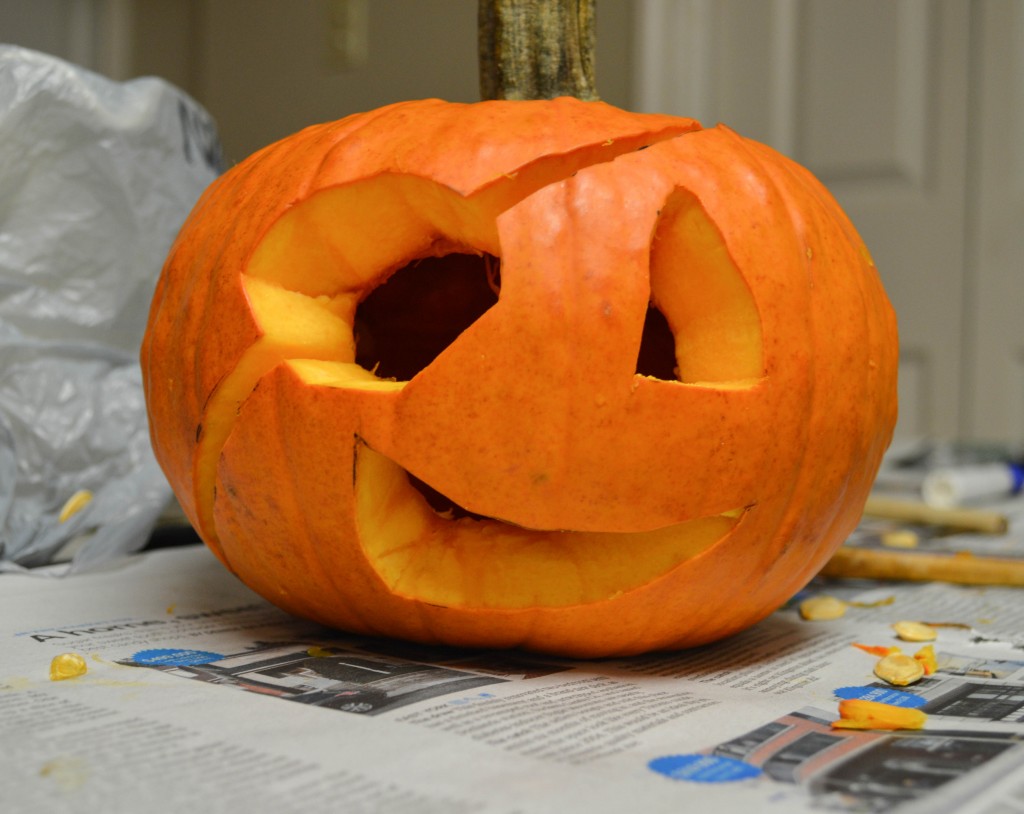 Mark cut way too much of his off so his did not turn out the way he wanted it to either. Nevertheless we proudly displayed them in our window and put candles in them. I don't know what I was thinking as a teenager not wanting to carve pumpkins. Yes it is kind of lame but so are a lot of things that are actually really fun. Pumpkin carving did teach me a lesson in doing lame stuff, if it makes you happy and you think it is fun, why not do it? I told a few friends that I carved a pumpkin they seemed a little bummed that they hadn't carved one of there own this year. With this post, I had meant to put up a pumpkin seed recipe but unfortunately during the clean up Mark accidentally threw them out. Oh well. Here is a No-Sugar Added Apple Butter recipe that I made while we carved pumpkins. This recipe can be halved but it does take a lot of apples to make apple butter. I used 14 cups of chopped apples (about 16 medium sized apples) and it only made 3.5 cups of apple butter. Use a variety of sweet and tart apples for this recipe. I used Royal Gala, Jonagold, Golden Delicious (sweet) and Cortland (tart).
For the juice
5 medium variety apples, cored and diced
1 cup of water
In a high power blender or food processor, puree apples in the water until it looks like applesauce. Place a milk nut bag or fine mesh strainer lined with cheesecloth over a large bowl. Transfer pureed apples to bag or strainer and strain the juice out of the pulp. If you have a juicer, feel free to juice the apples. You should have a little over 2 cups of juice. Add water if you are short on juice. If you are short on the kitchen appliances, you can substitute 2 cups of apple cider but I cannot guarantee it will be sugar free.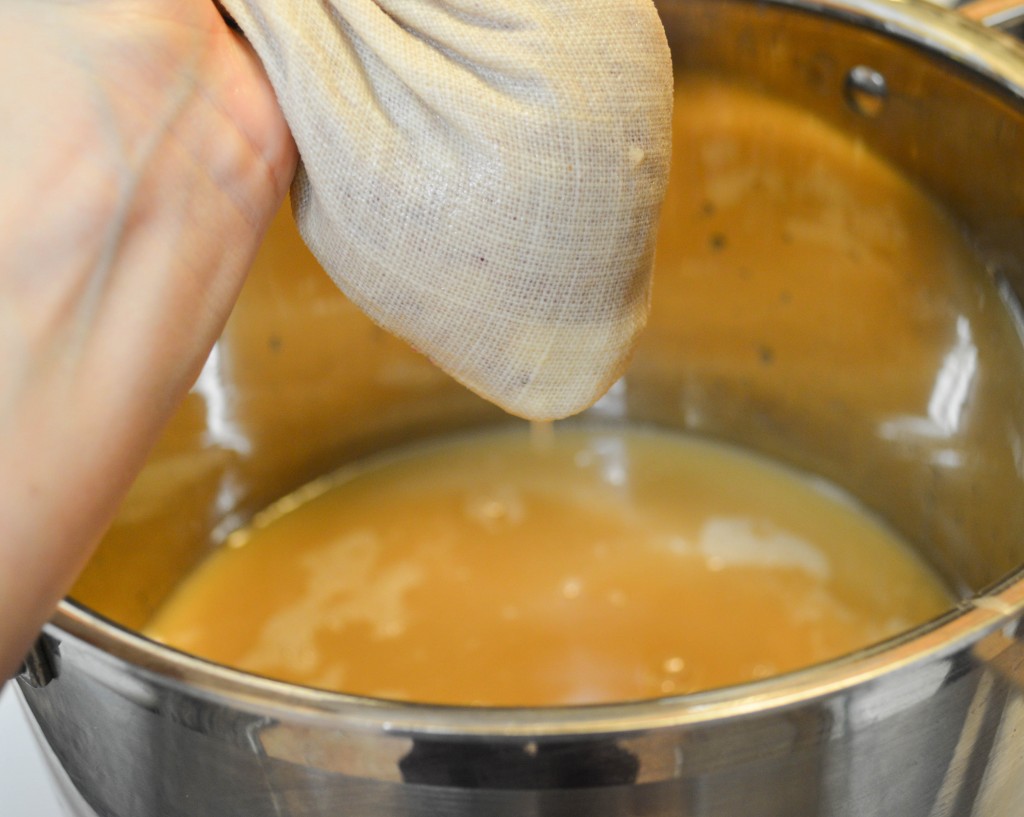 Apple Butter
16 medium variety apples, cored and diced (about 14 cups)
Pinch of kosher salt
1 tablespoon fresh lemon juice or apple cider
1-2 teaspoons cinnamon
Add apples, juice or cider, salt and acid to a large pot over medium low heat. Cover with a lid and cook apples for 1.5 hours, stirring occasionally. After the 1.5 hours, transfer apples to high power blender or food processor (in batches) and puree until very smooth. Pour the puree into a fine mesh strainer over the now empty pot and sieve out any apple peels that haven't pureed fully. You want super smooth apple butter. Cook for an additional 1.5 hours with the lid propped open with a wooden spoon. The mixture gets very bubbly and you don't want to be burned. Stir occasionally until it is a light to medium brown.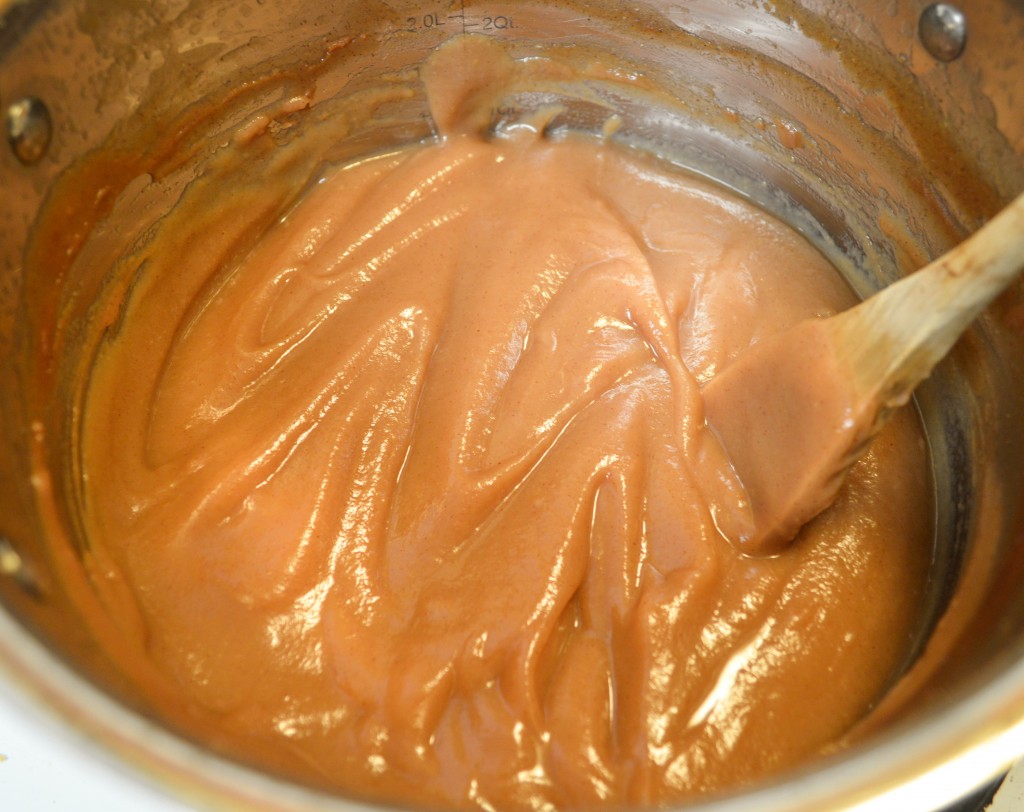 Now this is the time to season it. Take the pot off the heat and start by adding ½ teaspoon of cinnamon at a time and gradually increase it to your taste. I love cinnamon so I added the full two teaspoons. The butter will darken as you add more cinnamon. I love to spread apple butter on toast with some Earth Balance but you can do whatever you like. Use as a wet ingredient in muffins or cake loafs instead of eggs.